English Course for Adults
Check out our six-level course
Would you like to learn at your own pace, with no pressure, and from the place you choose? Don't look for any other adult English courses. Choose the one offered by ABA English, the digital English academy, and enjoy the benefits of learning with the Smart Learning® method, an innovative and flexible method that you'll love.
Learning English is a matter of attitude, not age. You don't have to study a language as a child or teenager since your ability to learn continues to be strong even after you have moved beyond these stages of life.
Yet, it's likely that you won't choose to take classes because you might think you won't have enough time and/or because the class schedules that the academies offer don't fit your schedule. The good news is that you don't necessarily have to rely on traditional methods since you have the option of choosing an online course.
Keep reading to discover how you can learn with the best English course for adults.
English for adults: What is the best method?
Whether it's for personal reasons or to have better opportunities, many adults are interested in learning English. But contrary to popular belief, for adults, learning English offers several advantages.
Among these is the fact that, because of the experience gained over the years and the sense of responsibility that adults have, they generally set themselves clear objectives that they can achieve thanks to their good organization of time, discipline, and perseverance.
You definitely have those qualities. So, the ABA English course for adults is perfect to give you the satisfaction of reaching a personal goal and/or to increase the possibility of having better professional opportunities.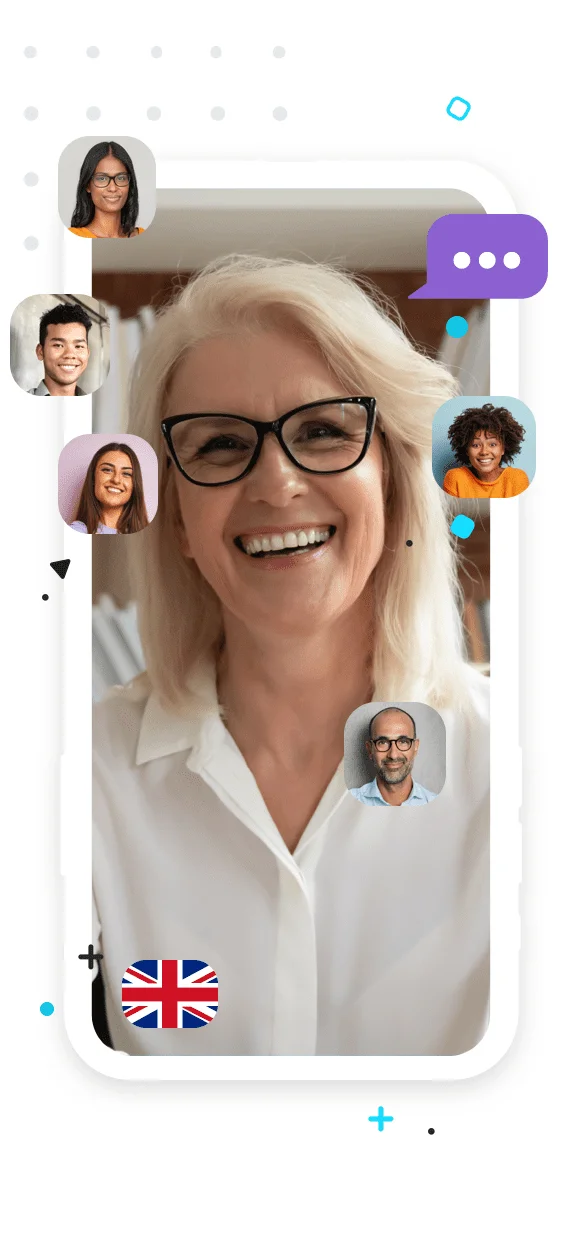 Take your English to the next level with ABA English
5 tips for learning English for adults
Always remember the reason why you decided to learn English. It will help you define a goal and maintain the motivation to achieve it.
2. Establish a study routine
If you want to progress even more, daily practice is essential. Don't forget that practice makes perfect.
3. Don't be afraid to make mistakes
You learn from your mistakes, so forget about the fear of making a mistake. Start thinking in English and encourage yourself to speak and/or write more often so that you can get better at expressing yourself.
Not all adult English courses will take your interests and needs into account. It's important for you to choose one like ABA English that, besides adjusting to your schedule, allows you to learn with what you like.
5. ncorporate English into your life
You can start by adjusting the settings on your electronic devices, email, and social networks so that they're in English. Another option is to watch British and/or American movies or TV series, listen to radio stations, and read newspapers and/or magazines from different English-speaking countries.
FAQs about English courses for adults
Why is learning English important for adults?
It's an excellent way to have new and better opportunities at the professional level. On the other hand, according to scientific studies, it helps prevent cognitive decline since it stimulates regions of the brain that are distinct from those involved in learning your mother tongue.
Is taking an intensive course a good idea?
Intensive English courses for adults are an excellent option if you need to learn the language in a short time in order to apply for a position. They are also a great help if the company where you work wants you to improve your English language skills and prove it to them as soon as possible with an official certificate. There are always other options out there, like English grammar courses for adults, depending on what you need.
Are online English courses for adults free?
Although there are many options out there, free online English courses for adults aren't common. You can usually access certain content for free, but not the whole course.
Go ahead and try the ABA English course for adults
ABA English provides you with a great variety of tools to make your process of learning English very pleasant and fruitful:
A complete English course
It doesn't matter if you're starting from scratch or if you already have some previous knowledge because the ABA English course for adults covers six of the CEFR levels, from A1 to Business.

In each unit, you'll be able to watch an ABA Film and do a variety of interactive exercises and quizzes that will allow you to check your progress. At the end of each level of the English course for adults, you'll receive an official ABA English certificate to demonstrate to others your level of English.
The Smart Learning® method
Our English course for adults was developed according to the innovative study method from ABA English, the digital English academy, which is based on the natural learning of the language.

Something that really makes a difference is that this innovative methodology wasn't just designed in accordance with the teaching pedagogies from recognized universities like Cambridge, but it also complies with the guidelines of the CEFR and other evaluation institutions.
Install it on the device you prefer to access the adult English course whenever you'd like. Download the units of the course so that you can practice even if you're offline.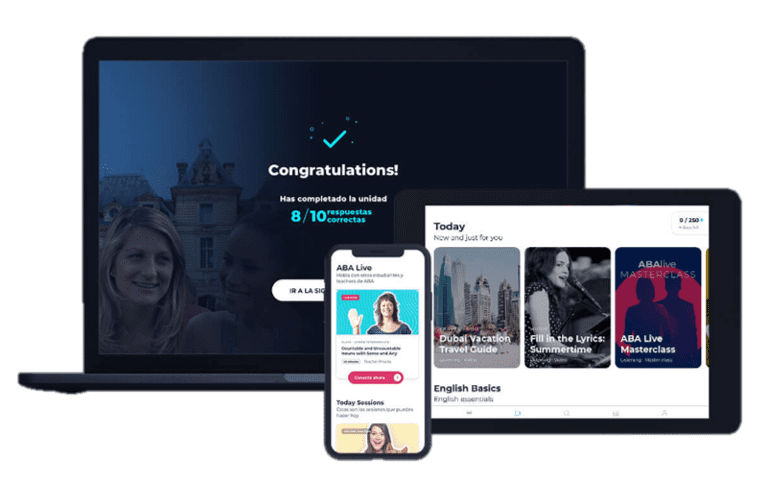 Are you ready to start your English course for adults?
Through the complete English course for adults, ABA English wants to help you so that you can show everyone that you always achieve what you set out to do. Don't forget that your age will never be an obstacle and that the only thing you need to study the English language is motivation.