Independent studies
vouch for the effectiveness of the ABA English method
At ABA English, your digital English language school, you will learn real English. It doesn't matter whether you have already learned some English or are starting from scratch. You need to be clear that learning English will demand your effort and time. For our part, we will provide you with all the resources you need to be successful and we will be with you every step of the way.
If your goal is to speak English, this is where you can achieve that goal.
Our course is made up of 144 units organised in 6 levels (A1 Beginners to Business C1) and has been created to let you follow the course on the device you choose: PC, mobile phone or tablet.
Now we are going to tell you why our learning method is unique and effective.
YOU LEARN WHEN THERE'S EMOTION
ABA English's online course is based on the fact that we learn when we are interested, emotionally involved and motivated.
That's why every unit of the course begins with an ABA Film: a short film in which actors who are native speakers of English act out everyday situations.
The action will make you feel a variety of emotions, you will identify with the characters and you will approach the language from a completely different place.
YOU LEARN WHEN YOU PROGRESS
The course has been designed so that you get results from every study session. With each unit that you complete, with each exercise, you will learn something new that you can practise straight away.
YOU LEARN THROUGH
PRACTICE
There are more than 1000 exercises in writing, grammar, pronunciation and vocabulary to practise, practise, practise.
YOU LEARN WHEN YOU KNOW WHY
ABA English's teachers have prepared 144 video classes in English grammar with subtitles in your language. Enjoy them.
YOU LEARN WITH GUIDANCE FROM A TEACHER
You will have your own teacher from day one. Your teacher will guide you and be with you through the learning process.
You can also book private conversation classes.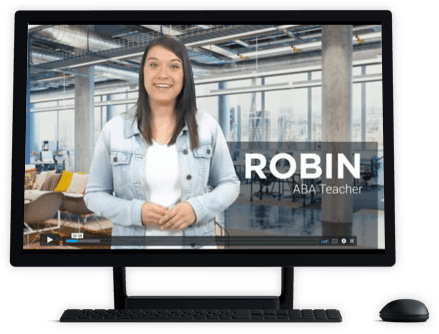 You will get an ABA English Official Certificate for each level of the course that you complete. You can share your certificates on LinkedIn.
ABA ENGLISH'S NATURAL METHOD
ABA English's natural method simulates the way the brain learns a language naturally: first, you listen and understand, then you start to speak by imitating native speakers and finally you learn to write following grammatical rules.
Register for free and start learning English