Improve your English level
Someone may have asked you about your English language level and you may not have been able to answer accurately. The reality is that every individual has a subjective view of their English proficiency. But there are international standards that can help you more accurately assess your current level of English.
The Common European Framework of Reference for Languages has established a set of English levels, from Beginner to Advanced, so that institutions, companies, and universities can more accurately know what to expect from each student or worker, depending on their level.
In ABA English, we'll support you with a unique and fun methodology, using content developed according to the CEFR guidelines so that you can perfect your current level and successfully move on to the next one.
Why do I need to know my English level?
Knowing your English level offers multiple benefits:
Establish clear objectives

. You'll be able to project your goals in the language, discover your weaknesses, and organize your agenda to move up to the next level.

 
Uncover your potential

. This allows you to clearly determine your options, whether you want to be promoted at work, look for new job opportunities, or apply to a university abroad, among other things.

 
Prepare for your next trip abroad

. If you're thinking of traveling abroad as a tourist, student, or worker, knowing your level of English will give you a clear idea of your ability to deal with different situations, ranging from everyday life to complex tasks.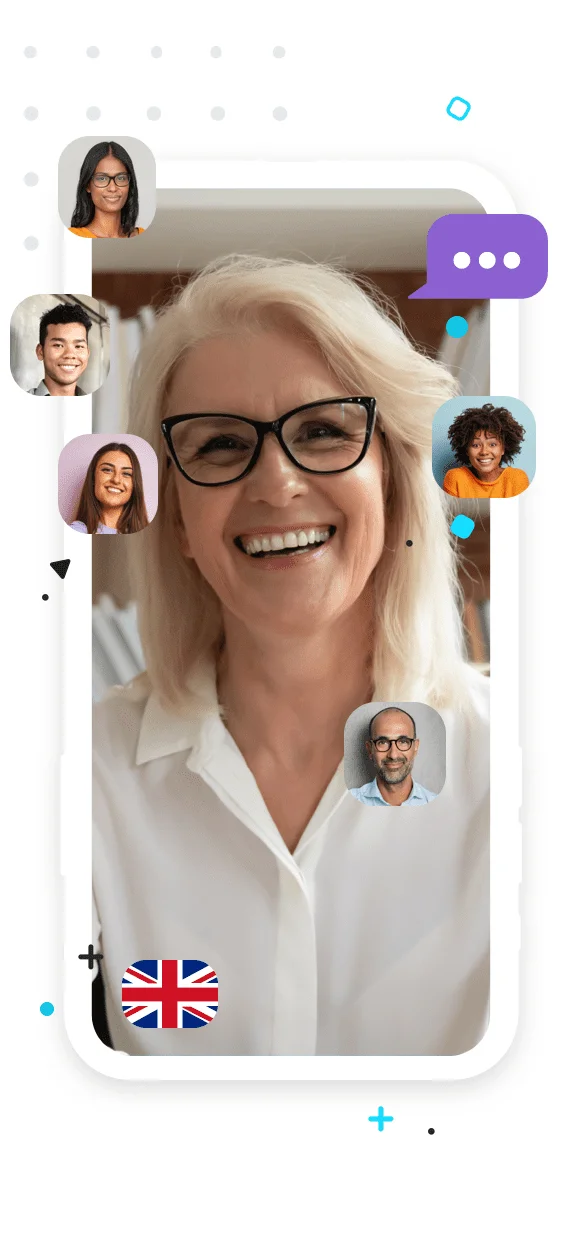 Tips for improving your English level
1. Join online communities
Find groups in English that match your preferences (make-up, pets, travel, airplanes, history, etc). There, you'll receive continuous texts, videos, and images in English about the topics you're most passionate about. Occasionally, you'll be able to chat and practice your English with other people.
2. Look for printed material in English
Nothing compares to the experience of browsing a book, newspaper, or magazine. Search your local library for materials in English that match your tastes and interests. Visit bookstores and magazine stands, where you'll occasionally find second-hand books and magazines in English that will be very useful in your studies.
Learning English doesn't have to be a tedious activity. You can play traditional games like Scrabble, Monopoly, or Life, using the English versions to learn vocabulary while having fun.
4. Watch movies in English
The next time you watch your favorite TV show, make sure you select English subtitles. This is a good way to learn new vocabulary and expressions.
Advance to the next level with ABA English and learn English successfully
FAQs about the English language levels
According to the CEFR, how many English levels are there?

There are six levels organized according to their level of complexity.
What are the levels of the English language?
According to the CEFR, the levels are classified as follows: A1, A2, B1, B2, C1, and C2. The A represents the basic levels, B the intermediate levels, and C an advanced or proficient level.
What does each level involve?
Level A1: You must be able to deal with everyday situations and use basic vocabulary.
Level A2: You know how to use expressions for simple situations such as shopping, talking about your family, and everyday activities. You can speak, in a basic way, about the past.
Level B1: This is considered an intermediate level. You'll be able to handle a trip abroad. You can understand the main points of a text, write a short and clear message, and express your experiences, wishes, and aspirations.
Level B2: You'll be able to write more complex texts, hold a conversation with a native speaker, and understand more complex material, whether concrete or abstract. 
Level C1: You can express yourself fluently and effortlessly in all areas, producing and understanding complex and well-structured texts.
Level C2: You can express yourself in more complex situations, even identifying nuances. You can reconstruct and argue using information from different sources.
How can I certify my current level of English?
You can opt for an official exam such as the Aptis, the IELTS, the Trinity, or one from Cambridge University. The ABA English digital academy also gives you a certificate of its own that will verify your English level.
The advantages of learning with ABA English
Thanks to the Smart Learning® method, ABA English offers you the opportunity to learn the English language in an entertaining and personalized way, which will help you successfully move up to the next level. 
Below, we'll share with you the tools that will make the difference when compared to conventional methods.
Participate in live sessions (ABA Live), where you'll be able to speak with students from other countries and special guests. These sessions will always be moderated by a native teacher.
Once you log onto our platform, you can configure your Daily Plan, selecting the topics that most appeal to you (arts, current affairs, marketing, cooking, etc).
Learn by watching short films from ABA English, with native actors and the opportunity to practice through quizzes and exercises.
Receive daily notifications on your mobile phone or tablet so that you can study your microlessons whenever you prefer.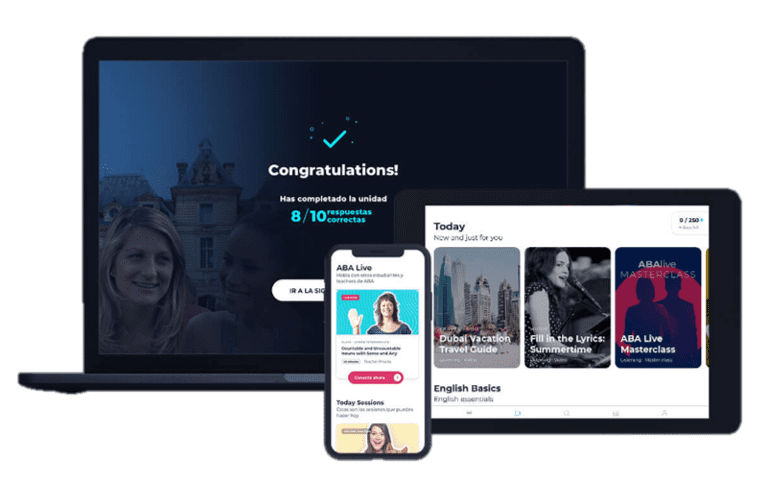 Why are you waiting to advance to the next level?
More than 30 million students in 170 countries agree that our digital English academy is the best choice to take you to the next level. Develop your full potential while having fun and learning about topics you're really passionate about.
If you'd like, you can take our six-level English course, ranging from A1 to Business.
Live the English experience just like you always wanted, with the flexibility that technology gives you and with the best content, created especially for you.
Achieve any level of English and improve your skills with ABA English