Give your English a boost. Learn intensively, wherever and whenever you want.
Follow our recommended study plan and you can achieve the best results in just a short amount of time.
Even better, thanks to our learning method and our app, you can achieve your goals while enjoying the learning experience.
WHY TAKE AN INTENSIVE ENGLISH COURSE?
We all know that there are thousands of reasons to learn English. No matter what context or what your previous experience with the language has been, here are five reasons why you should take an intensive online English course. 
You can

learn the language faster
A course like this will require more study time. This means that you'll see faster results.
You'll have more exposure to the language
The amount of time that you are exposed to a language is key to the learning process. The more contact you have with English, the more you'll be able to speak and write it.
An intensive online course will give you flexibility
One of the biggest advantages of an online course is the flexibility it offers in terms of scheduling and location. You can learn at your own pace and in the most comfortable way possible.
You'll use specially-designed learning materials
An intensive English course is different from a regular course. The resources and learning materials are designed to allow the student to reach their goals more quickly.
You'll get a better value for your money
You'll definitely have to invest resources into learning English, not just economic resources but also time and effort. With an intensive course, you'll see the benefits of this investment in a very short time.
HOW TO CHOOSE THE BEST INTENSIVE ENGLISH COURSE
Great! You've already decided that you want to take an intensive English course, so you do a quick search on the internet and the number of options seems endless. How do you choose the course that will best suit your needs?
No matter what your reason for wanting to learn English, there are some things that you should keep in mind when deciding. Here is a checklist to help you make sure that you are choosing the best option. 
The learning method should be practical and linked to the use of the language.
The course should combine learning with the four language skills: speaking, reading, writing, and listening.
Grammar is important, but it is not the only (or the most) important thing.
Check which platforms you can use for the course (web, app, DVD, face-to-face, etc.)
Go over the extras they offer (online teacher, chatting, in-person classes, video lessons, etc.).
Think about the amount of time that you should invest to achieve your objective and how flexible the course is.
Check if it offers any official certificates as these are very important for both work and academics.
Consider the price in relation to what the course offers you.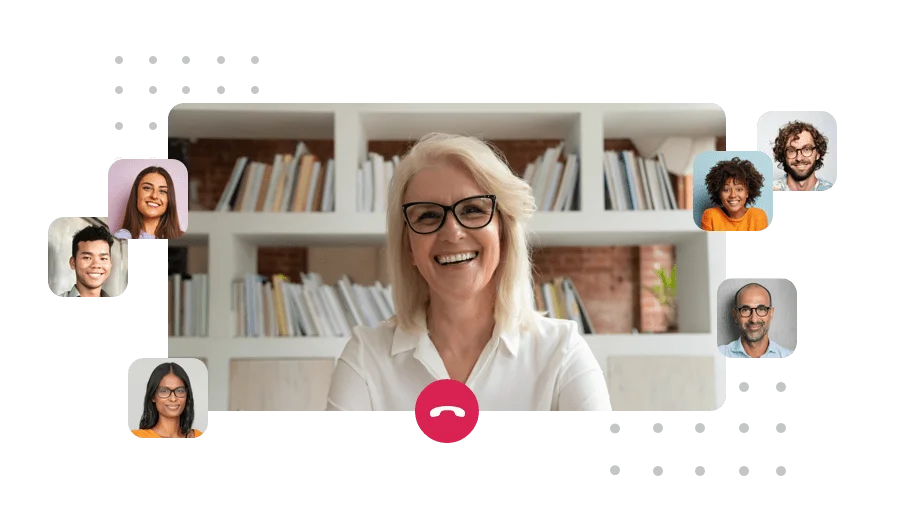 TIPS FOR EFFECTIVE INTENSIVE LEARNING
One part of being successful, no matter how you learn English, is choosing the best course for you. But that is not everything. It is also very important to create a study method that will help you reach your goals. Here are some tips you can use: 
Set a

weekly goal

of

hours that you want to spend studying and practicing.
Plan the

times you'll set aside

to study. It doesn't always have to be the same time, but you should study and practice every day.
Decide

which device you are going to use

to study and practice. It will be much easier if the course is compatible with multiple devices and platforms!
Plan

what you are going to practice

every day. This will help you be more focused.
Take advantage of the help your native teacher can offer to clear up any doubts.
Practice constantly and intensively

. Don't forget that, thanks to the internet, you have access to a lot of music, videos, news articles, and books in English at all times.
At the end of the week, take 10 minutes to

check if you have met your goals

for study and practice time. If you were successful, reward yourself! An ice cream or a coffee is never a bad idea. If you couldn't do everything you wanted, relax! When you figure out what got in the way of your goals, you'll be ready to do better the following week. 



IS ABA ENGLISH INTENSIVE?
The ABA English course has been specially designed for adults that, for either work or their studies, need to learn English effectively, at their own pace, and following their own schedule. You are the one who decides how and when to study.
Each of the units in our course uses a natural method of learning, is very practical, and is based on a real situation that will help you learn and speak from day one.
If you want to achieve results in a short amount of time, we recommend studying for 30 minutes, 3 or 4 times per week. But our online course is so flexible that you can create your own study routine based on your availability and goals.
Of course! Keep in mind that one of the biggest advantages of studying using our app is that you can download the content and learn English even when you are offline. This will help you see progress even faster.
It doesn't matter if you are studying on your computer, mobile phone, or tablet. Your progress will be saved automatically regardless of the device you are using to study.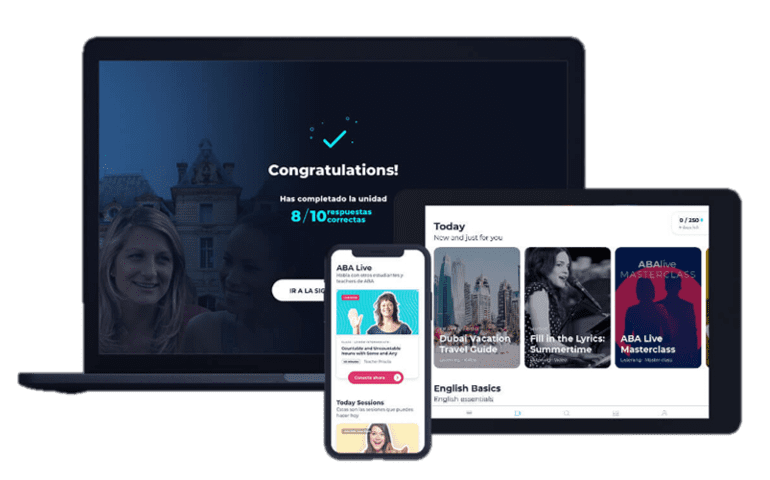 WHAT DO OUR STUDENTS THINK?
ABA English is an academy that is known internationally for its experience teaching English online. Currently, more than 25 million students are part of the ABA community and enjoy the advantages of having a flexible, practical, and demanding English course that, above all, works. 
"I'm a senior citizen and a doctor. ABA is truly a wonderful solution for helping me achieve my goal of relearning my English. The mix of accents and the teaching with a guide in Spanish is far more effective for me than if it were only in English. I am very happy to be following this course. I am recommending it to my friends who are in similar situations." 
Dr. Rodrigo Albán – Ecuador
"I really enjoyed the characters' voices, the teachers' explanations and the grammar lessons… In short, I love the new course presentation. Now the experience is more attractive and enjoyable, also the different stages of learning are clear and fun to do. The videos are brilliant and in addition to helping understand the pronunciation better, they are shot in excellent quality. Personally, I really appreciate these features since they greatly improve our overall experience and use of the content. Congratulations! Excellent work!"
Carmen Molina Koyanagi – Brazil
What are you waiting for? Try it for free for 7 days