Get access to resources and exercises to practice English online!
At ABA English, we want to make your learning experience more meaningful, effective, and flexible. That's why we have created many activities along with online content that is adapted to your needs.
By using our app, you'll be able to practice and review all the knowledge that you acquire in a dynamic and flexible manner. In the Live English section in particular, you'll find posts, activities, videos, and content that will be extremely valuable in your learning process.
You'll find traditional vocabulary exercises and grammar exercises as well as quizzes, gap-fill activities, podcasts to improve your listening, microlessons with practice exercises, and much more. Read on to find out more about the wide variety of English activities that we offer and that you're definitely going to love!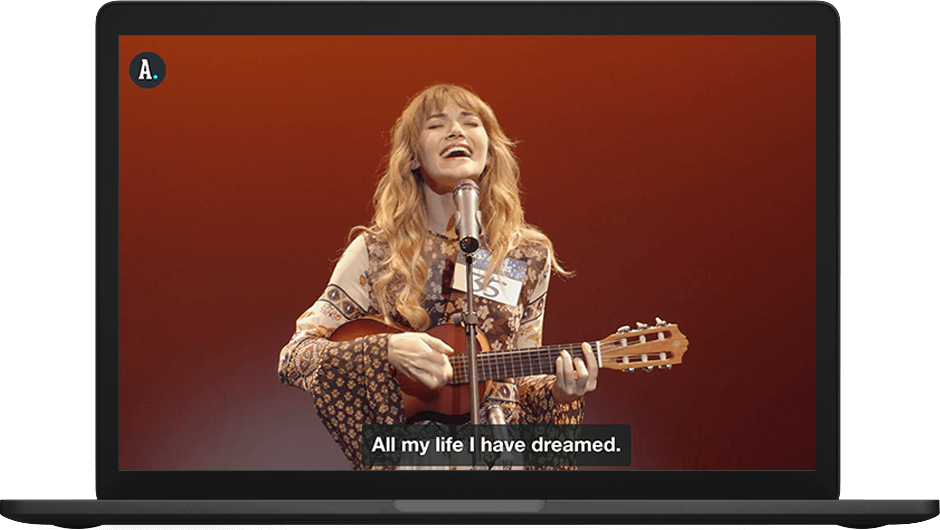 Speaking exercises in English
Without a doubt, speaking English clearly and fluently is the ultimate goal for all students. To achieve this, in addition to knowing the grammar rules and having a wide vocabulary, you'll need to work on your pronunciation and intonation.
To help you with this, our course features short films with subtitles that will help you gain new vocabulary and familiarise yourself with the correct pronunciation of words in English.
After watching the short films, you'll practice your speaking using LRC (Listen, Record, Compare) technology. This consists of listening to phrases related to the short film, then recording yourself repeating them, before finally comparing your recording to the actors' pronunciation. This is one of the most dynamic and efficient activities in English because it allows you to practice and perfect your skills in a natural and fun way right from day one.
If you are at the A1 Beginners level, you'll find, for example, number, alphabet, and verb to be exercises. Similarly, if you are at B2/C1 Advanced level, you'll find exercises with more advanced vocabulary and grammar such as exercises on verbs and tenses.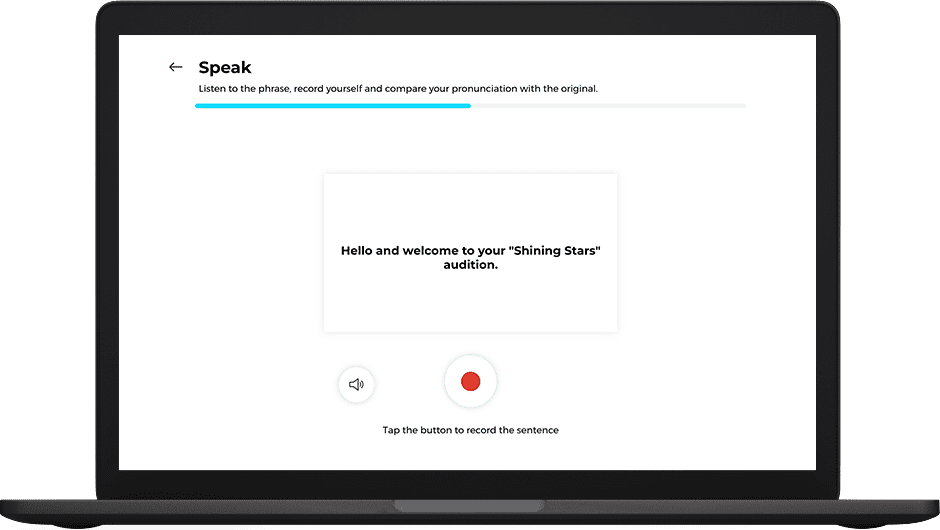 The Live English sections on the app are also an excellent resource for reinforcing your speaking skills with more flexibility. In the ABA Live category, for example, you can participate in teacher-led conversation classes about various topics to gain more confidence and fluency when speaking.
 Some tips to help improve your speaking:
Listen actively to how natives speak English, paying particular attention to their pronunciation and intonation.
Use online translation tools that give you the option of listening to the correct pronunciation of the word in English.
Repeat any new words you learn out loud several times. This will also help you remember them more easily!
Speak English whenever you get the opportunity to do so.
Writing exercises in English
Achieving a good command of English implies being able to compose clear, structured texts that are grammatically and orthographically correct. It also involves knowing how to use the appropriate tone and style, based on the type of text being written and the message you want to convey.
Whether you need to write a CV in English or a personal statement for an application to a university in an English-speaking country, writing correctly in English is a skill that can open many doors for you.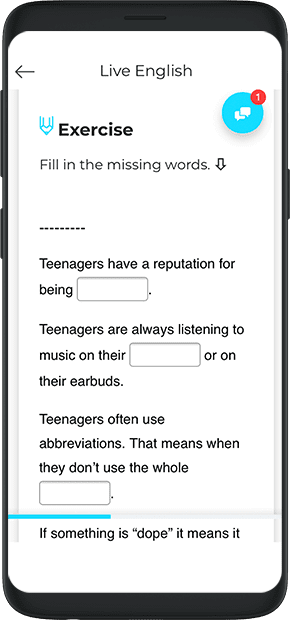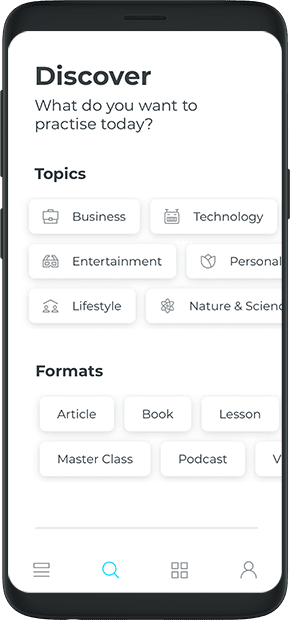 In Live English, you can find English reading exercises on a variety of topics. For example, if you're interested in the world of business or companies, in the Business category, you'll learn new vocabulary and discover interesting information while reading.
In the Nature and Science category, you'll continue to improve your writing skills as you read, listen, and learn new vocabulary related to nature, climate change, and advances in science.
Likewise, the short films available in our course will help you learn the correct spelling of the words you hear in English, by doing something as simple as turning on the subtitles. You'll also see how the spelling rules you've learned apply; through exercises where you have to write down what you hear.
Some tips to help improve your writing:
Reading texts in English is the key to improving your writing skills. Reading in English is how you learn new vocabulary, spelling, grammar, and style.
Reinforce your grammar and vocabulary. Both of these are very important when writing texts in English.
Be aware that writing in English is different from writing in other languages. In English, ideas are expressed more directly, using shorter and simpler sentences than in some languages. If you think in English, your texts will be more natural and fluent.
Memorise the synonyms and antonyms of the new words you learn.
Write something in English every day. Many students even write their diaries in English!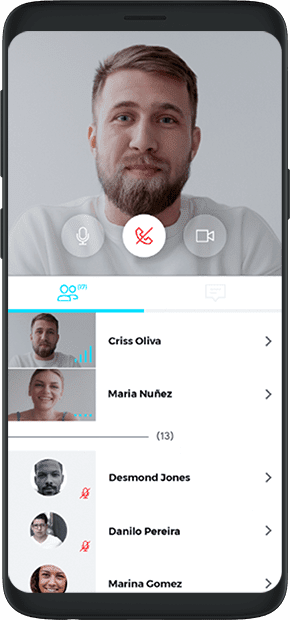 Listening exercises in English
We all learnt to speak by listening to the people around us. Listening to others speak English, especially native speakers, is key to learning the language. However, it can also be a real challenge since you'll need to really train your ear if you want to understand all the sounds and recognise the accents from the different English-speaking countries.
At ABA English, we teach English using the Smart Learning® method, an intuitive and immersive way of learning the language using videos and a great variety of dynamic content designed so that our students can learn English through the things they enjoy.
Through the ABA Films, the video classes, and the listening activities from our course and app, we help our students familiarise themselves with English and fine-tune their hearing in order to understand the language successfully.
For example, in the Entertainment category of Live English, you can watch videos, do listening exercises, and listen to articles related to the world of entertainment. You can also continue to train your ear in the Technology category, where you'll find posts about the technology that has changed the world. If you love tech, you'll love this category!
With Chill Out Learning, one of the top activities on our app, you'll have the opportunity to listen to your lessons before going to sleep, from the comfort of your bed. In just five minutes, you can reinforce what you've already learned and continue to improve your listening skills.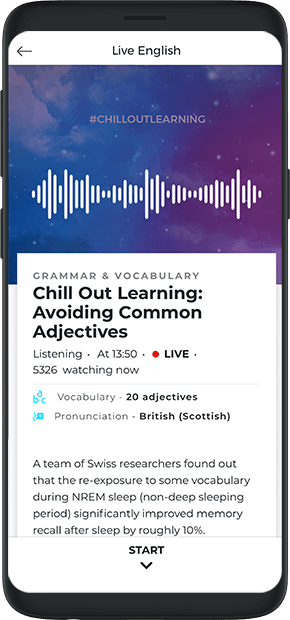 Some tips to help improve your listening:
Watching films, TV, or listening to podcasts and radio stations in English is an excellent way to improve your listening. The more you listen to the language, the more familiar your ear will become to it.
Listening to music in English and learning the lyrics can help you memorise the sounds of the words.
Pay special attention to the pronunciation and intonation of words when you listen to English content.
Reading exercises in English
Even if you don't live in an English-speaking country, it's very likely that not a day goes by without you reading at least one word in English. From your remote control to the information available on the Internet, English has established itself as the universal language of our era.
But the real challenge isn't just understanding a word here and there, but learning to interpret and understand entire simple or complex texts. It's so important for you to practice your reading skills because by doing so you'll develop your reading comprehension, increase your vocabulary, improve your grammar, and even practice your pronunciation and fluency in speaking if you read out loud.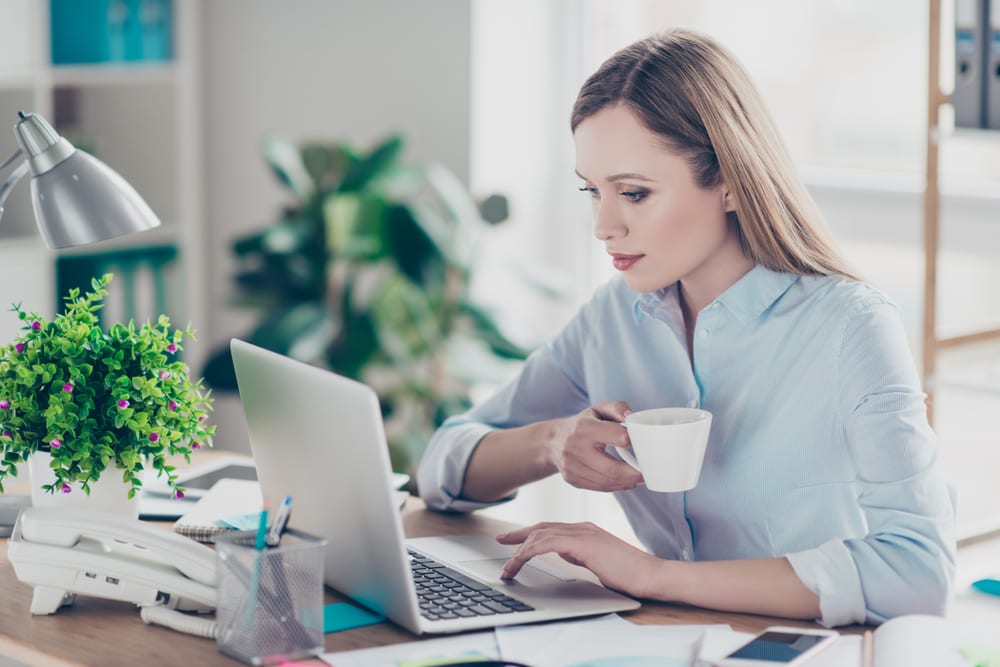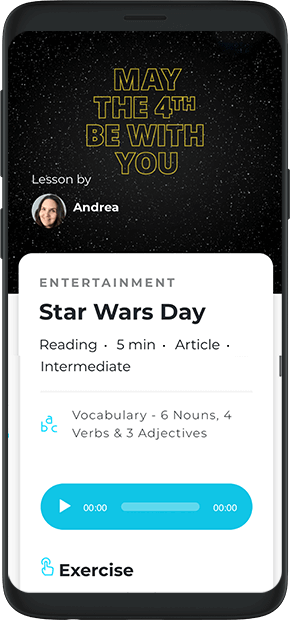 In Live English, we have several categories available with many articles that will help you practice reading in English. In News & Trends, you'll learn new vocabulary and study grammar while staying informed through articles that are constantly updated with relevant topics.
In Travel and Lifestyle, you can also read and access content about travel, places around the world, yoga, meditation, pets, and many other topics related to these categories. Find interesting articles that will motivate you to read in English every day!
Some tips to help improve your reading:
Read English frequently! In addition to helping you with your vocabulary, grammar, and spelling, you'll increase your fluency and speed when reading.
Read all kinds of texts in English. In a newspaper or magazine, you'll find language for daily use, similar to what you'd hear in a conversation. Read more academic texts if you're interested in scientific writing or in acquiring more specialised vocabulary.
Pay attention to the use of words based on context. It's not enough to learn synonyms and antonyms, you also need to understand how words are used to express a certain idea.
Top exercises from the ABA English app that you can try today
On the ABA English app, you'll find many ESL exercises and useful resources that will allow you to improve your listening, speaking, writing, and reading skills at the same time. Here are five exercises that we recommend you use to practice English with our app.
Listen, Record, and Compare
All of the units in our English course include exercises that allow students to record themselves saying English expressions and listen to themselves to compare this to the original pronunciation.
With this automatic voice recognition technology, you can practice your pronunciation by imitating the native accent. You'll naturally assimilate everyday expressions and in the end, you'll be surprised by how fluently you can speak English!
Live Speaking
It's important for you to take advantage of any opportunity you have to speak English because only then will you be able to achieve the fluency you want. Since we know that it can sometimes be difficult to find the time to do this, we have created Live Speaking, a space within our app where you can connect with teachers for live individual sessions.
No matter where you are, you'll have access to this useful resource that will bring you increasingly closer to your goal of speaking English like a native.
Fill in the lyrics with Live English
Most of us like music. Through this activity, you can listen to songs in English and practice filling in the gaps with the missing words. You'll train your ear, practice your writing by spelling the words correctly, learn new vocabulary while reading the lyrics… And at the same time, you'll even improve your "singing"!
Quizzes to evaluate your progress and continue learning
Through Live English, you'll have access to quizzes to continue practicing what you're learning in each lesson. Taking a quiz is a good way to reinforce your knowledge because it helps you remember what you already know and learn from your mistakes. For example, you can take the "How to say the dates" quiz to review what you learnt in this lesson and put it to the test.
Live chat
We know that it's important to create opportunities for our students to get English practice by communicating with others. That's why we have created Live Chat, a space that connects you live with other ABA English students around the world. By interacting with others, you'll improve your grammar, spelling, and fluency when writing!
Make new friends from different countries, share your experiences, and stay motivated with this fun tool!
Which exercises interest you?
It's important for you to have resources on hand to reinforce what you're learning. Practicing constantly by doing interactive English exercises is the best way to assimilate the knowledge you've acquired and gain the confidence that you need to listen, write, speak, and read naturally in English.
That's why we've created plenty of exercises and resources to support you in your learning process. These have been designed so that you can dynamically strengthen your speaking, listening, reading, and writing. You'll find some examples below:
Exercises to practice speaking

:

as you move forward in your academic and professional life, you'll find yourself in more and more situations where you must speak English. Giving an English presentation for a class or having a conversation with a foreign client are just some of the situations you might face.
It's important to start preparing now, so below you'll find some tips and ideas on what you can do to start practicing.
Exercises to practice listening:

if you want to understand the news, podcasts, or films that you watch in English, it's important to start by training your ear. Practicing with the listening exercises that we recommend will bring you closer to understanding the different English sounds and accents without difficulty.
The short films and ABA Films will allow you to practice repeating what you hear using our Listen-Record-Compare technology. You can then listen to what you recorded to work on your pronunciation and intonation at the same time.
Exercises to practice vocabulary: having a wide vocabulary is definitely something that will help you strengthen all of your English skills. As you progress through our course, you'll build a vocabulary that is increasingly wide and complex.
You can practice using gap-filling activities or ABA Moment, a tool that allows you to learn 10 new words in no time at all.
Access to exercises for learning and practicing English online has never been easier. Download the ABA English app and get free access (for a limited time), to the exercises from our English course and the microlessons and activities within Live English.
We're waiting for you!
Join +30M students worldwide