English conversation lessons
The ultimate way to practice your speaking has arrived. Enjoy over 200 English conversation lessons per month with certified teachers and students from all over the world.
30 million students have already enrolled
You're here because you want to speak English and you want to know how to learn English conversation online. You're going to achieve that with practice. Lots of practice. You'll gradually gain fluency, confidence, and assurance that you'll be able to manage in English in any situation. Get out there and practice your speaking starting now.
Try our online English conversation lessons or Speaking Sessions and live classes. You'll have support from teachers and will be able to interact with students from all over the world. You'll also find a complete video-based course that includes six levels of English, from Beginner to Business. 
In addition, thanks to the revolutionary Smart Learning® method from ABA English, you'll discover a new way of learning with content based on your interests. 
We welcome you to explore all of these educational and technological resources that we've developed so that you can learn English comprehensively while having an enjoyable and unique learning experience.
Discover a world of ways to have conversations in English to learn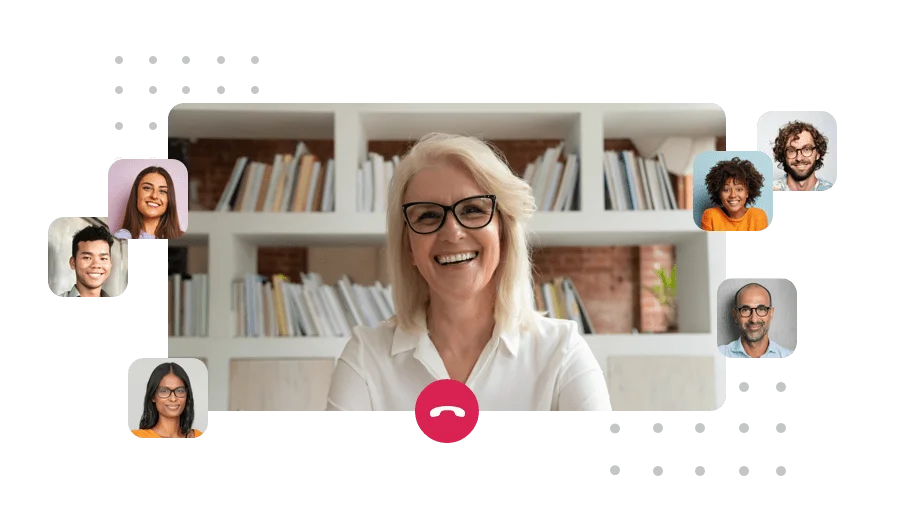 We also offer live grammar classes with a completely practice-oriented approach. In sessions that are just a few minutes long, you'll learn the correct expressions to use in various everyday situations. For example, you can find classes on how to communicate in a work environment or how to ask good questions.
2. Exclusive masterclasses
Discover a new way to practice and improve your English while learning about super interesting topics, with experts in business, professional development, personal growth, travel, sports, and more. Not only will you improve your language skills but you'll also learn interesting things and expand your knowledge.
3. Learn English with the subjects you like
With ABA English, you learn English through content that has been created for you, adapted to your interests and your level. It's simple: you tell us what you like and we'll design a personalized plan to offer you new microlessons every day and help you establish an efficient routine for learning and practice.
We offer more than 250 classes per month, for all levels. Practice the correct ways to express yourself in different situations in English through role playing and discussions on contemporary topics.
What our students have to say



Why are classes important for learning?
Repetition is one of the keys to learning. In the live classes, you'll be able to review what you've learned. Similarly, interaction with teachers and other students will give you the opportunity to ask questions and learn from other students' questions.
How do the classes and the course complement each other?
Online English speaking classes don't only go over the content of the course, they extend it, with extra information and a practical approach. They also allow you to remain connected to English once you've completed the course.
How often should I take classes?
This depends on your individual progress and the schedule you've defined for your learning process. For example, if you want to have five sessions a week, you could divide them into two lessons and three live classes. You can also make sure that the grammar points used in your conversations to learn English are aligned with the topics you're studying in the course at that time.
Do I have to actively participate in my classes?
This would be ideal. If you don't speak, these won't really be conversations in English online. They'll be monologues. Mistakes are a part of learning. Take risks, make yourself heard, correct your mistakes, and you'll quickly see results.
Where can I find the class schedule?
To see the dates and times of the classes in advance, in the app, you simply have to click on the center icon in the menu bar.
On the website, you'll find the same ABA Live icon in the left-hand side menu.
How can I get reminders for the classes I have reserved?
First, make sure you have the latest version of the app. Then, in the ABA Live section, click on the calendar icon to add the session you want to your Google Calendar. From there, you can activate the notifications to receive these whenever you want.
Are there any materials to prepare for the classes?
Yes, we recommend reviewing the Microlesson that corresponds to the subject of the class. Both the app and the website allow you to access the relevant units so that you can efficiently prepare before the session.
ABA Live vs Traditional methods
ABA English isn't a traditional academy. We work to make sure that our methods, our resources, and our content optimize your learning. And most importantly, we want you to live and enjoy the experience of learning with us. Check out how ABA Live differs from traditional conversation lessons:
Traditional English conversation classes
The same topics for all students.
Primary practice: Actively responding to specific questions.
The only interaction is with the teacher.
ABA Live English conversation classes
Practice-oriented lessons focused on real, everyday situations.
New topics that are frequently updated.
A wide variety of topics to choose from, based on your interests.
Primary practice: Participatory approach to the chosen topics.
Interactions with the teacher and other students around the world.
Start your English conversation classes now
With ABA English, you'll have access to hundreds of possibilities for learning and practicing by talking about your favorite topics and sharing them with students from all over the world.
With our Smart Learning® method and the study plan that we'll design for you, you can be sure that with each session you'll learn something new and strengthen your speaking. Explore our app and our website to discover the interesting and entertaining alternatives that are available in our class calendar.