Discover the new ABA English app and all the advantages of learning English through an innovative and dynamic English Learning app for adults. 
The app market keeps growing. Every day, there are more and more apps available to download. There is also an abundance of educational apps and among these, language learning apps are very common. This can make it nearly impossible to find the best English learning app for adults.
If you're looking for an English learning app for adults, you'll definitely find several options. However, you should be picky since many factors have to be considered for your learning process. ABA English invites you to check out our app and our innovative method of teaching English. We know that if you try it, it'll become your favorite.
Do you want to use an English learning app for adults?
There are apps specially designed to teach vocabulary, to improve your grammar, or to work on specific skills like listening, and there are comprehensive apps, like the one from ABA English.
The biggest advantage that these apps provide is immediacy, meaning that you can learn or practice anytime you're free and no matter where you are. Secondly, they're made with the goal of entertaining you, so most resemble games with different challenges and prizes to reward your progress.
Our app is a lot of fun, but it's not a game. It was designed to allow you to strengthen all of your language skills comprehensively and within the framework of a plan tailored to your needs. Any adult can learn English with our app. And if you decide to take our certified course, you can also access the course content from the app.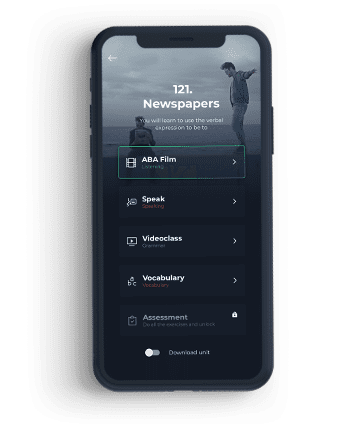 Some tips for learning English using apps
1. Do your research before you choose
An online search will give you plenty of information about the different options. You must keep in mind that some will have a childish approach. Others, even if they're for adults, will have a very playful approach. Some will cover very little material and there are still others that won't provide exercises to practice all the skills, among many other limitations. In addition to the reviews, check the ratings from users for more reliable information.
The content in an app for adults will be much more complex than in an app for children, but it can still feel like a game. Remember that its intention is to educate. Using educational apps to kill time or deal with anxiety by doing activities passively and without paying much attention is a bad habit. You should get the most out of your app. It's not just about completing units in record time.
Success is the result of small actions that are repeated daily. The results you achieve with an app will be the fruit of your perseverance. Organize your time so that you can devote at least a few minutes every day to learning on the app and make sure to follow the suggested plans.
FAQs about apps for learning English
What's the best app to learn English for adults?
Once you look at the app rankings online, you'll realize that opinions differ greatly. In the end, you'll find an app that's better suited to your tastes and needs, but this can't be generalized. The ABA English app has been featured by Google and Android and won the prestigious Reimagine Education Award for Best Educational App. It is designed for adult learners, and will certainly be one of the first ones to show up in your searches, so don't miss your chance to try it out.
Can I find free apps to learn English?
Yes. In fact, you can download the ABA English app for free. There's free content that you can use to familiarize yourself with the app and you'll be able to access other features, with greater educational value, through our seven-day free trial. Remember that this isn't an app for children. Otherwise, the topics would be too childish and the topics too simple.
Can I strengthen all the language skills with an app?
Many apps probably have reading, listening, writing, and speaking exercises, but they're probably very superficial. For example, to strengthen your English conversation, repeating a few words a day isn't enough to improve your pronunciation. You must talk to other people and do so often.
Can I access classes through the apps?
Some will give you this option, which we highly recommend. Our app allows you to access pre-recorded video classes or even Speaking Sessions, which are live sessions with teachers and other students so that you can interact and discuss topics that you're learning or current events.
The advantages of the ABA English app
Our app is a means, not an end. We use it as a platform to facilitate learning, but it's part of a whole. Through it, you can learn English from the basic to the advanced level with our 144-unit certificate course. You'll follow a learning plan designed by experts and aligned with the levels of the CEFR.
Our innovative Smart Learning® method encourages you to learn with what you like. Do you like videos? We have ABA Films. Do you like music? We give you Fill in the Lyrics exercises. Everything is based on the fact that your brain assimilates concepts more easily if you enjoy the learning process.
We evaluate your level when you start and ask you about the topics you prefer in order to give you a Daily Plan that's right for you. You'll have access to microlessons, activities, and a lot of materials to help you progress in your learning every day.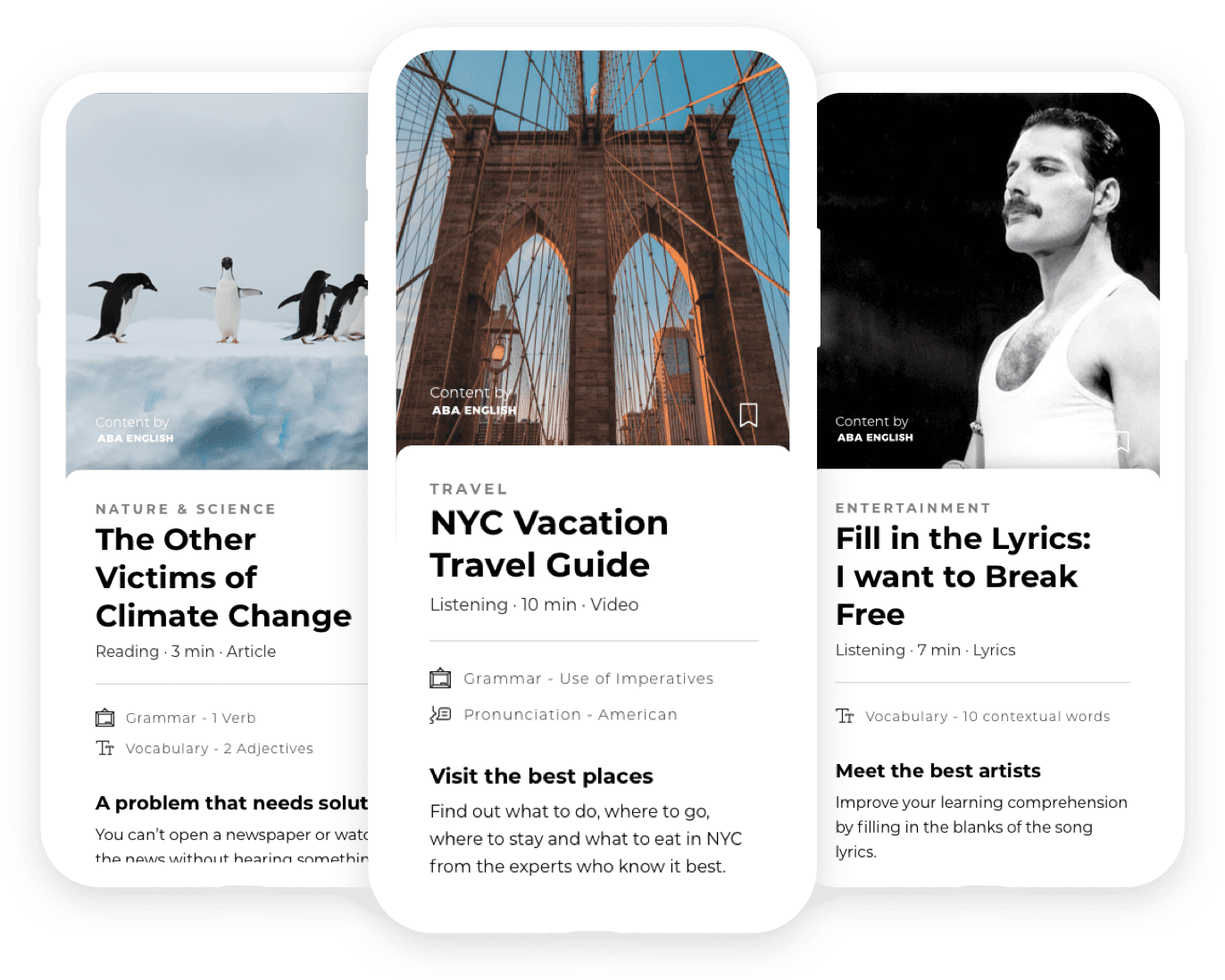 Do you want to get to know the ABA English app?
It doesn't matter if you have an Android or an iOS device. You'll be able to find us on both operating systems. Download our app and you'll immediately see that the wonderful things we've told you about exist.