If you want to discover how easy and fun it is to study the English language with ABA English, download our app to learn English on your Android device, enjoy the best of our Smart Learning® method, and access a great variety of personalized content that's updated daily so that you learn with what you like.
Learning English isn't only a great achievement on a personal level but it will also allow you to have better opportunities at an academic and/or professional level. However, many people give up on the idea of being bilingual because traditional teaching methods don't provide them with what they need. That's to say, they don't have enough time to travel to an academy or adhere to strict schedules.
But these factors no longer have to be a limitation. Thanks to ABA English, the digital English academy, you can practice whenever you want, no matter where you are. You just need to have the desire to learn the language, an electronic device, and a good internet connection. It's that simple.
Would you like to find an app to learn English on your Android for free?
Even though technology has advanced by leaps and bounds, it's not easy to find an English-learning app that you can download to your Android device, that allows you to access its content even without an internet connection, and that's also free.
Nonetheless, the ABA English app offers you a lot of benefits. The first is that you'll have the ability to download the units from the complete English course onto your Android. This will allow you to practice, even if you're offline.
On the other hand, if you feel motivated to learn English by installing our app on your Android device, you'll be able to enjoy a great variety of content aimed at improving your language skills in a very entertaining way. Do you want to try it?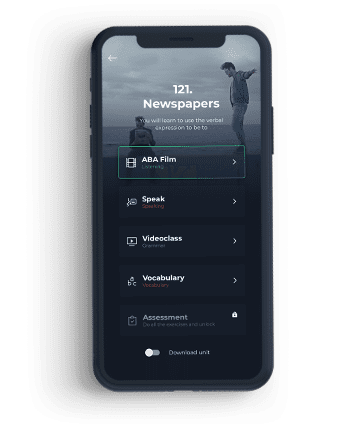 3 advantages of installing an app to learn English on your Android
Any time is great for practicing English. All you need to do is access the app. Take advantage of the time you spend in a waiting room, the time you spend on public transportation, or those days when your friends are late getting to the mall.
You no longer have to carry heavy books around to practice with. Your smartphone enables you to carry a world of knowledge in your pocket so that you can perfect your language skills whenever you want.
Using your smartphone as a study tool allows you to organize your time and learn at your own pace.
What you need to know about apps for learning English
Is it free to download an English app on Android?
Both downloading and installing an English-learning app on your Android device are generally free. You'll probably have to subscribe and pay to access all the content offered, though.
How do I install an app to learn English on my Android?
Downloading and installing an app on your smartphone is a really simple process, which only takes a couple of minutes. The only thing you have to do is open the Google Play Store, do a search, and click on the download option above your selection.
How can I know which is the best English teaching app for Android?
There is a wide variety of apps on the market. Want to learn idioms, look for an English idioms app for Android. Want to learn grammar? There are apps for that, too. No matter what kind of app you need, it's essential for you to choose one that allows you to do exercises that really match your level. It's also important for the content they offer to be based on your particular tastes and interests so that you don't lose your motivation.
Download our app and improve your English level with ABA English
If you want to learn English in an innovative and very entertaining way, don't miss out on the opportunity to get to know the study tools that ABA English offers you:
The Smart Learning® method
This revolutionary learning experience, developed by ABA English, the digital English academy, has captivated more than 30 million students around the world with its content that's based on their particular tastes and interests.

Moreover, it was developed according to the pedagogies of different universities, like Cambridge, and to the different levels defined by the Common European Framework of Reference for Languages (CEFR). This means that it covers all the subjects that are evaluated in the international exams so that you can certify your level of English when you wish and/or need to.
Once you've downloaded it to your Android device, you'll be able to choose the topics that interest you, including entertainment, travel, personal growth, and lifestyle, to name a few. This will give you a Daily Plan with very entertaining exercises and microlessons with personalized content that's updated daily. As you complete them, you'll have the ability to earn points and see your progress log.

Keep in mind that you can also access the online English course offered by ABA English through the app.
A comprehensive online English course
We call it a comprehensive course because it covers all levels, from Beginner (A1) to Business (C1). One of the biggest advantages of the course is that you can download the content so that you can review even when you don't have an internet connection.

You'll find several exercises and quizzes that allow you to check your progress. You'll be able to watch short films starring native speakers from different countries (ABA Films) and clear up any doubts with the help of expert language teachers. On top of that, after completing each level, you'll receive an official certificate that you can share on LinkedIn.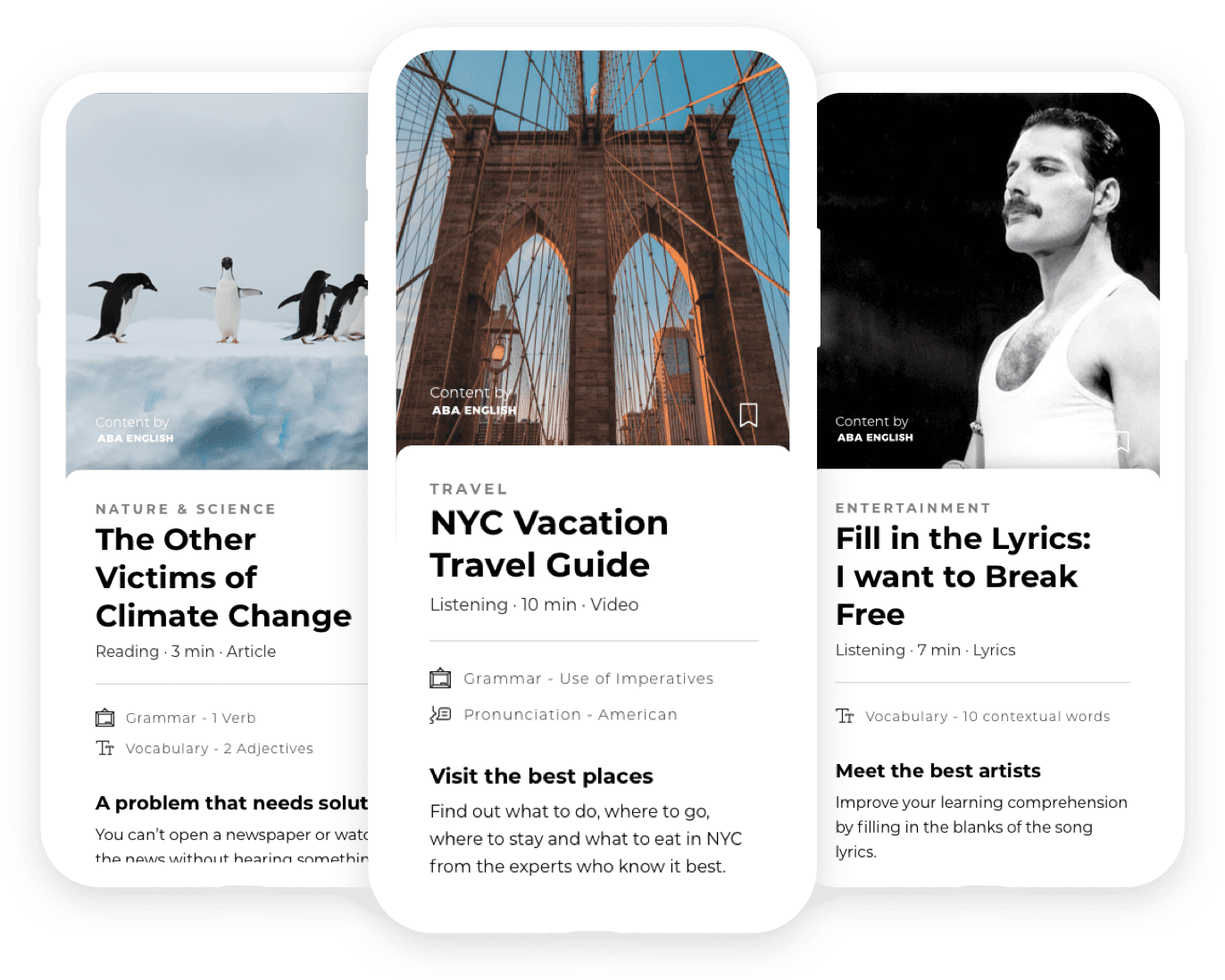 Would you like to download an app to learn English on your Android device?
Don't hesitate any longer. Try the app from ABA English, the digital English academy, and discover why it has been featured by Google and Android as a top educational app on multiple occasions.