Among the many apps out there for you to download on your mobile phone, free apps for learning English are high on the list of those who are looking for a comfortable and affordable way to study the English language.
Having a language application like the one from ABA English on your mobile phone or tablet means that you can access it whenever you want. You'll have no more excuses. This is why we're going to explain how you can make better use of your time with a free app for learning English.
The time has come to learn English and ABA English will accompany you through this exciting adventure with its innovative app and its dynamic, fun, and personalized method.
Why learn English for free with an app?
In the past, it was more complicated to learn a language. You had to buy expensive books that came with cassettes or CDs, have a device that could play cassettes or CDs, and/or go to a language school. But now everything has changed and technology is making things easier for you thanks to digital platforms. 
The best English learning app (for free) will allow you to:
Access content in multiple formats, such as articles, videos, audios, and even games.




Test your knowledge level through evaluation resources like tests, quizzes, and assessments. Some, like the one from ABA English, can even give you an idea of your current level in terms of the CEFR.




Keep on top of things with your mobile phone and be in permanent contact with the language thanks to the notifications.




Interact with students in other countries. This is a great opportunity for you to meet new people and learn about the culture in remote places.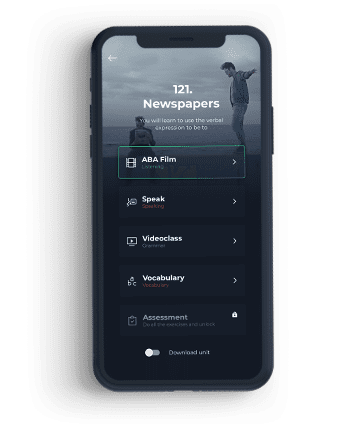 Tips for learning English for free with applications
The best free app to learn English is one that is easy to use, is fun, and allows you to practice all your language skills.
If you want to get the most out of a free app for learning English, keep the following tips in mind:
You'll get more out of your free app for learning English if you write down what you're learning. Write down any unknown words and try to develop complete sentences by writing a letter or an email, for example.
2. Turn on your notifications
Even if you have an English app installed, you'll need a reminder to study your lessons. So, don't forget to set up the notifications to help you get organized.
3. Spend some time studying every day
Setting aside time to learn a language isn't easy. That's because studying English requires discipline and consistency. An English app makes it easy for you to study at any time of the day since you'll usually have your cell phone close by. It will only take a few minutes to do a lesson and you can even listen to some lessons while doing other activities.
4. Look for apps that allow you to interact with other people
The best way to test your English skills is to practice with other students. You'll always have a new opportunity to learn from others and will be challenged when you meet people at a higher level than you.
FAQs about the ABA English app
What systems is the ABA English app available on?
The app from ABA English, the digital English academy, is available for both iOS and Android devices.
Can I study using the app while I'm offline?
Yes, you can download the units of our complete course on your mobile or tablet so that you can still study even when you don't have internet access.
Can I choose the lessons I'd prefer to receive?
Yes. When you log into the app, you can choose the topics that interest you, which will configure your Daily Plan.
Is there a desktop version of the ABA English academy?
The ABA English website gives you access to all the content from the complete course plus some microlessons. This allows the app to become the ideal complement to experience learning English efficiently and while having fun.
Learn English with ABA English
Thanks to our Smart Learning® method, you'll have the opportunity to learn English with what you like, with dynamic and fun content, designed according to the guidelines of the CEFR, Cambridge University, and other well-known institutions.
Get to know the many advantages of studying with us:
Practice your conversation with students from other countries and international guests in live sessions moderated by a professor from the academy. There are several sessions daily and you can view the topics in advance to choose the session you want to participate in.
Learn with the exclusive ABA English short films, featuring native speakers and diverse accents. Review your knowledge with quizzes that will help you practice the dialogues seen in the films. An ABA Film is included in each unit of our complete six-level course, from A1 to Business, which is divided into 144 units.
You choose the topics you like best, which you can study in short and entertaining lessons. Your Daily Plan will be configured based on the topics you choose and can include current affairs, culture, sports, and much more.
Study through our app and receive daily notifications to remind you that it's time to study. Consult your microlessons (short classes in video format) whenever you prefer, from the comfort of your tablet or mobile phone.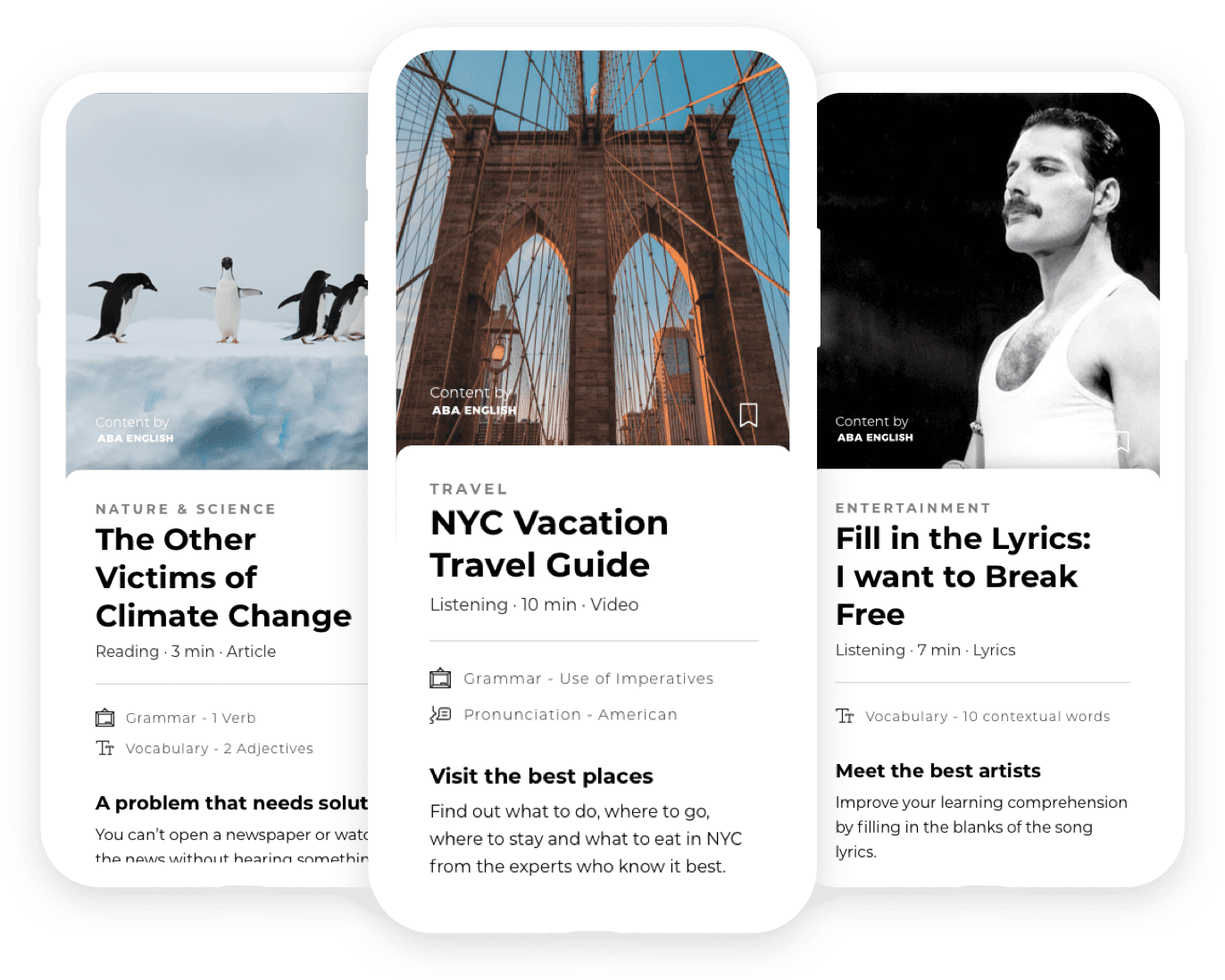 Why are you still waiting to learn English with ABA English?
The ABA English app has been recognized as a top educational app by Google and Android thanks to its innovative browsing and method.
30 million students in 170 countries have chosen us as the best option for learning English because our content is adapted to their needs and tastes.
Download our app to learn English and access all the content on our digital platform free for seven days.