ABA English, offers you the best personalized content so that you learn English with what you like the most, from the comfort of your iOS mobile phone or tablet.
One of the advantages of mobile phones is their flexibility. No matter where you are or the time of day, you can always find space to consult your device. If you have an iPhone and/or iPad, you'll definitely want to get the most out of it with dynamic, fun, and interesting apps.
Now that you're learning to speak Shakespeare's language, the best free iOS app for learning English will be one that allows you to enhance the four language skills involved in studying a language. Below, we'll share some tips on how to use free English learning apps for iPhone and/or iPad.
Why learn English with an iOS app?
Come discover the reasons why it pays to study English through an app:
You can access the app at any time of the day. Mobile devices are always nearby, so there's no excuse for you to not take a moment to study your English lesson.

An app makes it possible for you to practice English while doing another activity. For example, you can listen to an audio file in English while you're walking to work or exercising.

You can get a free English learning app for iPhone. Many people put off learning the English language because they feel like they can't afford to pay for a conventional course. Nowadays, you can find free English learning apps for iOS.

A good English app will send you notifications, reminding you to study your lesson every day.
Keep in mind that ABA English has an English app available for iOS, which will allow you to learn English from the comfort of your mobile phone, tablet, or computer.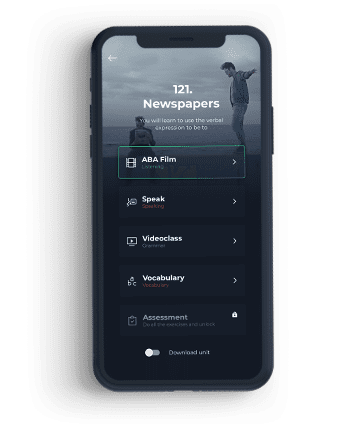 Tips for learning English with an iOS app
Having an app doesn't mean you don't have to take notes. On the contrary, writing is an excellent tool that will allow you to reinforce your learning process. Practice your spelling and look up the words you don't know.
2. Keep your headphones charged
When you least expect it, you could find that you have time to listen to an audio lesson. Wearing headphones will allow you to listen to your lessons anywhere, while avoiding disturbing others.
3. Take advantage of any moment in the day
Even if you have a full schedule, you can always find a moment to practice your English.
4. Look for a comprehensive app
The best English learning apps for iPhone for free are the ones that allow you to practice all your English skills.
5. Take tests and evaluations
Some apps allow you to assess your level of English. This will help you understand your strengths and weaknesses as well as enable you to take an official exam, if you want to.
6. Enable the notifications
It's normal to forget to look at your English lesson. Notifications are an excellent tool to help you remember to study your lesson every day.
FAQs about the ABA English app
Which systems is the ABA English app available on?
You can download the ABA English app on both iOS and Android mobile devices.
Can I study my lessons offline?
Yes. You'll have to download your lessons beforehand, which you'll then be able to view when you don't have internet access.
How can I personalize my app?
Once you enter the ABA English app, you'll have the opportunity to choose the topics that interest you. The platform will then use this to create your personalized Daily Plan.
Is it possible to study with ABA English from my computer?
Yes. You can access the complete course with all its units and grammar video classes from the official ABA English website.
Learning English is possible with ABA English
Through our Smart Learning® method, we offer you the opportunity to learn English on your iOS mobile device with interesting and entertaining content, designed to suit you. We follow the guidelines of the CEFR, Cambridge University, and other universities and institutions to guarantee the best quality of learning.
Learn about some of the advantages of studying with ABA English:
An app with personalized content
Choose the topics that you like most. Learn English with content that really interests you and that's relevant to you.
Practice English in Speaking Sessions with students from other countries and special guests. You'll have constant support from one of our academy's teachers.
Learn with the exclusive ABA English short films, featuring native speaking actors with different accents, so you can effectively practice your listening. You'll study and evaluate the dialogues in the film through practice quizzes.
Take the English test from ABA English for free. Find out your current level and prepare for your next official certification.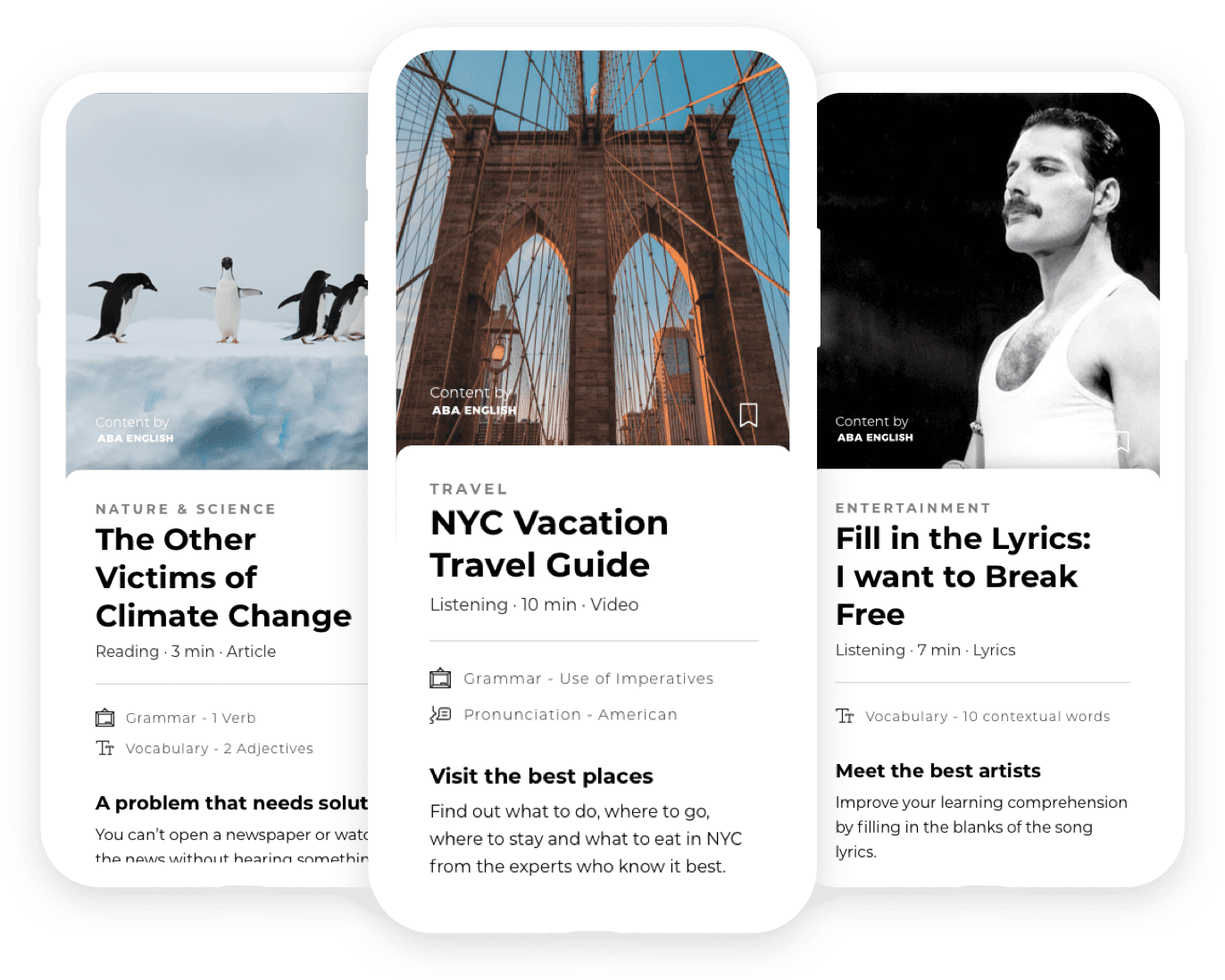 Why are you still waiting to learn English with the ABA English iOS app?
We've been recognized as a top educational app by Google and Android on several occasions, thanks to our dynamic and innovative design, which proves that it's possible to learn English in a different and entertaining way.
30 million people in 170 countries have chosen ABA English, the digital English academy, as the best option to learn English. Now it's your turn to successfully achieve this goal.
If you want, you can follow the complete six-level English course, from A1 to Business, with grammar video classes.
Download the ABA English app for a 7-day free trial and get to know all the content and services that our digital platform offers you.
The time has come to learn English with the best. What are you waiting for?