Advanced English
Conversation
Have you reached an advanced level of English and the only thing left is to improve your speaking? We have what you need. We offer more than 200 conversation lessons in English every month.
Connect with more than 30 million students
The ultimate method for speaking English
Knowing English represents a mixture of skills and knowledge, but the best way to demonstrate your command of the language is through verbal fluency.
Practice and develop your ability to speak English fluently and spontaneously through our online Speaking Sessions and live classes. Our native teachers will guide you through the process and you'll have the opportunity to interact with students from various nationalities.
English conversation for advanced students requires an extensive vocabulary and the use of diverse expressions since the topics go far beyond the simple and everyday.
However, along with the possibility for advanced English conversation, with subtitles, we offer a complete video-based course that includes six levels of English, which are aligned with the CEFR levels because the foundation you need to speak English well lies in grammar.
Improve your ability to speak English with our lessons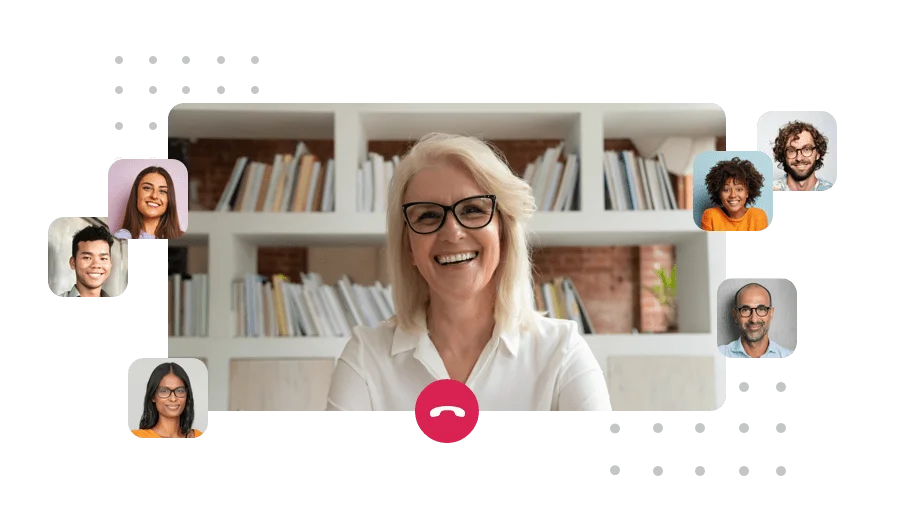 1. Exclusive masterclasses
Do you like to learn new things? Discover an innovative way to perfect your English through talks with experts, world champions, and doctors on interesting and contemporary topics. Break away from the routine and explore new perspectives, discovering words you may not have heard before and that will make you look good when you use them.
You will find more than 250 sessions per month, among which there will be many dedicated to advanced levels. These sessions cover not only grammar but also current topics. They provide an excellent opportunity to practice ways of expressing yourself in various situations and to learn specific vocabulary on different topics.
3. Learn English with the topics you like
At ABA English, we create and update our content continuously to make sure that you always find resources that suit your tastes and interests. You'll always find new and entertaining Microlessons on key language topics so that you can practice frequently.
Even at advanced levels, you shouldn't neglect grammar, which is why we also study it in live classes, using a practical approach. You'll review key concepts in short sessions, applied to everyday situations as well as the correct way to express yourself in these situations.
What our students have to say



Why are conversation classes important?
The only way to learn to speak English well is through practice. Listening to conversations in advanced English can give you an idea of the right structures and vocabulary, but you won't be able to correct your pronunciation unless you have the courage to speak. Every advanced student will appreciate the opportunities that these spaces for learning by trial and error offer.
How do the classes and the course complement each other?
Live classes are useful for reviewing what you've learned in the course and to help you consolidate your knowledge through repetition. They also usually go beyond the course content, with additional information and practical approaches to the topics covered. In addition, once you finish the course, you'll be able to remain in contact with the language.
How often should I attend classes?
This depends on the time that you have available to practice. Try to have contact with English every day, be it through reading, activities, or conversation classes. Check the ABA Live calendar in the app and plan your sessions according to your interest in the topics and the level of the sessions.
Do I have to actively participate in the classes?
This is the best way to get the most out of the conversations. You can learn through the teacher's instructions, through the other students' questions, or through the corrections made. But the best way to perfect your speaking is definitely by speaking and correcting your mistakes on the spot.
Advantages of ABA Live compared to traditional conversation classes
Our Smart Learning® method promotes learning through entertainment because we know that by learning with what you like, you'll get better results. Below you'll find a comparison of ABA Live and traditional systems.
Traditional conversation classes
Lessons with a purely theoretical focus.
The same old topics: family, work, studies, etc.
All students follow a standard program.
The teacher talks and asks questions; the student answers.
There's only one channel between the teacher and the student.
Live classes with a practical approach that can be applied to real situations.
We innovate, using interesting and contemporary topics to keep you motivated.
From the many alternatives, you choose classes according to your tastes.
The student's initiative is encouraged through a true two-sided conversation.
You talk to the teacher and other students to enrich the conversation and learning.
Start practicing your advanced English
Are you ready to have advanced English conversations? Whether you're interested in technical, academic, or business English, ABA Live has plenty of topics and perspectives to explore.
Explore our app to get an idea of all the content you'll be able to access. You can do this from your tablet or smartphone. We're sure you'll find topics that appeal to you. Don't wait any longer! We want to hear your voice. Start now to talk with our native teachers and the more than 30 million students who are already doing so.