Basic Conversations
in English
From the comfort of your mobile or tablet, and whenever you prefer, our ABA Live sessions will allow you to have basic conversations in English so that you can be in permanent contact with the language.
30 Million students are already practicing
If you're just beginning to learn the English language, you may feel that your first basic conversations in English are almost a struggle. 
For this reason, and to help you successfully overcome these difficulties, ABA English offers you a unique tool to speak in English: ABA Live. It will give you the opportunity to talk about different topics with students from all over the world and international guests, with the continuous support provided by our teachers
You'll also be able to follow our complete six-level course, from A1 to Business, with grammar lessons in video format taught by native teachers. This will allow you to have comprehensive training in the English language and reach the level you always wanted.
All this is part of our innovative Smart Learning® method, which aims to help you practice your English in a dynamic, personalized, and fun way.
English conversation classes for beginners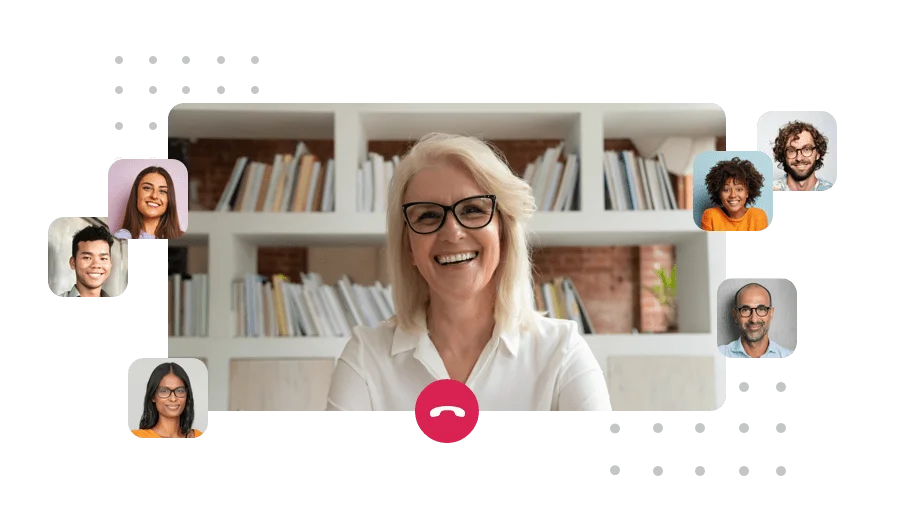 Learn through easy English conversations for beginners with students at different levels. This will be the best way for you to overcome your fear and learn from your mistakes. You'll always be able to resolve your doubts by asking the ABA English teacher who is moderating the session your questions.
2. Exclusive masterclasses
Enjoy our exclusive masterclasses with special guests and experts who will share their knowledge about various topics. These will be conversations in English to learn about topics that you'll love and, of course, you'll be practicing English with the best.
ABA English will show you that learning grammar isn't something boring, thanks to its short lessons with practical content that will allow you to use your grammar in everyday situations.
4. Learn with what you like
You'll be able to see the schedule for the live sessions in advance and choose the ones that most interest you and that match your availability and preferences.
What our students have to say



What level of English do I need to participate in the live sessions?
There are no restrictions. Whether you're just a beginner or you already have an advanced level, you can join the Speaking Sessions and make the most of them, based on your current skill level. Keep in mind that on the calendar, you'll find conversations in English at both A1 and A2 levels.
How often should I join the Speaking Sessions?
Studying with ABA English is flexible. You decide when and how intensively you want to study, based on your ability and your availability. Check the Speaking Sessions calendar to see the schedule and topics.
You can participate in several sessions per week. However, we recommend being realistic so that you don't exceed your limits.
Are the ABA Live sessions related to the lessons being taught?
The topics and content seen during the basic conversations in English are the ideal accompaniment for the A1- and A2-level lessons you're already taking on the course. During some sessions, the teachers will review topics seen during the units in the full course and will also contribute new ideas about various topics.
ABA Live vs traditional English conversation classes
Below, you'll learn how ABA Live, which is based on our Smart Learning® method, differs from conventional conversational English lessons for beginners:
Conventional English conversation classes
Occasional practice opportunities.
Predetermined, fixed topics.
Choosing the topic of conversation is impossible.
The students get used to the teacher's accent.
Practice geared towards the basic levels.
Predetermined and fixed schedules.
ABA Live English conversation classes
Practice opportunities several times a week.
Varied and constantly updated topics.
You can see the topics in advance and choose what you like best.
Interaction with students with different accents from all over the world.
The flexibility to choose the time that best suits you
It's time to speak English
30 million students in 170 countries confirm that, with ABA English, it's possible to learn English in a flexible way, with the content that you really like.
We follow the guidelines set by the CEFR, Cambridge University, and other institutions, to offer you comprehensive training in each language skill, which you'll also be able to practice through English conversation for beginners on ABA Live, always accompanied by our expert teachers.
The time has come for you to learn English as you always wanted to. What are you waiting for? Start preparing yourself with ABA English and enjoy the adventure of English.