Intermediate English Conversation
ABA Live is the most entertaining and effective way to improve your ability to communicate in English. Participate in conversations in intermediate English, become more fluent, and learn with what you like.
Improve your conversation skills at an intermediate level
You have a good grasp of the grammar rules, you feel confident when reading or writing a text in English, but when you have to interact with other people, you freeze up because you're afraid of making mistakes in front of other people. No worries. Remember that you can learn from the mistakes you make because they're also part of the English language learning process.
Practice is the best way to lose your fear of expressing yourself and a good way to do this is through dialogues about real situations in English. So don't miss out on the opportunity to participate in the English conversation intermediate-level classes from ABA English.
Besides being very enjoyable and covering a wide variety of topics, they will serve as a complement to the content of the units in the intermediate (B1) or upper-intermediate (B2) English course.
Improve your conversation skills at the intermediate level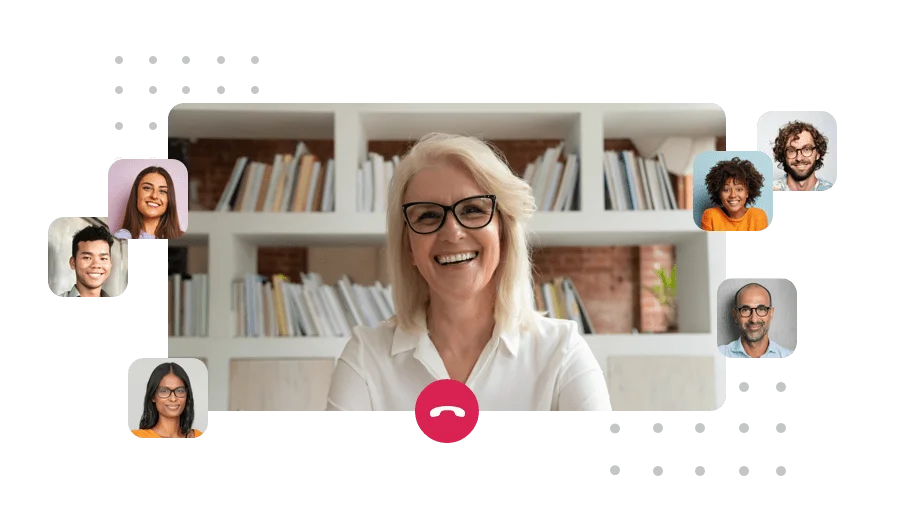 Practice your ability to express yourself in English by participating in the intermediate-level Speaking Sessions. Interact with expert teachers and share your knowledge with other students from all over the world who have the same interests as you.
Enjoy the live classes and reinforce your knowledge of grammar through conversations in B1 English or conversations in B2 English. Our teachers will help you supplement the knowledge you acquire in the different units of the course.
3. Exclusive masterclasses
Listen to conversations in intermediate English and presentations made by experts. Learn new expressions and expand your vocabulary so that you can express yourself naturally.
4. Learn English with the topics you like
Participate in conversation classes adapted to your level of knowledge and have fun learning with content created especially for you.
What our students have to say



Everything you want to know about ABA Live
What are conversations in intermediate English good for?
They help you sharpen your ear, improve your pronunciation, and lose the fear of expressing yourself in English. They are very useful for identifying the mistakes you make most often so that you can correct them in time.
Can I choose the topic of the conversation classes?
Yes, you can schedule your classes according to your interests and/or needs. Join a grammar class if your goal is to supplement what you learned in the course. If you want to relax a little while you practice, you can listen to conversations in intermediate English in cultural sessions, in debates, or during presentations on your favorite topics given by experts.
Can I participate in several sessions per week?
Yes, you can enjoy English daily conversations at the intermediate level. However, before scheduling many classes, we recommend that you consider your time and capabilities so as not to exceed your limits or capabilities.
ABA Live vs traditional English conversation classes
ABA English offers you ABA Live, a resource that will allow you to gain confidence so that you can take firm steps along the path of learning the English language.
This innovative tool won't only allow you to improve your conversation skills through dynamic and participative sessions, but it will also help you to keep in touch with the language even when you've completed all the units in the English course.
Traditional conversation classes
One conversation session per day.
General and repetitive content.
The only interaction is with the teacher.
No special guests are expected to participate.
ABA Live conversation classes
Multiple conversation sessions each day.
Personalized and modern content.
Interactions with teachers and other students around the world.
Include special guests that are experts in different topics and sectors.
The time has come to start speaking in English
For ABA English, it's very important for your dream of moving beyond the intermediate level to come true. That's why we created ABA Live, an innovative resource that allows you to participate and/or listen to conversations in intermediate English so that you can acquire sound knowledge that will help you perfect your language skills. 
Discover all the benefits you can get by learning English with what you like, at your own pace, and without pressure. Join the 30 million students in more than 170 countries around the world who have discovered that the live conversation classes from ABA English really work.