Try the best online English lessons to learn English
Discover the advantages of learning English with personalised online English lessons. You will be able to achieve your goals with the support of a certified tutor who will accompany you from the first day.
There are many ways to learn, but none as natural as receiving a lesson from an expert, especially if they've also been trained to teach.
Nowadays, we enjoy the advantages of connectivity. We can take free English classes online, without leaving home and at the time that suits us best. At ABA English, we know the benefits of online classes. That's why we have different formats, expert teachers, and an effective method that you're going to love.
Do you want to learn English through online classes?
There are guides, activities, applications, workshops, and many other resources out there you can use to learn English, but we'll always consider classes to be something fundamental. What are the advantages of a class? Mainly that you interact with another human being who has the clear intention of helping you learn and is making a concerted effort to achieve this goal.
You'll find that English learning classes online can be live or pre-recorded. But the fact that a class is live doesn't necessarily mean that interaction or participation is allowed. Being able to ask the teacher questions and having the teacher ask you questions allows you to clarify your doubts and for the teacher to monitor your level of understanding. The latter is the ideal teaching-learning scenario.
As you explore your options, you'll find a number of online class options, each with specific English themes. With ABA English, you'll have the option of having a private teacher or participating in live classes with other students.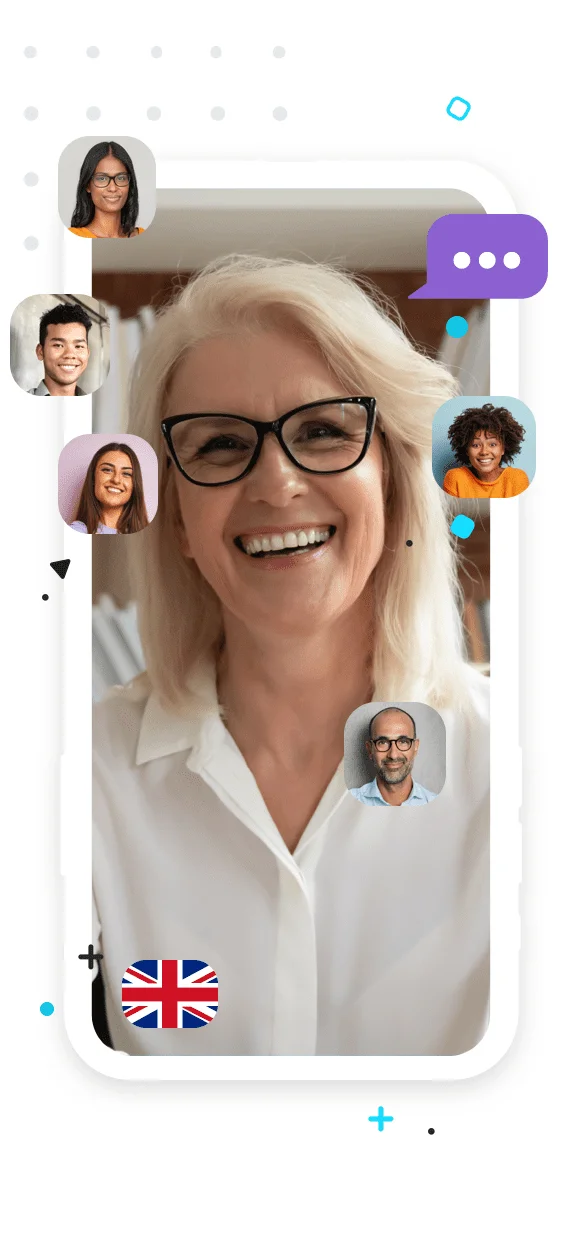 Take your English to the next level with online classes
Tips for learning English through online classes
1. Prepare for the subjects
If you're going to have a class on a specific topic, the best thing you can do is to carry out a little research on the subject. Having some clarity about the context will help you better understand the lesson and avoid confusion. In addition, if you prepare yourself and have specific questions, you'll be able to find a way to resolve them during the class.
At times, we may think that we understand everything easily and feel very satisfied with what we've learned after a class. The problem is that there are so many things to think about that we can forget them very quickly. Try to write down the important things you notice in your classes so that you can refer to your notes when you feel like you've forgotten something.
Passively attending a class is a bit of a waste of resources. When teaching English, practice is fundamental, so you'll always have exercises to complete. If you do the activities that are offered during the class and after it, you can be sure that you'll acquire more knowledge and your learning process will be much more efficient.
4. Make the classes part of a program
Classes are useful for learning specific concepts, but they are even more useful when they're part of a course and have continuity. You shouldn't be averse to the idea of a course—not all of them are boring. At ABA English, we offer you a fun course where you learn with whatever you like.
FAQs about online English classes
Can I find free English classes online?
Of course, the internet is full of free content. If you search by topic, you'll find classes that will explain what you need. However, live classes usually aren't free, unless they're part of a promotional campaign. If that's the case, take advantage of it.
Can I ask questions during English learning classes online?
If the class is live and allows participation, you can ask questions. Some other mechanisms you can use are comments, discussion forums, or messages that can be enabled for non-participatory classes.
Do online English classes have native speaking teachers?
That would be ideal, but it's not always the case. There are many people dedicated to teaching who share their work online. It can sometimes even be beneficial for them to explain things to you in your language.
Can I access online English classes on my smartphone?
Generally, yes. Smartphones can handle almost any streaming media and video conferencing platform. It's very convenient for you to have the option of having your classes on your smartphone since this will allow you to make better use of your free time.
The benefits of learning English with ABA English
We're the digital English academy with more than 30 million students. We want to share some of the reasons why they prefer us:
We've developed the Smart Learning® method, which seeks to make you learn through what you like. We don't want learning to be a cumbersome and tedious process. We want you to enjoy what you learn. This is why we choose to make the format and content of our lessons pleasant for you so that your brain assimilates the knowledge more easily.
We have a certified six-level course with 144 units. Each unit includes an ABA Film, a short film with native speaking actors, as well as a grammar video class where native speaking teachers explain the grammar topics that appear in the dialogues of those films.
We have an educational app that will allow you to learn and practice at any time and in any place. It even allows you to access the course content. On the app, you'll also find a Daily Plan adapted to your tastes and needs with microlessons and various activities for you to get daily practice. You'll also have the Speaking Sessions, which are spaces for interaction between teachers and students to discuss academic or current issues.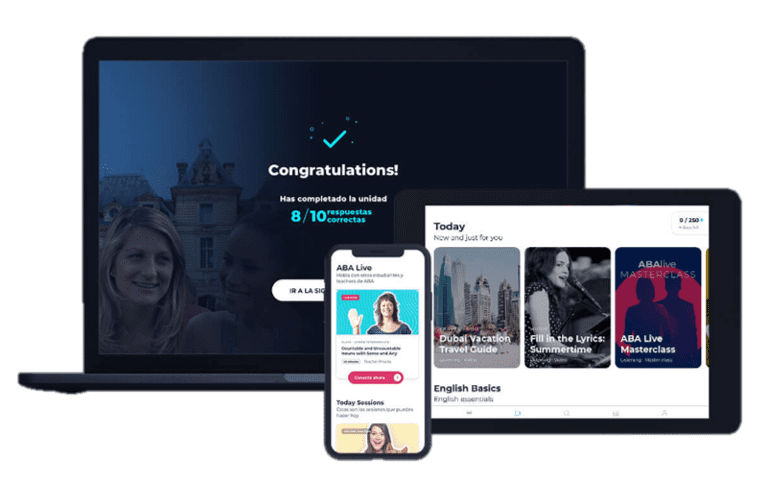 Are you interested in taking a class with ABA English?
We have what you need and we want you to experience it for yourself. You'll be able to see firsthand how much you can learn in one of our classes. Don't wait any longer.