A very useful and effective resource for improving your proficiency in the language.
Supplement your English studies with our online conversation classes to learn, practice, and reach the level that you want.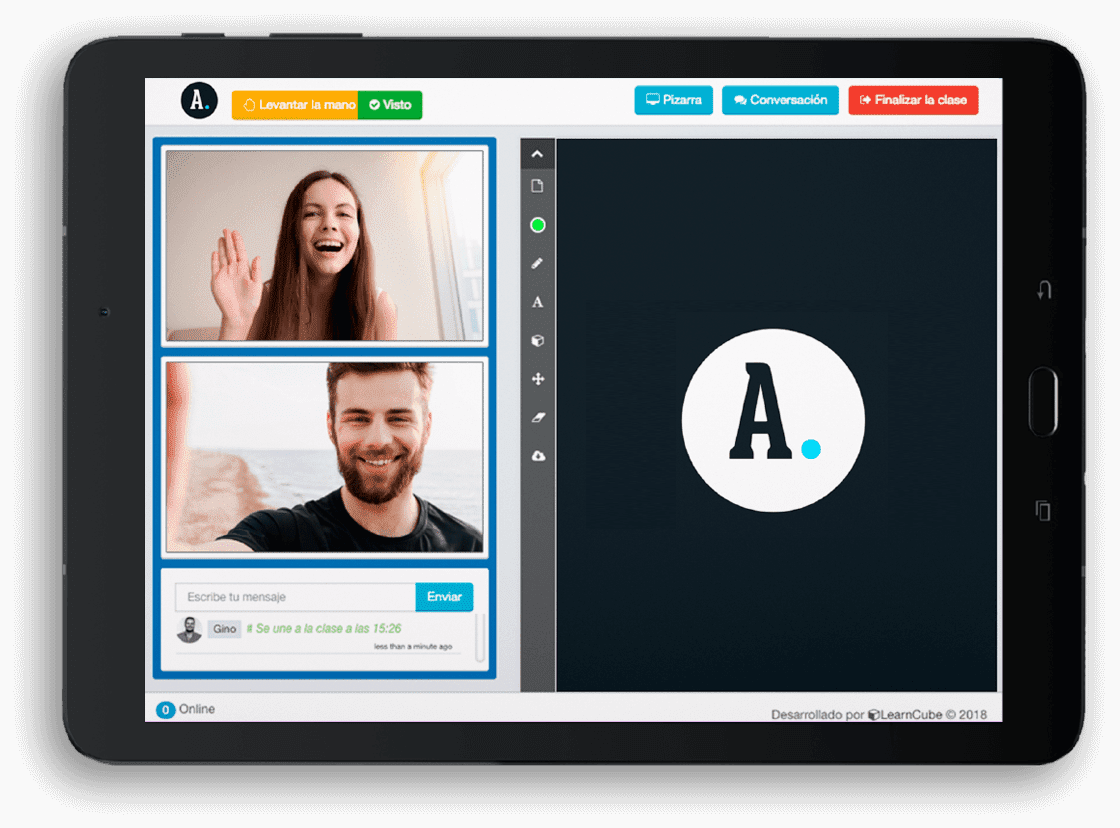 Connect with your teacher from anywhere. Practice, speak, and improve your fluency.
How Do Online English Classes Work?
One of the biggest challenges for those studying English is to achieve the ability to express themselves and speak in English. They also need to understand native and non-native speakers. Along the same lines, they always need to be able to resolve their questions and go deeper into specific issues. The good news is that a variety of resources exist that can help you effectively address all of these challenges and needs.
The 144 grammar video classes from ABA English are an excellent resource that you can use for free and at any time. Thanks to them, you can learn the themes for each unit. If necessary, you can watch them as many times as you need to go deeper into the issues that aren't completely clear.
Another free resource that our online English course offers are the live classes on our Facebook page. With these classes from our teachers, you can learn different content such as vocabulary, pronunciation, and practical things like how to fill out a form, for example.
You can also sign up for our Premium plan and access our online conversation classes to practice speaking and listening with a private teacher. What could be better than that? This space will allow you to practice the language in a safe environment, without stress. You'll be able to focus on whatever topics you need most.
At ABA English, the only thing you have to do is book an online English class with one of our native teachers at the time that's best for you and that's it! Our teachers will prepare a class just for you, keeping in mind your level, your needs, and your progress in the language. You can also suggest a theme or skill that you want to take a closer look at, if you want.
What Do You Learn in an Online English Class?
Great question! Private online English classes are very similar to a face-to-face class, but they have the advantage of being personalised. You can also choose the time that's best for you. This format allows you to suggest the topics that you want to work on and the skills you want to practice. By booking a private class with any of our native teachers, you can:
Choose what you want to practice during your session

: speak, review grammar, answer questions, prepare for an interview, and more. Tell your teacher your goals

.
Answer questions

about what you're learning in the course.
Practice speaking

and increase your confidence in the language

.
Improve your pronunciation

since your teacher will explain how to correctly produce and pronounce the sounds in English

.
Perfect your knowledge and use of the language in different areas such as grammar, conversation, and listening, among others.
Learn the main features of Anglo-Saxon culture

, which will help you to adapt to an English-speaking environment.
How Much Can a Class Cost?
This is a question that can be a bit difficult to answer. It'll depend on where you are, if the class is face-to-face or virtual, and the number of classes, along with some other factors.
If you choose to take a course with private English classes, either face-to-face or virtual, the price for one hour usually starts at around €30. This means that if you want a private teacher to achieve immediate results, you must set aside a considerable amount monthly for that purpose.
Given that students generally prefer the help of a tutor or a private teacher when learning English, ABA English has designed different plans for the distinct needs of our young and adult students, since we know that a comprehensive and effective course is what they want.
All the plans offered by ABA English include the online course with 144 units, 6 levels, more than 1,000 exercises, and official certificates. In addition, with the Premium plan, you can add 4 or 8 online conversation classes per month with experienced, native teachers to improve your proficiency and fluency in the language.
Remember that practice is a key element in learning English. If you're motivated to improve quickly and consistently, we recommend that you choose one of the plans that includes conversation classes because they'll allow you to gain confidence, self-assurance, and fluency in the language.
How Long Does the Average Class Last?
You have definitely seen that language classes vary in length. This has to do with the type of course you choose. For example, in an intensive course, a class can last up to three hours. If you're on a regular course, a class will usually last from 45 minutes to an hour.
Now you may be wondering, "What's the most appropriate length for learning?" As we said, that depends on the type of course it is and the goals you have set.
We've conducted various studies which show that the ideal length to stay focused and learn without forgetting the information is 30 minutes. That's why our private classes are that length.
Your private and native teacher will be in charge of planning the content and activities during that time. This ensures that you can get the most out of the class and that the session will be very productive. Also, remember that you can also suggest the topics that you need, ask questions, or choose a conversation topic to improve your fluency. It's your class!
Try the ABA English Conversation Classes
If you want to speak English and get results in a short time, take advantage of the ABA English online conversation classes. These classes respond personally and effectively to the goals you set yourself. Our native teachers are specialised in teaching the language and are ready to help you in the development of the skills you wish to achieve.
As a Premium user, you'll be able to choose the teacher with whom you want to practice or clear up your doubts. You'll also get to choose the day and time that's best for you. You simply need a computer, an internet connection, and the drive to learn. Are you ready to begin?
Join +25M students worldwide