LISTEN, RECORD AND COMPARE
WITH THE ABA ENGLISH COURSE
Train your listening and imitate the native accents in our videos.
The ABA English course comes with LRC ® automatic voice recognition technology:
Listen, Record, Compare.
The goal is for you to practice your pronunciation by imitating the native accent. You'll record yourself, and then listen and compare your pronunciation with the original. This is the best way to perfect your ear and repeat as many times as you need until you have good pronunciation.
THE MORE YOU PRACTICE, THE BETTER
With this practice you'll assimilate English expressions for many everyday situations in a natural way. One day you'll surprise yourself by thinking and speaking English fluently and with ease.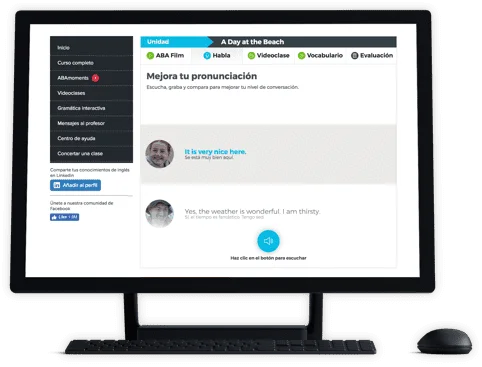 Join more than 30 million students from all over the world