Learn English in a personalized way
If you're tired of trying out methodologies that don't adjust to your schedule, interests, and needs, it's time for you to embrace and enjoy a unique and, above all, very entertaining learning experience. Try the 100% personalized private English classes offered by ABA English and discover a new way of learning that you'll love.
Some students get excited and decide to learn English because they know it's a life-changing decision. Unfortunately, many of these people get discouraged quickly and decide to abandon the process for a variety of reasons. One of these reasons is that they don't know where to take private English classes or because they don't feel comfortable in group classes.
We invite you to discover ABA English private lessons and a new completely personalized way to learn the language. Private classes will never be the same!
Why learn with private English lessons?
Unlike in group classes, where there is a common objective, private classes in English are ideal for tackling the topics that are most difficult for you or those that are most useful for your area of work or study.
Another advantage is flexibility. Private English lessons offer you the opportunity to learn at your own pace and without any pressure. This means that, in addition to taking classes when you want and regardless of where you are, you can decide how much time you want to spend studying the language.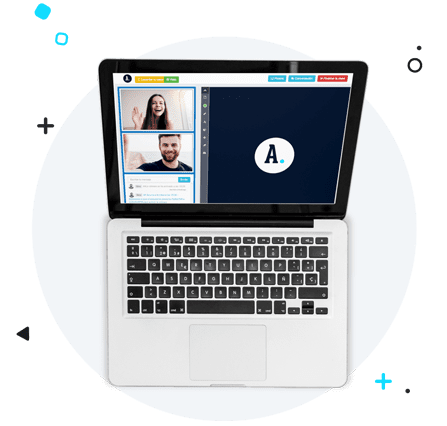 Take your English to the next level with private English classes
4 tips for learning with private English classes
Effort and perseverance are necessary to sustain a rhythm of study that allows you to progress and get excellent results. This is why it's important for you to take private lessons often and to make time for daily practice.
Even though you can have your private English lessons online from the place you prefer, it's important for you to look for environments where there are no external factors that will interfere or keep you from concentrating.
Take advantage of your private English classes to practice the skills that are most difficult for you. This will help you prepare for specific goals, like reaching a higher English level or getting excellent results on an official exam. For example, if you want to practice your speaking, in particular, you can look for private English speaking classes.
4. Ask for feedback after each class
Receiving feedback from your teacher at the end of the lesson will help you better understand what topics need to be reinforced. It will also allow you to identify the mistakes you make most often so that you can correct them when they happen.
The things you want to know about private English classes
Are private English classes more effective than group classes?
They are different modalities. Private English classes allow you to advance at your own pace, study in a private environment, and work on your specific needs. Group classes are also ideal for those who enjoy interacting with other people, sharing their experiences, and working in a team.
Do private English classes always have the same objectives?
No. It depends on the needs of the student. While some students take private classes in English to overcome language barriers or to improve a specific skill, others do so because they need to take an official exam in order to be certified at a specific level.
Are all private English classes personalized?
No. In general, teachers and/or academies will allow you to choose the schedule and take the classes from wherever you prefer, but you can't always decide on the content or type of class you want to take. Only some academies, like ABA English, offer you this feature.
The advantages of taking personalized online English lessons with ABA English
Private online English classes
Unlike other private online English classes, these are 100% personalized, meaning that not only can you schedule them whenever you want, but you can also set the pace and choose the type of class you need to take: speaking, grammar, vocabulary, phonetics, etc.
The Smart Learning® method
This is a new learning experience that takes into account your particular interests so that you learn with what you like. It was developed according to the pedagogies of different universities, like Cambridge, and the CEFR so that you can get certified when you need to.
They will guide you, without putting pressure on you, so that you can get the most out of your classes and feel increasingly confident in expressing yourself in English. In addition, you can count on their collaboration and schedule a class when you need to prepare for an important event such as giving a presentation, attending an interview, or passing an exam.
A complete English course
Our complete course covers all levels from A1 to Business. Since the private English lessons from ABA English are completely aligned with the course content, they are very useful to practice the topics studied in the different units.
Are you ready to take private English classes?
Don't miss out on this opportunity to experience an enjoyable and very original learning experience. Join the more than 30 million students who have chosen to study English with the Smart Learning® method.
Enjoy a teaching method that fits your learning style and live a totally personalized experience with the private online English classes from ABA English. You'll love them!