Everything you need to know to choose the best.
If your goal is to study at a foreign college, you're probably wondering, "Do I need to speak English? What level should I have? Which colleges are the best?"
You can learn English in our course. We provide you with specialised content related to your areas of interest. This will prepare you to attend a foreign college and study in English.
Studying college English for admission
Do you want to go to college? Congratulations! This is a very important step in your professional training. Now you should begin preparing for just that. One of the most important steps will be learning English.
No matter what country your college is located in or what language you speak, mastering the English language will open up countless opportunities due to its undeniable importance in communication.
Speaking English will allow you to exchange ideas with foreign ESL students, conduct online workshops in English, and participate in international lectures. Even better, it will empower you to be the one who gives one of those courses. Imagine that!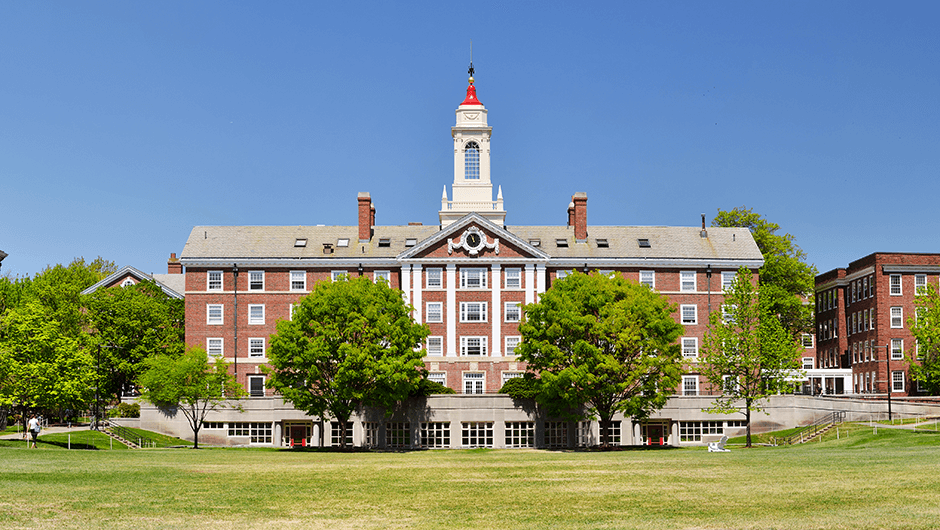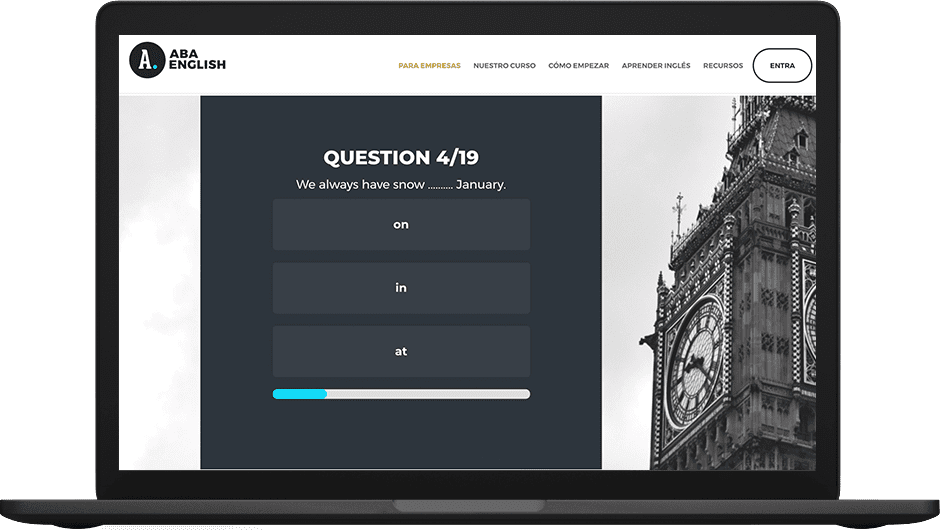 You'll also have direct access to the most up-to-date information on topics related to your career since more than 56% of all websites are in English.
Now that you have the desire and the determination to study English to get into college, you have to take the first step towards achieving your goal.
If you don't know where to start, take our free level test to get an idea of your current language skills. Once you have your results, you can explore our resources for free to find out if what we offer is right for you.
Studying in a foreign college
Choosing a foreign college to do your ESL programme and get a degree in English is an excellent option. Living in a multicultural environment, where you're not only exposed to the language but also to the customs and traditions of other countries, is one of the best life experiences you can have.
In addition, this is the perfect opportunity to learn English since it will combine the academic and theoretical parts with practice. This is an essential aspect of mastering any second language.
If you want to go to Mexico, for example, one of the best colleges for learning English is the National Autonomous University of Mexico, which ranks among the top 100 colleges worldwide.
You can also apply to the National University of Colombia, which is one of the best places in Colombia and Latin America for ESL college courses.
Another option would be to travel to an English-speaking country like Australia, which has some of the best colleges for studying English: The University of Queensland and the University of Melbourne.
What's more, this new educational experience abroad will offer you many advantages, most importantly:
Making your CV stand out
Including a certificate that validates your studies at a foreign college adds significant value to your CV. Statistics show that almost 90% of employers consider this preparation abroad relevant.
Personal development
This educational experience will help you develop some of the skills that will allow you to succeed in the job market, including your command of English, flexibility, and the ability to respond effectively to new challenges.
What level of English do I need to study abroad?
The level of English required for studying at a college abroad will depend on many factors, including the college and the degree you want to pursue. 
Each college has its own requirements. For example, the University of Oxford asks for a minimum of 7 on the IELTS Academic test for admission. If you want to study at The University of Queensland, you'll need an IELTS score between 5 and 5.5. 
Another option is the Open University of Catalonia, which offers scholarships to students studying their degree in translation. To qualify for this benefit, you must have a B1/Intermediate level of English. 
To find out your level, we offer a free test that consists of some simple multiple-choice questions that assess your knowledge of the language. 
If you haven't currently reached the level you need to enter college and pursue the degree you want, solutions exist. 
One of them is our online course. It has teachers that are trained to offer you, in a dynamic and engaging manner, all the content you need to achieve the English level you need.
How to get admitted to an English-speaking college
To apply to an English-speaking college, you need to follow the internal process of each institution. This isn't difficult or complicated, but there are some steps you need to take beforehand and some information you need to gather.
As a general rule, these are some of the steps you'll need to take:
Choose a college
Each college will have its own admission requirements, so you must start by choosing the institution you want to study at. Don't forget to consider your goals, the cost, and your preferences in terms of the type of studies and the location.
Take note of the prerequisites
Get in touch with the college's admissions department and ask any questions you may have regarding their admission requirements. Be aware of any deadlines for submitting fees because any delay could prevent you from being admitted.
Among these important documents are your secondary school transcripts. Your secondary school will usually have to send these to the college.
Meanwhile, some colleges may require an essay, an interview, a test, or letters of recommendation from past teachers. Other institutions may ask you to provide proof of your extracurricular activities, academic achievements, or volunteer work.
Apply for a visa
To attend a foreign college, you'll need a student visa. To apply for a student visa, you must contact the embassy of the country where the college is located for information.
Get an English certificate
You must have a solid command of English. This is why colleges require that you certify your English language skills.
When you study college English using our course, you'll receive a certificate every time you complete a level.
What are the best colleges to study English?
If you want to study English in the USA, there are several universities to choose from. Among these are the University of Washington and the prestigious Harvard University. Both are world-renowned institutions.
Some other excellent options include the University of Calgary and the University of Toronto, which are part of the extensive network of Canadian colleges for studying English.
The vast majority of students at these Canadian colleges are foreigners. So, studying English at any of these institutions would be an excellent multicultural experience.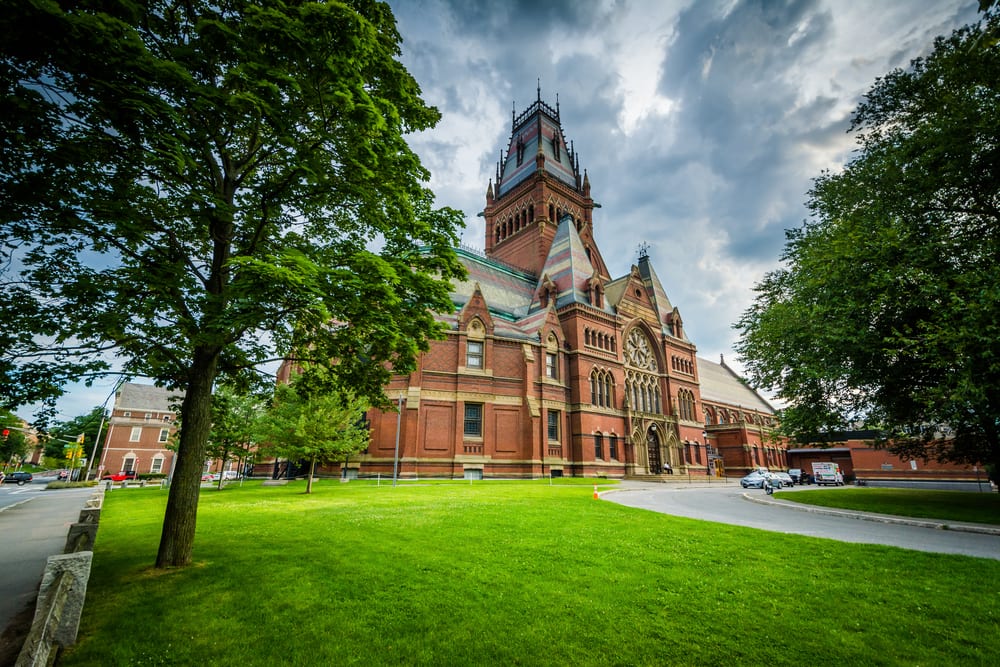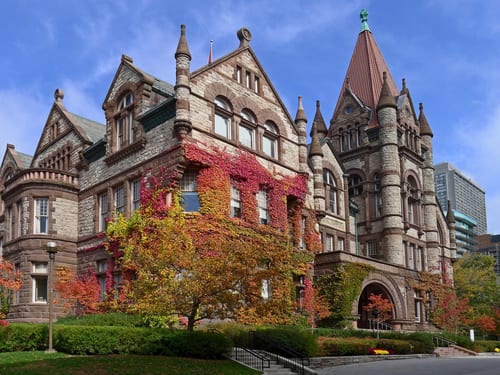 If you want to have this educational experience in the UK, some of the best colleges in the UK to study English are the University of Oxford and the University of Cambridge. The latter has a special programme for teaching English: Cambridge English.
On the other hand, some of the best colleges for studying English in Spain include the University of Zaragoza and the Complutense University of Madrid. One of the advantages offered by these language schools is their online courses, which have been highly rated around the world.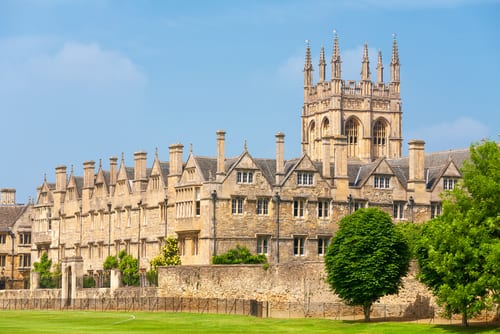 Get ready for college English with our course
Do you think your English isn't good enough to get into a college? Don't look at this as an impediment. Instead, think of it as one of the motivating factors that will encourage you to learn English.
Our course allows you to reach the level of English you need to study at the best institutions in the world. When you finish your studies, we'll give you an official ABA English certificate.
In addition, our teaching method offers you a number of benefits: 
The methodology is

flexible

. You determine the most appropriate time to study.
If you have any questions, you can clear them up by booking a private online class

with one of our native teachers.
It offers an excellent way to supplement your college English while you sleep

thanks to our Chill Out Learning feature.

 
You can access a wide range of

multimedia resources

such as video classes, live classes, and short films.

 
You can use the international Live Chat to meet thousands of students around the world and expand your network of

contacts

.

 
Make the most of your free time thanks to the

microlessons

that are available in our app.

 
Make your decision now. Get to know our course! Try it for FREE for 7 days.
Join +30M students worldwide