IMPROVE YOUR ENGLISH PRONUNCIATION
We have prepared exercises for you to practice your pronunciation. You'll notice your progress!
Good English pronunciation comes with practice. And the more you practice, the better. Listen, imitate, compare and start again. Try it, loosen up, explore. Little by little you'll notice that your pronunciation improves.
IMPROVING PRONUNCIATION BEGINS WITH LISTENING
Start with an ABA Film. These short films produced exclusively by ABA English feature everyday conversations in native English. You'll get familiar with different accents and voices, and afterwards you'll dub the dialogues to practice your pronunciation in English. Sounds good, right?
RECORD YOURSELF AND COMPARE YOUR PRONUNCIATION WITH THE ORIGINAL
You'll use our LRC (Listen-Record-Compare) method to improve your English pronunciation: you'll record your voice, listen to yourself, and be able to compare your pronunciation with the native English speaker's.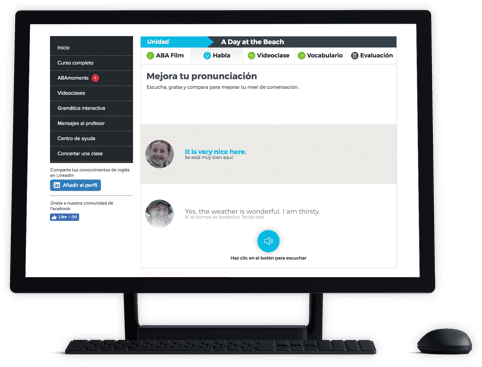 SPEAK WITH YOUR TEACHER TO IMPROVE YOUR PRONUNCIATION
Try, go for it, speak!
Complete your course with our online conversation classes:
• 30 minute classes
• You choose the day and time that works best for you.
• You can also choose the teacher.
• You just need a computer and an Internet connection.
Register for free and start learning English