Learn business English for work
Increase your chances of finding a job and growing professionally.
Nowadays, the labour market is very demanding. Speaking English is no longer an option; it's essential.
With the internationalisation of the world of work, English has become one of the most important languages at the business and professional level. So, to expand your field of work, you have to know how to communicate in this universal language.
You want to work abroad but you don't know business English
Do you plan to travel abroad to develop professionally? Or do you want to go to another country to fulfil your dream of working in a foreign company?
Whether you're a teacher, a driver, or a hotel manager, you must be able to speak a little English. However, it's important to know that each type of work requires a different level of English.
So, to work as a firefighter, for example, having an intermediate or advanced command of the language is recommended, while if you're an excellent salesperson and want a job in a store, you'll need an intermediate conversational level to be able to communicate clearly and provide excellent customer service.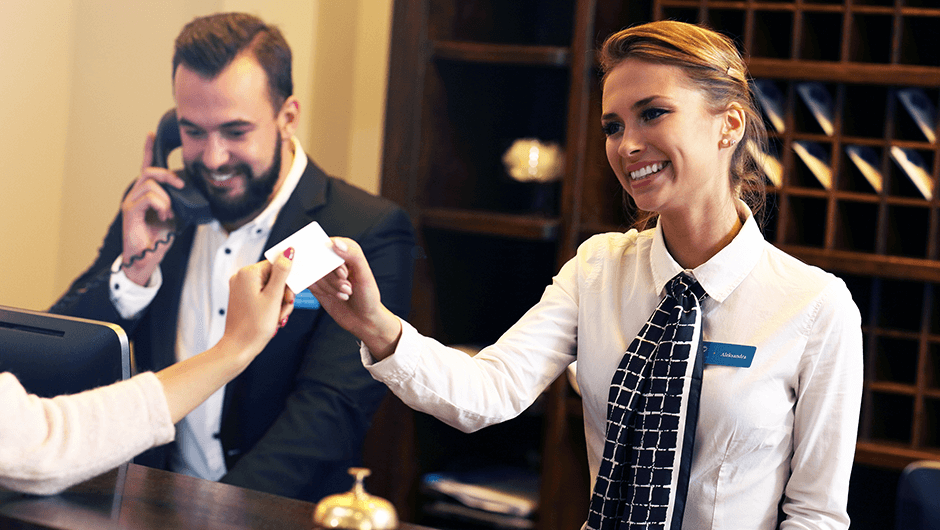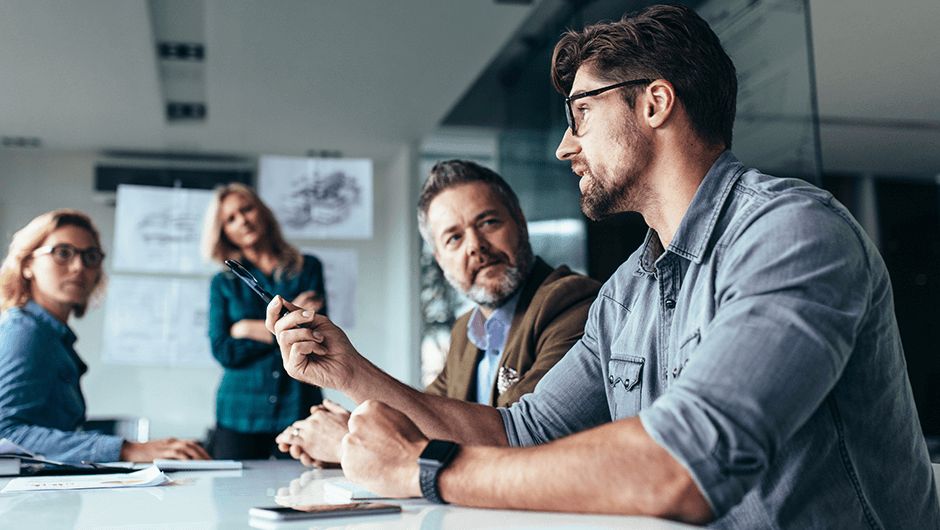 In the business world, if you improve your English, you will advance rapidly as it will make you the perfect candidate to participate in international meetings, English courses, and workshops.
Mastering English will also keep you informed of the latest innovations in your area of work. This will let you have direct access to different communication resources, such as web pages, technical reports, and applications, which are usually available in English.
But don't worry. Now knowing English isn't a limitation. Think of it as a challenge and a goal that you can achieve.
To accompany you through this process, in our online course, we offer you practical tools that will facilitate learning and the development of your English skills so that you can quickly find an English-speaking job.
Which English certification is the best for work?
The vast majority of jobs in English require an official certification that demonstrates your linguistic abilities in English.
Having one of these certificates serves as an excellent cover letter that will open up various opportunities in the labour field.
Currently, there are several different official tests available to certify your English level. You need to be familiar with them so that you can decide which one best suits your needs. Here's a brief overview of some of these certificates.
FCE (First Certificate in English)
This qualification is very popular at the business level and is endorsed by Cambridge English.
TOEFL (Test of English as a Foreign Language)
The online certification exam is administered several times a year worldwide, at approved locations.
IELTS (International English Language Testing System)
This test is supported by IDP Australia, the British Council, and the University of Cambridge. It comes in two forms: Academic and General Training. The latter is more focused on the business environment.
ESOL (English for Speakers of Other Languages)
Trinity College London issues this English language certificate, which, while lesser-known than the previous ones, is very prestigious in Ireland and the United Kingdom.
Now, you may be wondering which one is the best. The truth is that all of them have their advantages. Your choice will depend on the type of English job you want to apply for.
Jobs where you need to speak business English
In today's world, technological and social changes have transformed the labour market. Globally, countries are closely connected, which means that there is a constant exchange of ideas.
As a consequence, speaking global English is more than just a plus on your CV. In many jobs, it's considered an almost indispensable skill, such as in the jobs of diplomats, translators, and journalists.
The same holds true in broader areas of work such as foreign trade or tourism. In the latter, everyone working in that field needs to speak English, from the local guide to the hotel receptionist.
Indeed, if you're a server in a restaurant, speaking English will be a great advantage for you. Fluid communication with customers will make your work easier and make them feel more at ease.
Within the legal field, it's also essential to have a good level of English. Are you a lawyer? If so, you've probably represented a foreign client during a lawsuit. Or you may need to provide legal representation to a company in an international dispute.
Other jobs where business English is needed are in the medical field. For example, if you want to work as a nurse, a good level of English will allow you to communicate efficiently with any English-speaking patients so that you can understand in detail the reason for their consultation.
As you can see, speaking English fluently and with the right terminology improves your professional capabilities. It also opens the door to jobs, both at home and abroad.
How to find a job in English
If you're considering a career change, it's time to look for a job in English. You might ask yourself, "Where should I start?" Don't worry. Here are some tips that will help you find the job you want in English.
Know your English level
Occasionally, certain jobs will require a certain level of English. That's why you need to know your level. If you don't know it yet, ABA English offers a FREE English test. It will only take you a few minutes to complete.
If the results indicate that you haven't yet reached a high level of mastery, don't worry. Your motivation and our learning strategies are the perfect combination to achieve that goal.
Get your professional qualifications officially recognised
While experience and knowledge are very important, some companies often ask for the qualifications that certify that you can work in that area. This is why it's a good idea to have a certified English translation of your degree.
Prepare an English CV
If you want to work abroad, before you can begin to apply for jobs, you'll need to write your CV in English. If you already have one, make sure you update your personal details – and don't forget to include your certificate from ABA English.
Apply to job offers
There are several online job websites available for this. The most famous one is LinkedIn, but there are other global platforms that provide online and onsite employment services.
Log into any of the job market tools offered by the website, browse through the job offers, and apply for the ones that offer you what you're looking for.
Follow these interview tips
When someone calls you for a job interview, you need to review all the information contained in your CV since this is what all the questions will be based on. Also, before going to the interview, do some research on the company. This will help you show the employer how interested you are in the position.
Study with us and get your dream job in English
Did you know that English language skills are required by employers in almost 60% of job offers?
That's why ABA English offers you much more than an online course. We offer a study plan that adjusts to your rhythm and your needs. 
So, you can professionalise your business English with vocabulary, expressions, and content related to the business world by studying our C1 Business level. 
On our app, we also have Live English Business, a dynamic resource for learning English specifically for the workplace. In this category, you'll find microlessons that feature various audios, readings, and grammar exercises focused on business-related topics. 
As you can see, we aren't offering you a magic solution. But we do guarantee that we'll accompany you through every phase of your learning process. You set the goal and we'll help you reach it. 
Join the more than 25 million students who already have found ABA English to be the perfect tool for learning English. 
You have the desire to learn and we want to help you. 
Register now! It's FREE.
Join +30M students worldwide