Get ready to pass the A1 English
If you're just starting to learn English, you're most likely in A1 territory. When we refer to the A1 level, we're talking about the first level of English according to the Common European Framework of Reference for Languages (CEFR), where an elementary mastery of the English language is established.
The A1 level implies a real challenge since you'll be facing, for the first time, characteristics that are exclusive to the English language: sounds, expressions, contractions, word combinations, and accents, among other variables. There's no doubt that this is the beginning of an exciting adventure!
Through a unique and fun methodology, the digital English academy, ABA English, helps you to overcome the A1 level of English to get the results you expect. Below, we'll share with you some details about the most important aspects of this level and how you can successfully prepare yourself to get an A1 English certificate.
What is A1 level English?
The CEFR has divided English into 6 levels, starting from a beginner's level (A1) to a native speaker's level (C2).
Each level specifies what is expected of you as a student, based on your ability to deal with different situations, for example, greeting, writing an email, or having a telephone conversation in English.
This information helps academic centers, institutions, and universities profile each student in detail. On a personal level, it enables you to have an approximate idea of your current level.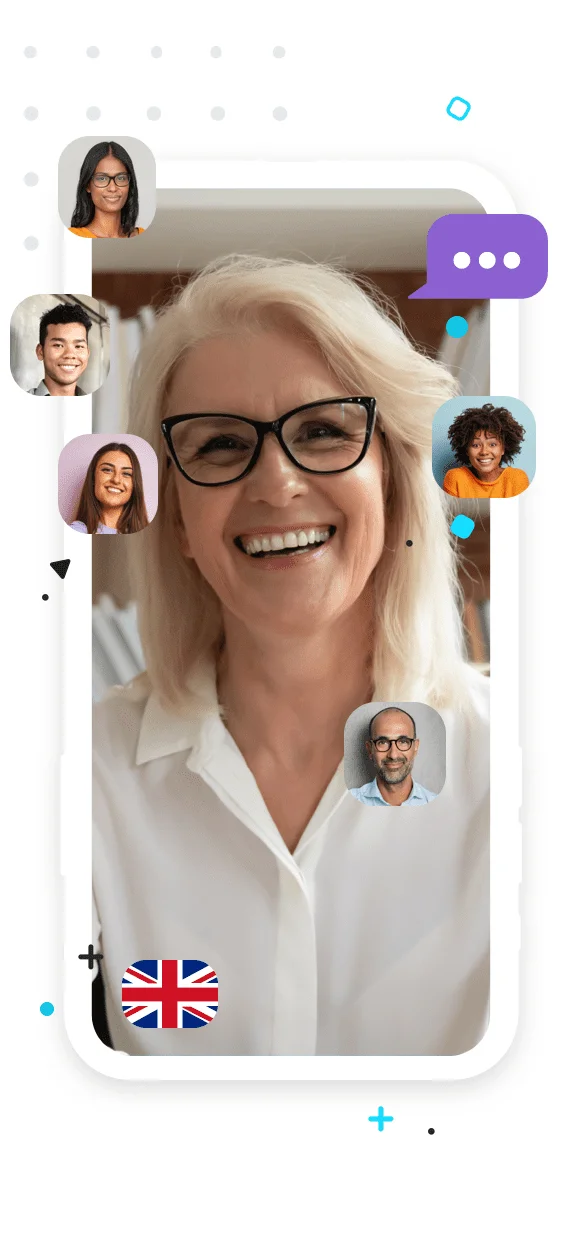 8 tips to learn English at the A1 level – or above!
For example, you can start by learning everything related to families: family members (uncle, mother, father, etc.), marital status, some expressions, and activities. However, it's not a good idea to cover too many topics at once.
When you write, you have a better chance of retaining the information. Enrich your learning experience by using additional resources such as drawing, coloring, highlighting, stickers, or even newspaper or magazine clippings.
Flashcards are a fun way to learn English by associating images with words directly, without the need for translation.
You can start by labeling objects (ruler, table, wall, printer, etc.) that are in your immediate environment with Post-it notes.
On the internet, you'll find songs in English for beginners that will help you improve your listening and speaking skills. This is a good opportunity to learn your favorite songs and not just hum along.
These stories are an excellent tool to improve your English since they're told using simple language. They are also easy to understand and you may already know some of them.
Getting used to the sounds of English isn't easy. You should start practicing pronouncing what you read, though. If possible, record your voice and compare it with the original audio (if available) to spot your mistakes.
Take an English course, starting at A1
Finally, there's nothing like a good, comprehensive English course to perfect all your skills from scratch. It's important to choose the one that best suits your interests, time, and goals.
Prepare your A1 English with us and start down the path to success.
FAQs about A1 level English
How can I find out what my English level is?
You can find online tools to measure your level of English, like the ABA English test. You could also ask an English teacher, who can give you a simple test to evaluate your current knowledge. However, if you want a better alternative to determine your level of English, you should take an official English exam, such as the Cambridge certificate, Aptis, or IELTS.
At which level can I get certified?
If you're just starting out, you don't need to be certified. The University of Cambridge offers its official KET (Key English Test) certification from A2. But Aptis and IELTS can certify you as level A1.
What is expected from me at level A1?
According to the CEFR, at the A1 level, you're expected to be able to:
Use simple, everyday expressions.

Hold a basic conversation with an English speaker, as long as they speak slowly and clearly. You're not expected to speak quickly.

Give information about yourself: age, profession, where you live, the things you have, and the things you like.
ABA English makes the difference
At ABA English, we offer you the opportunity to learn the English language in a fun and personalized way, thanks to our unique Smart Learning® method.
We differ from conventional courses because we want you to experience English continuously in your daily life, according to your personal preferences. When you log into the platform, from the beginning, you'll choose the topics you prefer (music, culture, marketing, history, etc.), which automatically configures your Daily Plan.
Participate in live sessions (Speaking Sessions), where you can practice with students from all over the world, special guests, and native teachers.
Every day, you'll receive a notification so that you can study our microlessons, with diverse content in multiple formats, such as short films, contemporary news articles, and hundreds of practical exercises.
Study short lessons every day, whenever you want, from the comfort of your mobile, tablet, or computer.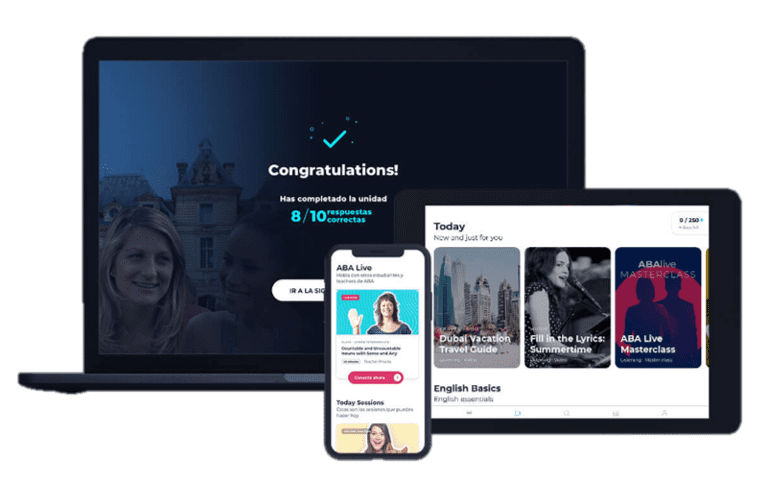 Why improve my A1 Level of English with ABA English?
30 million students in 170 countries agree that studying at ABA English, the digital English academy, is the best option to master English based on your personal preferences.
You'll overcome your A1 level with full flexibility since you can study the lessons from the comfort of your mobile phone, tablet, or computer, at the time and place that suits you best. 
What are you waiting for? The time has come to achieve your goal and we'll accompany you through the process.
Achieve any level of English and improve your skills with ABA English