Discover the best way to move past the B2 level of English
You've successfully passed the basic levels of English and have reached the intermediate level. This is an achievement that you have to record and celebrate! It means that the English language has gone from being a complete stranger to being a welcome guest in your personal, academic, and/or professional life.
Now you can hold conversations with English speakers and you can understand a high percentage of what they say. You can also write and even read texts without having to consult the dictionary all the time. This is really satisfying and, of course, you deserve a big round of applause for your effort and dedication.
But your learning process isn't over yet – and you know it. That's why it's time to keep moving ahead until you reach and surpass the B2 or upper intermediate level of English.
The best way to achieve this is by choosing a learning method like Smart Learning®, which was developed by the ABA English digital English academy based on the guidelines from Cambridge and the CEFR. More than a way to study, it's a way to experience English. Best of all, you can go at your own pace and learn with what you like.
Ready to learn English at the B2 level?
When we talk about English levels, upper intermediate is one of the most sought after. Why? Because most students dream of moving to an English-speaking country, studying at a prestigious university, or working in a recognized multinational company.
What is B2 level English? It's the fourth level of the Common European Framework of Reference for Languages (CEFR). Students are expected to be able to understand what others are saying to them and to be able to communicate effortlessly. They're also expected to be able to understand and produce complex texts dealing with concrete and/or abstract topics.
Reaching the upper intermediate level implies commitment and dedication, but it doesn't mean you have to spend long hours studying surrounded by old books, taking boring classes, and doing endless exercises. Now you can improve your English level by learning at your own pace and in a very entertaining way.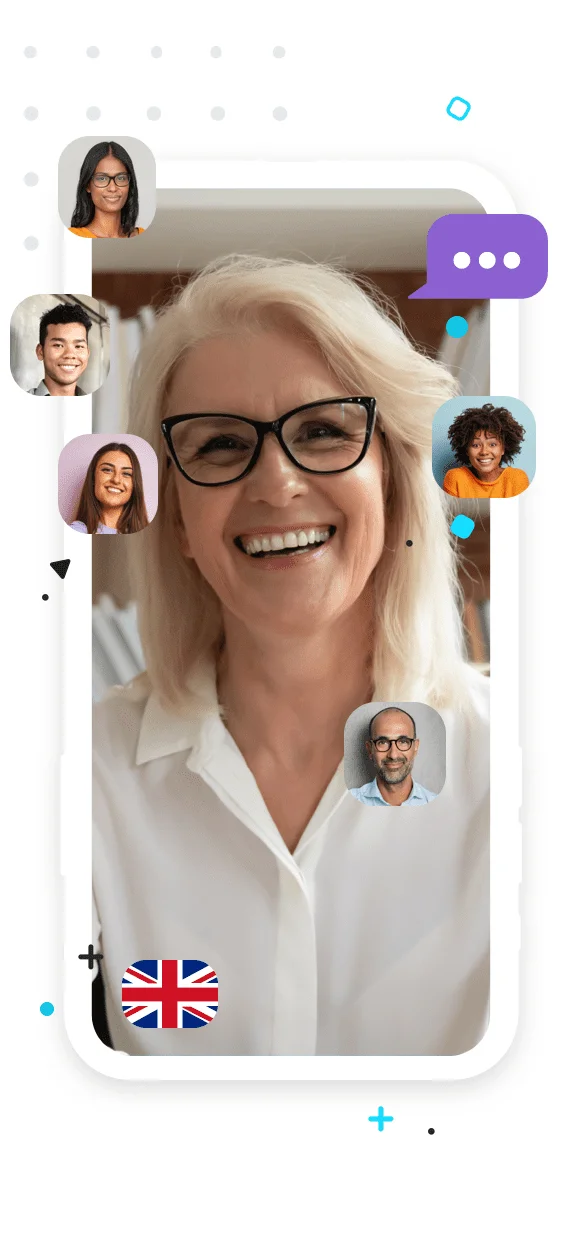 5 tips to help you reach B2 level English
Downloading an app or following a blog like the one from ABA English are excellent ways to maintain a good reading comprehension level. You'll find articles and texts about your favorite topics and at your level.
Do this whenever possible. Take advantage of social networks to leave comments on Facebook, Twitter, or Instagram. If you want to go one step further, you can write an article and publish it on LinkedIn.
If you have the opportunity to plan a vacation or spend time in another country, choose an English-speaking one. This way, you'll be in permanent contact with English speakers and immerse yourself in their culture. If you can't travel, don't worry, that's what the internet is for!
Your favorite songs, movies, and TV series in English are excellent resources to improve your listening skills. Watch those series that keep you awake every night with English subtitles. Best of all, you'll have fun while you learn.
Talk with native speakers
Interacting with native speakers and participating in video calls or Speaking Sessions is the best way to learn idiomatic expressions and expand your vocabulary.
Get ready to pass the B2 level of English and start celebrating your achievements
More about B2 level English
What benefits does a B2 level provide?
Having an upper intermediate level opens the door to many opportunities when you consider that the skills you've acquired will allow you to live, study, and/or work in an English-speaking country.
How can I certify my B2 level of English?
You can do it with ABA English since we'll give you an official certificate after completing each level of our English course. You can also take an international English exam.
Which international exams can I use to get a B2 English certificate?
The most appropriate Cambridge exam to certify the upper intermediate level is the B2 First, also called the Cambridge First Certificate.
Can I take other exams?
Yes, the other options include the Aptis, the IELTS, the TOEIC, or the International Legal English Certificate (ILEC), among others.
Get ready to reach the B2 level with ABA English
ABA English offers you the opportunity to prepare yourself with Smart Learning®, the revolutionary learning experience, and offers you a great variety of tools such as:
An upper intermediate English course
With dynamic exercises and quizzes that will allow you to monitor your progress and reach the B2 level of English, it's made up of 25 units that are equivalent to approximately 115 hours of study.
You'll be able to receive microlessons that are updated daily and establish a Daily Plan to practice whenever is most convenient for you, no matter where you are. You'll enjoy a great variety of podcasts and ABA Films starring native speakers. It's the best thing since sliced bread!
You'll have the opportunity to connect to live classes to interact with native teachers and students from all over the world.
You'll find articles, mini classes, and a lot of advice so that you can advance quickly and learn all the tricks that traditional methods will never teach you.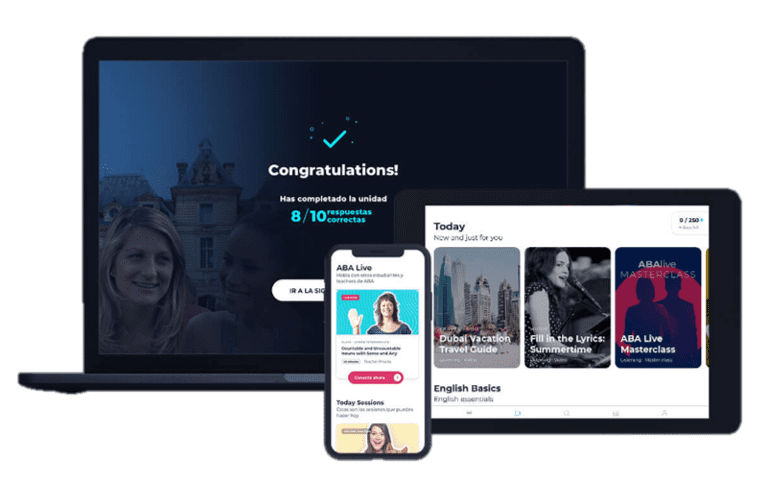 Why is it so important to reach the B2 level of English?
ABA English knows how important it is to maintain your motivation once you've entered the intermediate arena. That's why we provide you with all the tools you need to strengthen your knowledge even further and to acquire a greater degree of confidence in the language so that you can go beyond the B2 level of English.
Achieve any level of English and improve your skills with ABA English