Reach the B1 level of English
Learning English is a task that you can't just walk away from. Many students who have some knowledge of the language feel that what they've learned is enough. But in an increasingly competitive market, learning English has become a necessity.
If you're already able to understand what others are saying, hold conversations, and even read and write some texts, don't miss this opportunity to expand your vocabulary and acquire greater skills. Establishing a Daily Plan will allow you to reach the B1 level of English faster than you thought possible.
Our new Smart Learning® method allows you to learn with what you like. It's a unique and personalized learning experience that adapts to the rhythm of your life and your tastes. And, as if that weren't enough, it allows you to get in touch with students from all over the world and with native teachers. 
Do you know the advantages of B1 level English?
Achieving an intermediate level isn't only important to obtain a university degree, a scholarship, or a job, but also to demonstrate that your knowledge of the English language qualifies you as an "independent user," according to the CEFR regulations.
In other words, although you still have a ways to go, your knowledge of grammar and the vocabulary you have acquired will allow you to address different topics, such as sports, holidays, health, free time, education, and jobs, among others.
Similarly, you have the ability to hold conversations in English to express your opinions and future plans, to understand and elaborate on longer and more complex texts, demonstrating that you have a great command of the simple tenses, the future tenses, and the present perfect.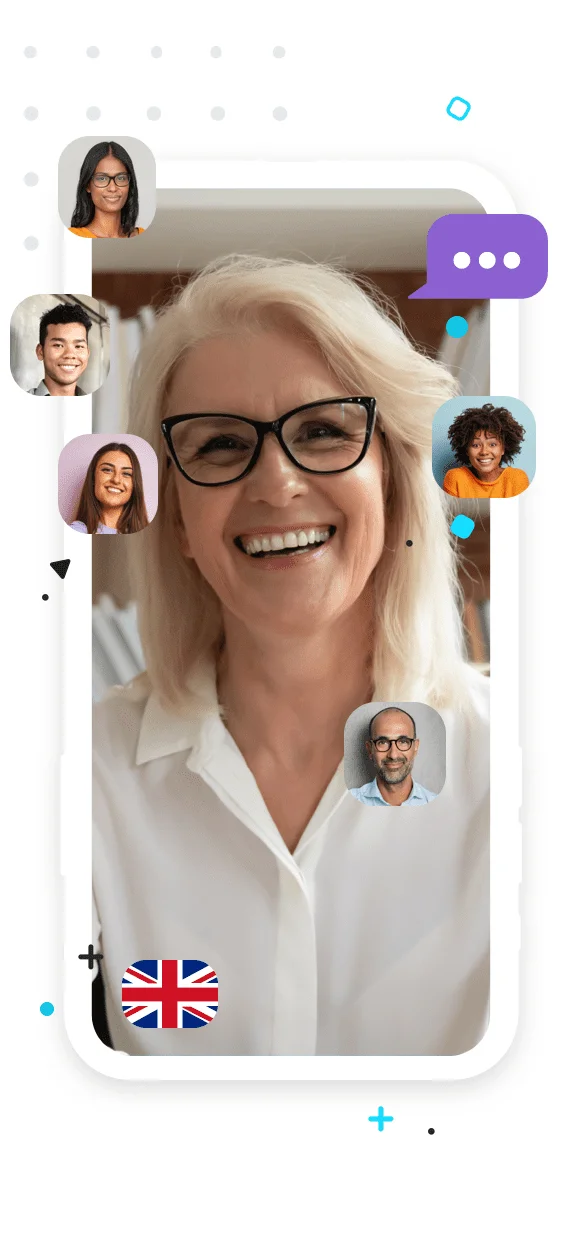 Tips to learn English at the B1 level
To sharpen your ear and achieve better oral comprehension, try watching your favorite TV series and the movies you like in English. Listening to your favorite artists is also a great way to do this.
Speaking with native teachers and students from all over the world will help you gain confidence. Take advantage of the live classes from ABA English and video calls to interact with English speakers.
Short stories, articles on topics that interest you, and movie reviews are an excellent resource. Reading blogs like the one from ABA English will also be a great help because besides practicing your reading comprehension, it will help you expand your vocabulary.
Start by writing emails to your friends or teachers. You can also use this opportunity to write posts in English on social media platforms like Facebook and Twitter.
Reach B1 level English and improve your academic and professional future
FAQs about the B1 level of English
What is the B1 level of English?
It's the intermediate or third level in the Common European Framework of Reference for Languages (CEFR), the entity in charge of defining the distinct levels of a language established by the Council of Europe.
What is expected from a B1 level student?
According to the CEFR, an intermediate level student has passed the basic competences. They can understand and express themselves in simple conversations as well as understand and produce simple texts, but they don't yet have the ability to study or work exclusively in the English language.
How do I know if I have B1 English?
A good way to know is by taking a test like the one offered by ABA English, for example. But if you want to certify your knowledge of the language, it'd be a good idea to take one of the international exams.
Which exam can I take to certify my B1 level?
You can certify your intermediate level of English by taking the B1 Preliminary English Test (PET). Other options include the IELTS, the Business English Certificate (BEC), the Aptis, the TOEIC, the TOEFL iBT, and the TOEFL ITP.
Prepare for your B1 English certificate with ABA English
Unlike traditional teaching methods, ABA English stands out for its innovative learning experience and offers you a great variety of resources and tools to learn English in a flexible and original way so that you can reach the B1 level of English.
An intermediate English course
There are 24 units that you'll be able to complete during approximately 101 hours of study. You'll have access to ABA Films, starring native speakers, and to different exercises and quizzes that allow you to verify how much you've progressed. Remember that you'll get an official ABA English certificate when you complete this level.
Participate in Speaking Sessions with native teachers and students from all over the world. Learn how to deal with real situations to improve your listening and speaking skills in B1 English.
Download our app on the device of your choice and receive it daily. Establish a Daily Plan and learn with what you like best, whenever you want. Enjoy a great variety of podcasts that will make your learning experience more entertaining.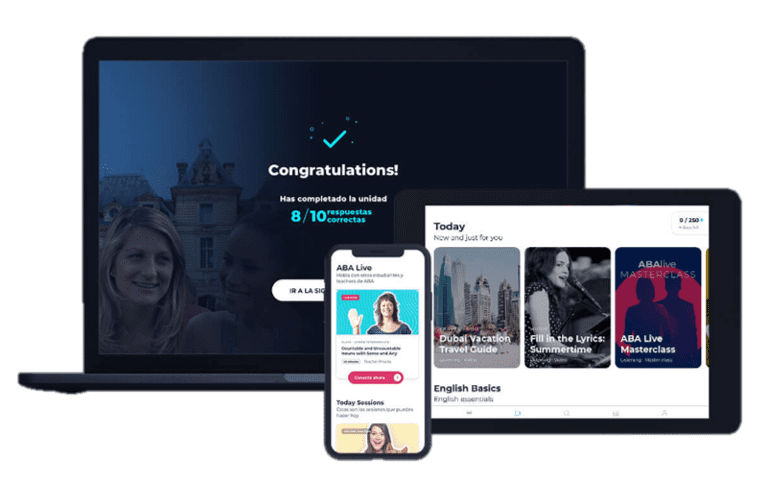 Are you ready to start your B1 English course?
ABA English knows how important your dreams and personal goals are to you. That's why we want to support you so that you can go beyond the basic level and master the fundamental aspects of the English language.
Try the intermediate course, reach the B1 level of English, and improve your opportunities at an academic and/or a professional level.
Achieve any level of English and improve your skills with ABA English