Find out if you're at the A1 level with this free English test
Congratulations on completing the English level test!
English level test results:
There are several ways to assess your A1 level of English. One of them is to check if you can cope in everyday situations in English-speaking contexts. For example, if you're traveling abroad, you should be able to provide your personal information in English at a hotel check-in, order a meal, or pay the bill at a restaurant. If you manage to overcome these challenges, you'll know that you have a solid foundation.  
ABA English doesn't only offer you the opportunity to evaluate your knowledge with an A1 online English test. It also supports your learning process with its dynamic, personalized, and fun approach.
Why take an A1 English test?
If you want a precise way to measure your knowledge, you should take an A1 test like the one offered by ABA English. English tests are an excellent tool that will allow you to measure your progress in the language. They're also an excellent motivation as they'll challenge you to improve on a daily basis and will help you identify your weak points so that you know where to focus your attention.
If you're just starting to learn English, this A1 online English test will help you find your current level so that you can clearly set your goals for the language and be aware of your weaknesses as well as your strengths. You'll also be able to take the A1 test from the comfort of your cell phone, tablet, or computer.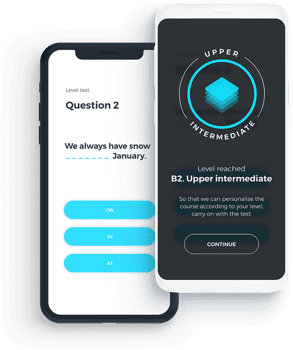 What does the A1 level test assess?
The Common European Framework of Reference for Languages (CEFR) has established six levels of language proficiency, classified according to their level of difficulty. The A1 level (Beginner) is the first level on this scale and is equivalent to the basic or beginner's level.
Keep in mind that ABA English, the digital English academy allows you to take our A1 English test for free so that you know exactly what your current level is and can start studying with us from the corresponding level.
This is a multiple-choice test, which evaluates your knowledge of grammar, vocabulary, and expression use. In the end, you'll be given your score and your incorrect answers, which will help to pinpoint the aspects you need to improve.
In general, at the A1 level, you should be able to:
Use and understand simple expressions related to everyday life.

Give and ask for basic information about yourself, talk about personal details, where you live, etc.

Hold a basic conversation, as long as the other person speaks slowly and clearly.
Take the A1 English test and check your level
Tips to pass your A1 level English test
To prepare for your next A1 level English test, keep the following recommendations in mind:
Practice with other people
Togetherness is a strength. When you practice with other people, you'll feel motivated, be challenged, and learn from others.
You'll find things like word searches, crossword puzzles, and hangman, which you can use to practice your spelling and learn new vocabulary.
Learn vocabulary with pictures
One excellent tool to stimulate your memory is to use images. On the internet, you can find groups of images arranged in categories like fruits, animals, body parts, vegetables, colors, etc. Learning with images will help you directly relate the English word to the concept, without resorting to translation.
One of the most enjoyable ways to learn the English language is through music. Organize a karaoke party with your friends and sing your favorite songs. This is an excellent strategy for learning vocabulary and how to pronounce words correctly.
Prepare for your next A1 English test online with ABA English
With our Smart Learning® method, ABA English offers you the opportunity to prepare for your A1 English test online using your favorite topics, so you can learn with what you like best.
Get ready using dynamic and entertaining tools such as:
Learn English by watching movies with native actors, practice dialogues, and complete exercises related to the film.
Receive notifications on your cell phone or tablet to remind you to work on your daily lesson. You can study whenever and wherever you want.
Participate in the live sessions (ABA Live) where you'll talk with students from other countries and special guests. The sessions are always moderated by teachers from our academy.
Personalized microlessons
When you log onto the platform, you select the topics that most appeal to you. This configures your personalized Daily Plan, which is where you'll receive your daily microlessons.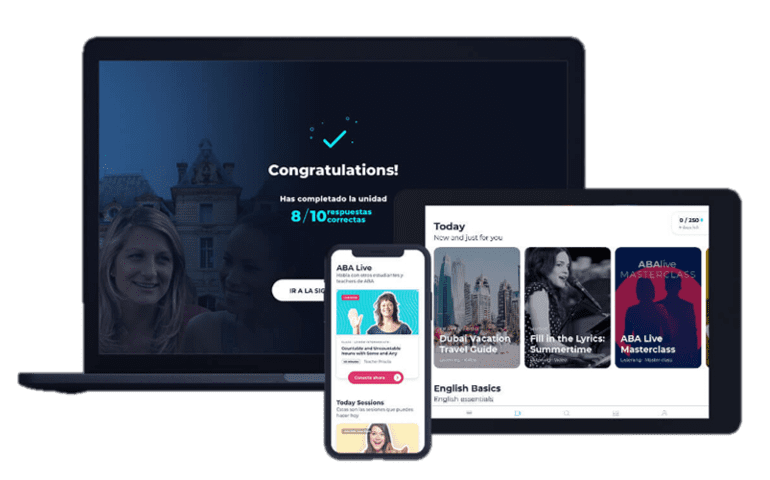 Do you want to pass your A1 English test?
30 million students in 170 countries have chosen us as the best way to learn English. Our content meets the guidelines set by the CEFR and Cambridge University, guaranteeing comprehensive and quality learning.
We've been recognized as one of the top educational apps by Google Play, thanks to our innovations and for allowing our students to experience English in an entertaining way, with up-to-date and dynamic content.
In addition, we have a complete course with six levels, from A1 to Business, with content that will enable you to perfect your English.
So, what are you waiting for? Prepare yourself with ABA English and fulfill your objective of speaking English fluently.
Get ready to pass any test with ABA English