Find out your level with our free test
Congratulations on completing the English level test!
English level test results:
Do you think you're ready to apply for an official certificate like the IELTS? You may think that it's a very difficult test to pass and that it's only intended for a few people. In fact, anyone interested in knowing their current level of English can take this official exam, but it's best to prepare in advance if you want to get the best results.
ABA English offers you a free online test so that you can have a clear idea of your skills before taking the official IELTS test. With innovative technology as well as fun and personalized content, we'll help you successfully pass your next exam.
What does the ABA English IELTS test involve?
Developed jointly by Cambridge University and the British Council, the IELTS certificate is one of the most important English language tests globally, recognized by more than 10,000 organizations in 140 countries around the world, and it allows you to certify your level of English. The exam is intended for people who are interested in studying, working, and living in English-speaking countries.
There are different types of IELTS English tests, based on your specific language goals:
IELTS Academic: Aimed at students interested in continuing their higher education abroad.
IELTS UKVI: For people interested in applying for a visa or immigrating to the United Kingdom.
IELTS General Training: This is a general exam that assesses the four language skills.
If you're interested in this prestigious IELTS certificate, take our practice test. It's an excellent tool that will help you learn more about your current English skills and give you a better idea of what you'll face on the real test.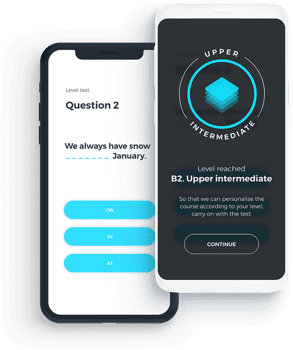 Why take the ABA English IELTS test?
There are several benefits that you can get by taking our test before the official IELTS exam:
You'll know your current language level.

 

It's an excellent motivational tool to make you serious about learning English.

 

You'll know the dynamics and format of the official exams, so you can avoid any uncertainties you may have about them.

 

You'll save time and money. You'll be able to recognize your strengths and weaknesses so that you can focus on the aspects of the language that you really need to improve and strengthen.


 

You'll have an unbeatable opportunity to efficiently prepare for your official IELTS and get an excellent score.
Take the ABA English test and check your level
Tips to successfully pass your IELTS test
Follow these tips to be successful during your IELTS test preparation before taking the official exam:
Take an online level test
The IELTS is a demanding test and so you should concentrate on the parts that are most difficult for you. At ABA English, you can also take a free general English test to assess your level more accurately.
Practice with other people
The only way to know if your English is effective is to use it in real situations, interacting with other people. By doing this, you can see if you can communicate and also receive feedback from other people.
Do you want to study or work in the UK? Are you interested in knowing your current level of English? There are different types of exams for your specific needs. Be clear about your goal so you don't waste time or money, and choose the one that best suits your aspirations.
Practice for your IELTS test
Practice makes perfect. ABA English gives you the opportunity to take a test, so you can anticipate what you'll face on this IELTS exam. Although our test won't certify you, this IELTS practice test will help you determine how long it takes you to answer the questions, recognize your strengths and weaknesses, and generally know what kind of test you'll be taking. Prepare it as if it were an official test to measure your language skills more accurately.
ABA English will prepare you for the IELTS
Through our Smart Learning® method, ABA English offers you the opportunity to experience English in a different way, with content that you really like. The best part is that you'll have a good time doing it.
Some of the tools that will help you to prepare for your IELTS test effectively are:
Take our general test to develop the skills to effectively pass the IELTS exam.
Perfect your listening skills through the ABA English short films, starring native actors, and then practice with the exercises related to the film.
You'll be able to practice your speaking in live sessions (ABA Live) with students from other countries and special guests, always moderated by a native teacher.
Receive daily notifications so you don't forget to study your lesson. You can consult them whenever you want, thanks to our digital platform that's available on your mobile phone, tablet, or computer.
Personalized microlessons
When you log into the platform, you'll be able to select your favorite themes, thus automatically configuring your Daily Plan. The lessons are short and have contemporary content in different formats, including videos, articles, podcasts, games, quizzes, and much more.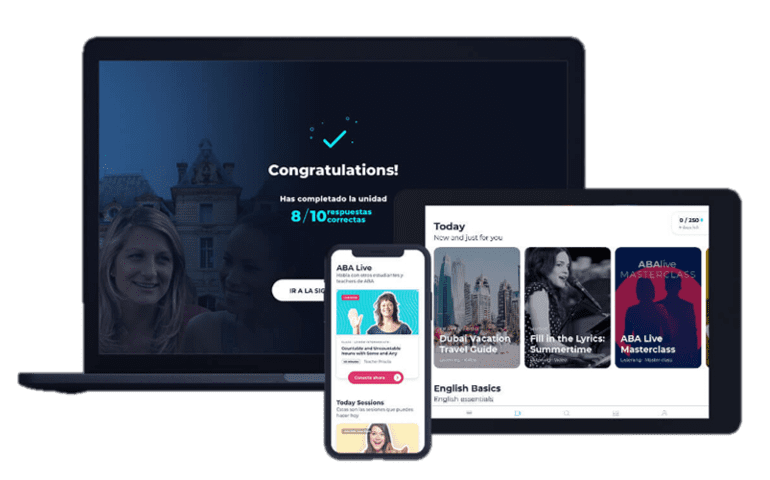 Why are you still waiting to prepare your IELTS with ABA English?
30 million people in 170 countries have confirmed that preparing for your next IELTS test is possible. We support you by using our experience, innovation, and knowledge in digital platforms to offer entertaining content designed according to the guidelines from the CEFR, Cambridge University, and other internationally-recognized universities and institutions.
If you want, you can also complete the full six-level course, from A1 to Business, so that you can perfect your level of English. 
The way to pass your IELTS test is clear. Go for it! ABA English will always be there to help you prepare successfully.
Get ready to pass any test with ABA English