Find out if you're ready for the Aptis with this free test
Congratulations on completing the English level test!
English level test results:
If you decide to take an official English test, you should keep in mind that it's not about winning or losing. English tests exist for a very simple reason: they're a tool to measure your current level of English. That's why companies have chosen the Aptis test as one of their favorites because they can measure their employees' skills quickly, based on the needs of the organization.
Next, we'll talk about the Aptis test and how you can successfully prepare it with ABA English, our digital academy. This is also where you can take a version of the Aptis test online for free, which will allow you to get a preview of what you'll face on the real exam.
Some of the advantages of this test are that it's free, fast, and 100% online. It gives you a pre-evaluation of the strengths and weaknesses that you should reinforce before taking the official Aptis test.
What does the Aptis practice test from ABA English involve?
The first thing you should know is that there are different versions of the official Aptis test: Aptis General, Aptis for teachers, Aptis for teens, and the Aptis Advanced test.
Aptis General offers a series of fixed questions that correspond to the grammar and vocabulary competencies. The flexible part is that you can choose which of the language skills you want to test (listening, speaking, writing, and/or reading). You can choose just one skill, two, three, or all of them. The choice is yours.
The Aptis practice test (online) from ABA English is aligned with the Aptis General and will serve as a way to practice and as a way to get perspective on both your level and your knowledge of the main topics included in the official test. This will allow you to prepare efficiently and strengthen any weaknesses.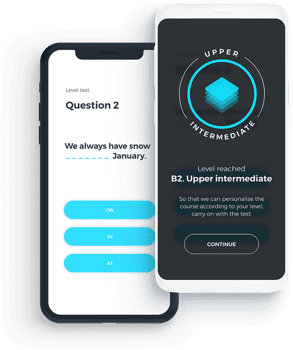 There are many benefits to taking a test like the free online Aptis practice test from ABA English:
– You'll evaluate your current level of knowledge and will feel encouraged to improve. The most important thing is to prepare yourself conscientiously, with dedication, and using the best method.
– You can find out your specific abilities in the grammar and vocabulary topics evaluated by the official Aptis test. This will allow you to know precisely what you need to improve as well as which topics you need to concentrate your time and effort on.
– Taking the free Aptis test online from ABA English will allow you to see the kinds of questions that you'll face on the test and know approximately how long it will take you to answer them all. All this fast, free, and 100% online.
Take the ABA English test and check your level
Tips to successfully prepare for your Aptis test
To avoid setbacks, it'd be best to prepare for the Aptis test from ABA English with the same energy as you'd use for an official test. Review the most important grammar topics from the Aptis certificate and practice using exercises and quizzes.
The more contact you have with the language, the better your chances of improving your test results. There are apps, like the one from ABA English, that allow you to perfect your skills comprehensively and flexibly, with fun content that will make you want to study again the next day—and every day after that.
Watch movies and TV series
Learning along with your favorite storylines and characters in English is a great strategy for assimilating the language. This audiovisual material helps you learn expressions and vocabulary as well as improve your listening and even your reading when you use subtitles.
Conversation clubs are an excellent opportunity to practice your English, learn from others, and also have a good time talking to friends. Remember that with ABA English, you'll be able to talk with students from other countries in live sessions (ABA Live), so you won't have any excuse not to practice!
Improve your English level for the Aptis test with ABA English
Through the Smart Learning® method, the ABA English digital English academy offers you the opportunity to study English in an effective, entertaining, and personalized way. We follow the guidelines established by the CEFR and the main evaluating universities in our curriculum to offer you comprehensive learning with dynamic tools and tailor-made content.
Learn some of the advantages of studying with us:
Improve your listening and speaking skills in live sessions moderated by our teachers. There, you'll be able to talk with students from other countries and special guests.
Microlessons that suit you
Receive personalized lessons daily, with interesting content in multiple formats (blogs, podcasts, videos, games, audios, articles, etc). When you log into the platform, you select the topics that interest you, thus configuring your Daily Plan.
Receive daily notifications on your mobile phone so that you won't forget to practice. Study when you can, from the comfort of your mobile phone, tablet, or laptop.
Watch the exclusive ABA English short films, with native actors, expressions from different countries, and various accents. Practice using exercises that will evaluate your level of comprehension.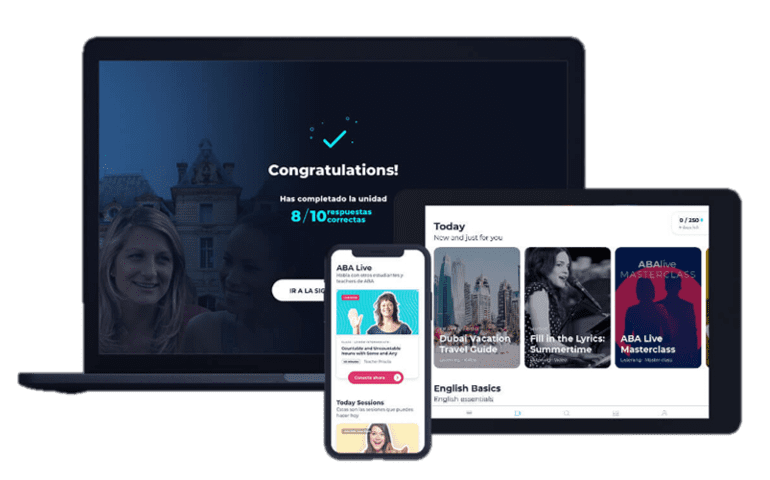 Why wait to prepare for your Aptis Test with ABA English?
30 million students in 170 countries confirm that studying with ABA English provides an unbeatable opportunity to learn English while having a good time.
The ABA English digital academy has been recognized as a top educational app by platforms like Android and Google thanks to its innovative content that will allow you to have a dynamic and entertaining experience learning English.
If you want, you can also take our complete six-level course, from A1 to Business, to truly perfect your English.  
The time has come to study with the best. Start preparing for the Aptis test with us and embark on the adventure of learning English as you've always wanted to.
Get ready to pass any test with ABA English