The First Certificate Test
Find out if you're ready for the FCE with this free test
Congratulations on completing the English level test!
English level test results:
In today's changing and competitive world, learning English is a key factor for personal, academic, and/or professional development. If you want to better position yourself and open the door to a world of opportunities, it's essential to have at least a B2 or upper-intermediate level.
You want to know if you've already exceeded the B1 level or if you still need to strengthen some skills to achieve it. But maybe you don't feel confident enough to take an official exam like the First Certificate in English test (FCE). Don't worry about it. You can get an answer quickly and effectively by taking the FCE test from ABA English.   
But before you do, it's important for you to prepare yourself with a modern and flexible study method like the innovative Smart Learning® learning experience developed by ABA English, the digital English academy.
Why do I need to take an online FCE test?
Placement tests are very useful tools. They are made up of a series of questions that have been strategically designed to evaluate all of your language skills and to check your real level of knowledge of the English language.
The results you get when you take a First Certificate Cambridge test are for guidance purposes only. They'll let you know what level you really have and whether or not you're ready to take the official FCE exam, which is equivalent to the upper-intermediate level.
ABA English wants to help you make the right decision at the right time. That is why we provide you with all the tools you need to take firm steps along the path of learning the English language. One of them is the FCE online test that we've designed for you, which you can access whenever you want.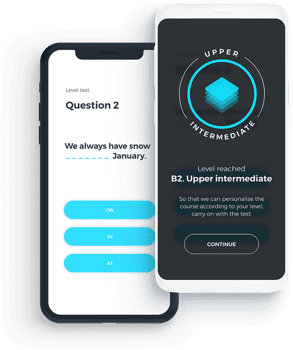 Are you ready to pass the FCE practice test?
You'd love to know how well you'd do on the FCE, but at the same time, you're worried that the results you get might not be what you expected. This is normal and it happens to all of us. The good news is that before you schedule your exam date, you can take the First English certificate test online!
If you want to get results that will help you keep moving forward, keep in mind the following recommendations:
Familiarize yourself with the B2 leve
Clear knowledge of the content of the upper-intermediate level will allow you to prepare in advance to obtain excellent results on the First Certificate in English test and, of course, on the FCE exam.
Identify your weak points
Some FCE questions will be more challenging than others. Pay special attention to those that seem more difficult because this will allow you to identify the topics you need to review.
The famous adage says that haste makes waste. Take your time to read each question on the FCE test thoroughly. Staying calm will help you choose the correct answer.
Take the ABA English test and check your level
Tips for getting the First Certificate
Practice in your free time
Waiting rooms, trips on public transportation, or those rainy afternoons when you don't want to leave the house are perfect times to practice the language. To do this, you can listen to songs, podcasts, watch movies, or read your favorite books in English.

The advantages of a smartphone
Thanks to your smartphone, you can chat, send emails, or access your social networks whenever you want—no matter where you are. Why not start writing to your friends in English? What's more, you could surprise them with tweets or posts on Facebook or Instagram. Why not post an article on LinkedIn?
Use your friends who are fluent in the language to improve and/or maintain your knowledge level. Organize an afternoon of board games or video games in English and have a good time while you practice and improve your language skills.
Prepare yourself with ABA English and take the FCE practice test online
Thanks to ABA English's innovative Smart Learning® study method, you can receive personalized content that's updated daily, so you can have fun while you learn by using tools like:
The course includes 25 units that are equivalent to approximately 115 hours of study. You'll be able to enjoy ABA Films and dynamic exercises that have been specially designed for students at the upper-intermediate level. You'll also be able to take quizzes to check your progress.
Download it on any device to practice whenever you want. Once installed, you'll have the opportunity to take a placement test. You'll also be able to establish a Daily Plan geared toward the B2 level, receive microlessons that are updated daily, and listen to a great variety of podcasts based on the topics that interest you.
Connect to live classes with teachers who will help to clear up all your doubts. Interact and practice with students from all over the world—something you won't find in traditional methods!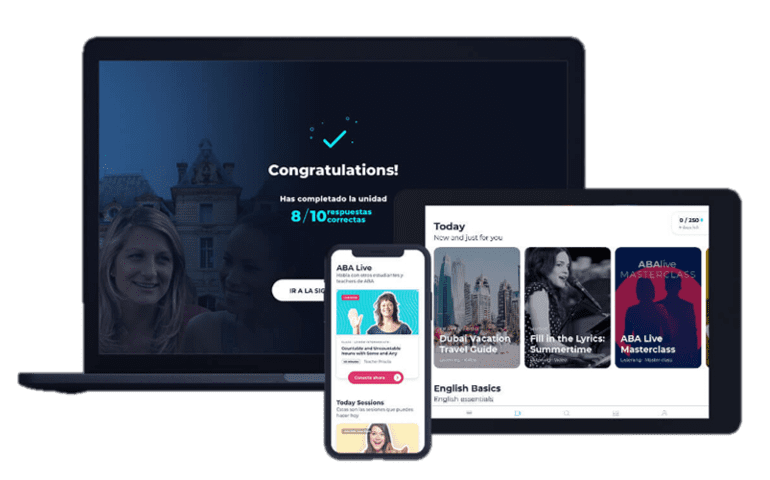 Do you want to pass the FCE test without any problems?
Keep in mind that despite being short, the FCE practice tests evaluate the most general as well as the most specific content. ABA English knows this and wants to support you to get the best results.
Find out why more than 30 million students around the world have chosen the leading digital English academy in Europe and Latin America. Try the FCE test online, review the topics that still generate doubts and/or cause you difficulty, strengthen them with the Smart Learning® learning method, and make the decision to schedule your First Certificate in English exam!
Get ready to pass any test with ABA English