Find out if you're at the A2 level with our free test
Congratulations on completing the English level test!
English level test results:
If you already have some knowledge of English, you might need some resources to give yourself more motivation and encouragement.
English tests are just one of the many tools that can help you. An English test can help guide you since it will allow you to evaluate exactly where you are and decide the next step you need to aim for.
That's why ABA English, the digital English academy, offers you a free A2 English test online that you can take at any time and that will help you establish your knowledge level.
Am I ready for an A2 English test?
According to the CEFR, at the A2 level, you should be able to understand or speak about everyday issues that are close to you, such as family, work, or interesting places, and speak about yourself. You'll also be able to talk about your past and, in general terms, request and/or provide information to meet an immediate need.
In short, if you master the A2 level, you could establish basic communication with a native speaker. If you're not sure about your current level, the best thing to do is to take a free A2 test, like the one offered by ABA English, to know your exact starting point and to establish your next target in learning the English language.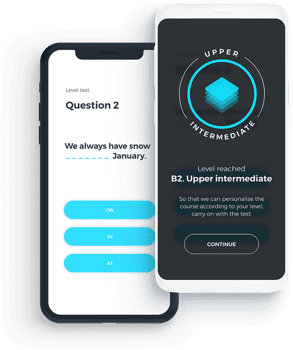 Why take an A2 English level test?
ABA English offers you the chance to take an A2 English level test online, for free, because we want to give you all the advantages that these tests offer. Here are just a few:
You can save time and money. The test isn't very long but it has enough questions to measure your knowledge and to give you an estimate of your current level. In addition, you can access the test for free and from the comfort of your mobile phone, tablet, or computer. 
English tests allow you to monitor your progress throughout the learning process. They give you a clear idea of your level and the areas where you need to improve most. You can also retake this A2 online English test whenever you want, to continuously measure your progress.
If your final goal is to obtain an official certification, English tests are an excellent first step since they will give you an idea about how these tests are designed and the kinds of questions you can expect.
Take the A2 English test and check your level
Tips to pass your next A2 level English test
If you want to prepare yourself to successfully pass an A2 test, keep the following recommendations in mind.
Forget about being embarrassed. Sing in English with your friends, preferably using the karaoke version. Children's songs are also a helpful tool since they have simpler language and are easy to remember.
There's no reason for you to always study alone. Participate in an English club where, apart from meeting friends, you can practice your English with people at different levels. This is definitely a good way to challenge and motivate yourself.
There's nothing like learning while having fun. If you do this by watching your favorite TV series or movies, you'll have a great time. Prepare some popcorn and chips, turn on the English subtitles, and write down the words that catch your eye—particularly their pronunciation, which isn't usually the same as what you read.
Pass your A2 English test with ABA English
Perfecting your English is possible thanks to the tools included in our Smart Learning® method, with dynamic and fun content that can be adapted to your needs.
You'll be able to practice your English with students from other countries and special guests during the live sessions (ABA Live), which are always moderated by our teachers. The discussion topics vary greatly and can include both grammar and current affairs, culture, etc.
Personalized microlessons
Receive short lessons daily on topics that you previously selected on the platform. Every day, you'll receive a notification on your mobile phone or tablet so that you can complete your lesson. You can also consult your lessons whenever you want and wherever you are.
Learn by watching the ABA English short films, starring native actors, and familiarize yourself with the different accents of the English language. Afterward, practice using exercises and questions about the films.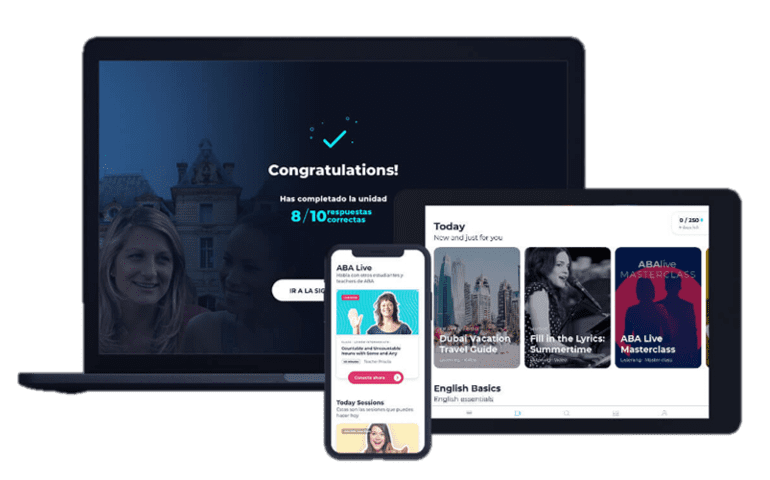 Why are you waiting to take the A2 English test from ABA English?
Now's the time to take your A2 online English test with us and begin the adventure of learning English with the method that has revolutionized the world of learning. 
With more than 30 million students in 170 countries, our digital English academy offers you the opportunity to learn with what you like while following the guidelines set by the CEFR, Cambridge University, and other academic institutions.  
If you want, you can also take the complete English course with six levels, from A1 to Business, to make your English truly excellent. 
What are you waiting for? Learn English with ABA English and successfully achieve the A2 level.
Get ready to pass any test with ABA English