The Cambridge English Test
Discover your English level with this free test
Congratulations on completing the English level test!
English level test results:
The Cambridge test is one of the most prestigious in the world. Without a doubt, it'd be very worthwhile for you to prepare yourself thoroughly for this official exam so that you can achieve the best results.
ABA English is here to help you. That's why it offers you a unique, fun, and personalized method that will allow you to pass your next Cambridge English test successfully. You can also take our free test, which will allow you to determine your English level according to the CEFR (A1, A2, B1, B2, C1, or C2).
What does the Cambridge English test involve?
Cambridge University has designed a series of exams for children, young people, and adults that assess the four English language skills: listening, reading, writing, and speaking.
For adults, there are five exams. These five levels of the Cambridge test align with those of the CEFR (from A2 to C2). Here's a general idea of what you should be able to do at each level.
A2 Key (KET): Have a simple conversation about everyday and personal matters. Understand simple texts in newspapers or magazines (advertisements). Comprehend oral content when someone speaks slowly and clearly.
B1 Preliminary (PET): Ask and answer questions. Talk about your personal tastes. Comprehend oral texts, like advertisements and arguments. Understand the important parts of an advertisement, newspaper, or magazine.
B2 First (FCE): Write texts such as letters, emails, or stories. Listen to the news or to a conversation. Demonstrate your knowledge of grammar and vocabulary as well as your understanding of texts from fiction, newspapers, and magazines.
C1 Advanced (CAE): Write essays, articles, or reviews. Hold a fluent conversation with few mistakes. Understand interviews, chats, and everyday conversations when listening.
C2 Proficiency (CPE): Comprehend complex texts like professional magazines, newspapers, and works of fiction, among others. Effectively communicate using multiple adjectives. Write essays, articles, and reports.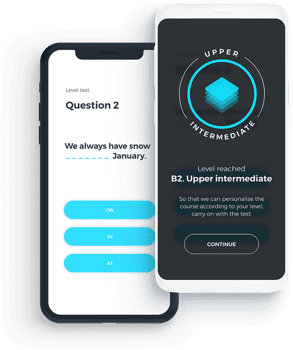 Why take the Cambridge test from ABA English?
There are many reasons why you should take the free Cambridge test with us:
You'll be motivated to study English seriously and will validate your current level of knowledge.

You'll be able to anticipate the types of questions you'll eventually encounter on the official test.

You'll strengthen your language skills, which will enable you to get the best result on the official exam.
The Cambridge English level tests are recognized by companies, universities, and institutions at an international level, thanks to their prestige and quality.
Take the ABA English test and check your level
How can I successfully pass my Cambridge test?
Here, we'll share some useful tips that will help you pass your next Cambridge placement test.
Have a rough idea of your current level
ABA English offers you a free way to test your English online. This test will allow you to know your current level (A1, B2, etc.) and will also give you a clear idea of the content and skills that you need to improve.
Look at some examples and sample tests
You can find online materials like videos and example written exams, which you can use to practice and learn about the types of questions you might find.
Learn English with subjects that appeal to you
There's nothing better than studying the subjects you're passionate about in English. This will keep you motivated, stimulate your curiosity, and help you to remain consistent over time.
Participate in online English communities
Join groups or conversation clubs through apps and social networks, which allow you to socialize, read, and listen to what other people are saying in English. Learning in a group is more fun and each person will always have something new to contribute to the learning process.
Prepare your Cambridge English level test with ABA English
Your goal of learning English and successfully passing your next Cambridge test is possible thanks to our Smart Learning® method. We want you to learn English with topics that interest you, have fun, and ultimately, learn comprehensively since our content is designed according to the levels of the CEFR, Cambridge University, and other assessment bodies.
Some of the tools we offer you include:
You'll participate in live sessions (ABA Live) with students from other countries and special guests, which will be moderated by our teachers.
When you log into the platform for the first time, you can choose the topics that you like best, which also configures your Daily Plan.
Watch our exclusive ABA English movies starring native actors then complete practical exercises related to the films.
You'll receive daily notifications on your cell phone or tablet so that you don't forget to check out your microlesson, which you can study at any time of day.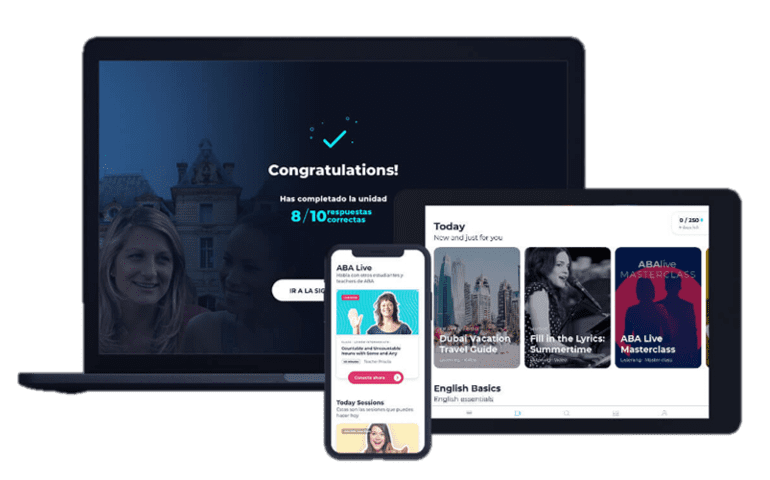 Why aren't you preparing for your Cambridge test with ABA English?
30 million students in 170 countries agree that ABA English is the right solution to help you prepare for your next Cambridge test.
With practical, flexible, and fun tools, you'll discover that you can study English comprehensively to successfully pass your Cambridge test.  
If you prefer, you can also take the complete course with six levels, from A1 to Business, so that you can improve your level of English.  
The time has come to start this great adventure and ABA English will accompany you throughout the process.
Get ready to pass any test with ABA English