Find out if you're at the C1 level with this free English test
Congratulations on completing the English level test!
English level test results:
Thanks to your dedication and perseverance, you managed to take firm steps along the path of English learning. Now you feel like the time's come to confirm that you've made it past the upper-intermediate level and to put your name in the advanced hall of fame. The best way to do so is with an English placement test designed for the C1 level, like the one offered by ABA English.
To get even better results than you expect, you'll have to prepare yourself by using a learning method that covers all the topics that are evaluated by C1 level English tests. It's also important to make sure that the method you choose won't turn your study time into a heavy burden that's impossible to bear.
The Smart Learning® method, developed by ABA English, is perfect for this. Besides being based on the educational approaches from different universities, Cambridge, and the CEFR, it offers you personalized study material you need so that you learn in a dynamic and very entertaining way.
What does the C1 English test consist of?
You've developed your language skills and have reached a level of proficiency in English. You've come so far that when you go through a checklist of all the topics included at the C1 level, you have the peace of mind of being familiar with almost all of them.
Nevertheless, you want to be sure that your level of knowledge of the English language really corresponds to the advanced level. You don't want any surprises – like accidentally finding out that your level is actually closer to B2 and that your goal of C1 level English hasn't yet been achieved.
We'd like to recommend a resource that you'll find very useful: the C1 online English test from ABA English. You simply answer a series of strategically formulated questions to get a quick result that will give you a clear idea of how much you know about the language.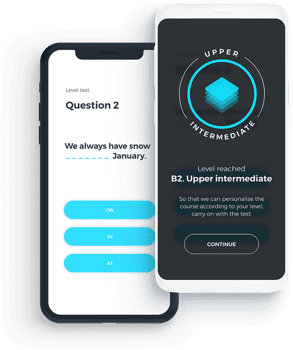 Are you ready to take the C1 level English test?
Remember that practice makes perfect. So, if you want to get excellent results on your C1 test, it's important for you to spend a few minutes each day perfecting your English language skills.
You know the idiomatic expressions. You can paraphrase and easily determine the context of the terms you read or hear because you know their range of meanings.
You produce and understand literary, journalistic, academic, and technical texts. You organize, structure, and make distinctions between the implicit meaning, the nuance, and the details in a document, no matter how complex.
You can interact without any problems and at the same speed as a native speaker, understanding the different types of accents. You use listening and inference to be able to understand and express yourself without difficulty, even when you don't have the whole context or when a conversation is unstructured.
Take the C1 English test and check your level
3 foolproof tips to help you succeed on the C1 test
You know you want and/or need to take an official exam to become certified at the advanced level. Before taking this important step, take advantage of the tools that ABA English offers you and get ready to take the C1 English test online for free.
Students who reach the C1 level have a high degree of English proficiency. However, some skills can be more difficult than others. So, before taking the C1 English test, identify the skills you could strengthen further and spend more time working on them.
Make sure you understand the questions before you answer them. Don't finish the test without re-reading the answers you have chosen so that you can check whether you've chosen the right answer and make sure you haven't left any questions unanswered.
Prepare yourself with ABA English and successfully take the C1 English test
If "C1," "English," and "test" are words that are always on your mind, maybe the idea of checking your level of English language proficiency is something that makes you worry. If you want to be ready for the advanced level, take advantage of the resources that ABA English offers you.
Participate in Speaking Sessions, moderated by expert language teachers, where you'll have the opportunity to speak with students from all over the world.
Download our app to the device that you prefer and access a Daily Plan with customized microlessons that are updated daily, video grammar classes, a variety of podcasts, and interactive exercises.
The Smart Learning® method

Unlike traditional study methods, the modern Smart Learning® experience from ABA English will adapt to your schedule and allow you to access a wide variety of digital content so that you can effectively prepare using your favorite topics.
A comprehensive English course
ABA English offers you two courses at the C1 level.
B2/C1 Advanced

: This will allow you to perfect your linguistic skills so that you can communicate fluently and without mistakes.

C1 Business

: This will help you to strengthen your business English so that you can manage in the business world without any problems.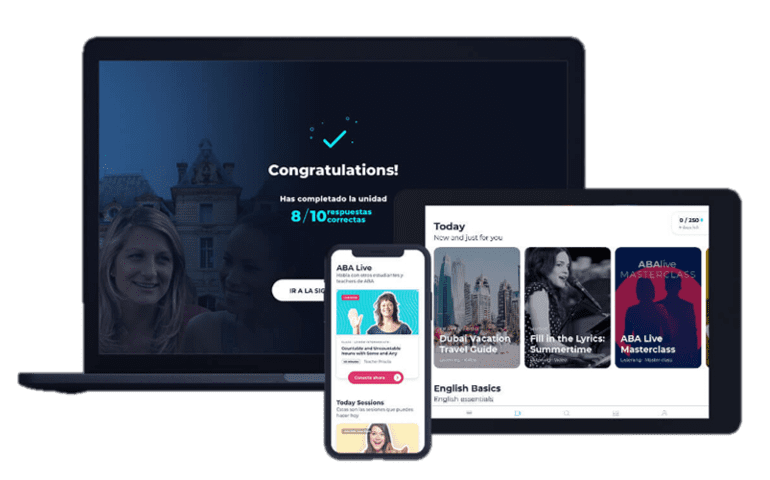 Do you want to pass the C1 English test?
For ABA English, it's very important that you achieve the goals you set when you decided to learn English. That's why we want to help you identify your true level of English and accompany you through this preparatory journey. You've already traveled quite far and will soon be able to see the end.
We encourage you to take our C1 English test online. Prepare yourself with our Smart Learning® method and gain the knowledge and confidence you need to take the next step and pass any of the international exams whenever you need to.
Get ready to pass any test with ABA English