Find out if you have a B1 level of English with this free test
Congratulations on completing the English level test!
English level test results:
The B1 level in the Common European Framework of Reference for Languages (CEFR) is also known as intermediate. Having this level means that you can function efficiently in professional, academic, or everyday situations in an English-speaking country.
If you want to know your current level of English, we recommend that you take a B1 English test online as part of your preparation process. At ABA English, we have the ideal test for each level, which you can take for free, online, and which will only take a few minutes. 
The results will let you know what your starting point is. From there, you'll be able to prepare yourself with our revolutionary learning method, which you're definitely going to love.
What does the B1 English test consist of?
If you understand what you read or hear, can talk about general topics, and are able to write relatively straightforward texts, it's time to check if you have an intermediate level of English. A free B1 English test won't give you a certificate or be as difficult as an official exam, but it will serve as a guide and can give you an idea of your weaknesses, if you have any.
Free tests are a simplified form of assessment, which use specific questions that require a high degree of knowledge of the language to place you at a CEFR level with an acceptable level of accuracy.
At ABA English, we see the learning of English as a personal project and want you to be clear about your starting point and your goals. That's why we've developed a B1 level English test with multiple-choice questions that focus on grammar and vocabulary and that will reveal your language level in just a few minutes.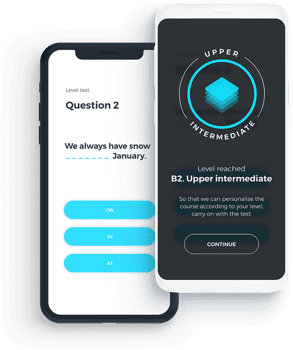 How can I tell if I'm ready for a B1 English test?
Taking a free B1 test isn't your goal. Rather, it's part of the process of preparing for an official exam. Take it at the very beginning and then take it again afterward. If you test yourself often, you'll know how much you've improved as a result of your preparation. But make sure you master the following topics:
Can you use the main verb tenses? You must know the present, past, and future in their simple, continuous, and perfect forms. At this level, you'll need to use many verbs and you can't allow a mistake in conjugation damage the coherence of your tenses. You might not have to take a writing test as part of an online test, but one or more questions will probably evaluate this aspect.
You should have a wide range of words that you're familiar with and that you understand clearly when you read or listen to them. The tests will go a step further, trying to identify if you're able to use the correct word in specific situations. English has words that have similar meanings but that have different uses depending on the context such as make/do and tell/say.
It's very likely that you'll be tested on critical topics like prepositions, comparatives, adverbs of time, adjectives made from verbs, and connectors. Review how to use these elements correctly.
Take the B1 English test and check your level
Tips for passing a B1 English test
Your result is your own, so the more accurate it is, the better. Don't cheat, even if you have Google standing by to help you. Respond based on what you know so that your final score won't be affected. You should take this test seriously, too. The questions are often misleading, so read them carefully and re-read them, if necessary.
You'll find hundreds of tests online, but perhaps not all of them can give you an approximate idea of your actual level. Make sure the test is from a reputable institution, like ABA English, the digital English academy.
You don't need extensive preparation for a B1 online English test, but it's good to review the most common topics. You know English, but you may have forgotten things you don't usually practice and it'd be good for you to refresh them. On the internet, you can find hundreds of pages with test preparation. Make a checklist of the things you know and those you don't.
Improve your English with ABA English and get excellent results
Your B1 English test is just part of a learning process that involves much more than that. ABA English has a lot to offer to help you perfect your English. Let us share some of our benefits with you:
We've innovated and the result is our outstanding method: Smart Learning®. What is it? It makes learning fun. It's been proven that our brains assimilate knowledge better through enjoyable experiences. We want you to get excited about our lessons and activities so that you can internalize English more easily and stay motivated at all times.
We offer a plan that covers all the topics you need to master at the B1 level. Our 144-unit course covers all six levels of the CEFR and has been designed to meet the certification requirements from the most prestigious institutions. But the course isn't the only thing we offer. With us, you'll also receive a large amount of multimedia content to learn and practice with: articles, podcasts, ABA Films, Speaking Sessions, and much more.
With our app, you can learn from anywhere and at any time, all you need is a smartphone or a tablet. You'll receive a Daily Plan that has been tailored to your needs and interests, with microlessons and exercises so you won't go a day without practicing.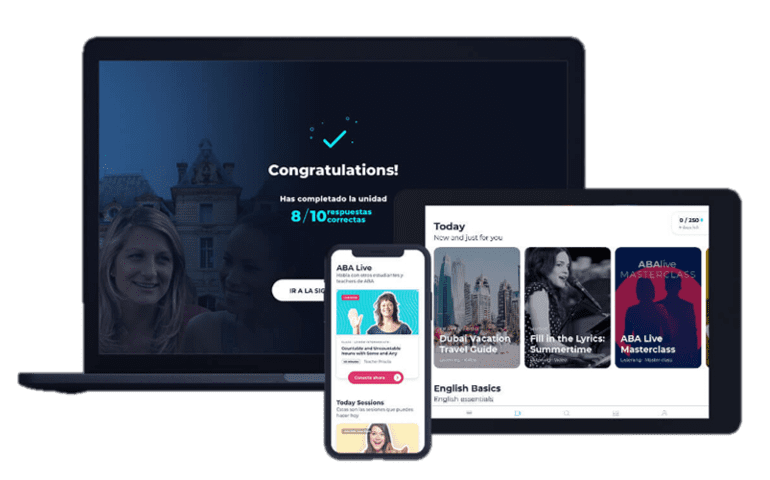 Do you want to improve your chances of passing the B1 test?
Come on! You have nothing to lose. You're just a few clicks away from getting an accurate diagnosis with the free test from ABA English. Check your level and start your journey to the next one or to an official certification. We'll be there to help you reach your goals.
Get ready to pass any test with ABA English