Find out if you're ready for the PET with this free test
Congratulations on completing the English level test!
English level test results:
If you're interested in the PET test, you're probably already familiar with the Cambridge exams. The B1 Preliminary (PET), as its name suggests, corresponds to the B1 level of the CEFR. An intermediate level like this implies that you're able to perform well in a work, academic, or recreational environment in an English-speaking country.
Do you want to know how you would do on the PET without having to officially take it? We have what you need. Take our PET test online. This practice test will give you a general idea of your mastery of the B1 level and will help you make decisions about your preparation for the official exam. We can also help you prepare. We have the right curriculum and an innovative method that you won't only learn with, but will also have fun with.
What does the PET Cambridge test involve?
A practice test is a mechanism that simulates the real exam without the stress of needing to get good results. It's a very useful way to evaluate your knowledge, identify opportunities for improvement, and determine the odds of you passing the official exam.
We don't expect you to take a test that's as extensive as the B1 Preliminary. For this, you can access the sample tests that Cambridge English offers on its official website. Our goal is to make things easier for you. For that, we've developed a free, online practice test that's shorter than the B1 Preliminary.
The PET practice test from ABA English will tell you, with a high degree of accuracy, if you'll be able to pass the B1 Preliminary or if you need to improve your skills. This could be the starting point to help you define your study goals for a certification at this level or even a more advanced one.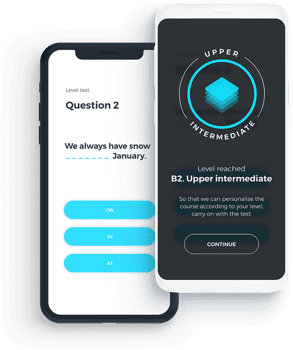 How do I know if I'm ready for a PET English test?
You may feel like you have a good enough command of English to understand TV shows and movies, have casual conversations, or write well. But you also want to know how you would do on a PET certificate test. The first thing to do is to make sure you've mastered the following topics at the B1 level.
Make sure you have a good level of reading, writing, speaking, and listening. A PET level test may not have a dedicated section for each skill, but in addition to your comprehension skills, it will test your knowledge of the proper forms of expression.
The verbs and their tenses
Conjugating correctly is one way to avoid speaking like a caveman. At this level, you must master the simple, continuous, and perfect forms of the three tenses.
There's a large amount of grammar to be covered, but you should focus on the specific topics for this level. You must be able to use phrasal verbs and connectors correctly. You are expected to have mastered prepositions, comparatives, time adverbs, adjectives made from verbs, and the Saxon genitive, among others.

From the B1 level on, there are no word lists since they would be too long. Be aware of words made using prefixes and suffixes as well as collocations. The latter are combinations of words where one can't be substituted by another that has the same meaning, like what happens with make and do.
Take the ABA English test and check your level
Tips for passing the PET Cambridge test
Use this as a reference point.
Your test results will tell you how much further you need to improve. Set a benchmark so that after a while you can take the PET test again and identify how much progress you've made after practicing for a while.
We can sometimes be a bit too relaxed when it comes to practice tests because we know there won't be any negative consequences if we don't pass. Don't take it for granted. This is a good opportunity to evaluate how well you'd do on an official test.
You can choose between the PET and the IELTS or other alternatives. There are several free tests online. You can take any of them, but some will be more accurate than others. ABA English offers you a reliable test because our levels are completely aligned with the CEFR and, therefore, with the Cambridge levels as well.
Improve your English with ABA English to pass the PET Cambridge test
We're a major digital English language academy, with more than 30 million students and a presence in over 170 countries. Here are some of the reasons why you might be interested in learning with us:
Our Smart Learning® method promotes learning at an emotional level. We want you to enjoy our lessons and all the complementary educational content that we offer. We make it fun, using your favorite subjects so that you can assimilate in English without feeling overwhelmed by the academic burden. We know that if you like something, it becomes important for your brain. If something is important, you'll learn it more easily.
We don't want you to lose interest. That's why we create and update our content constantly. We have our own cinema-quality short films, ABA Films, so you can practice your listening and vocabulary. Do you want to talk to teachers and students about PET topics? Participate in our Speaking Sessions and you'll be able to talk about academic topics or current events.
Make the most of your free time by practicing from wherever and whenever you want with our app. In the app, you can access all six levels of our certified course. You'll also have a Daily Plan with microlessons and activities to strengthen your skills.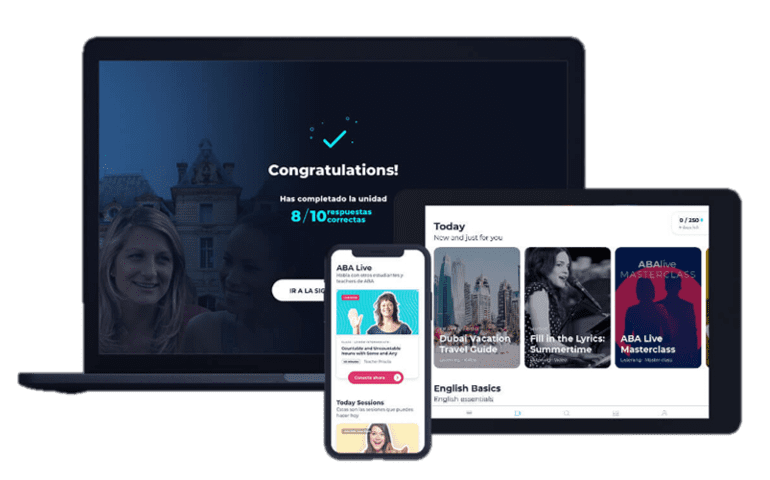 Have you decided to take your PET test online with ABA English?
Come on! We're not going to make you spend hours answering hundreds of questions. We've worked hard to design an accurate but simple test, which isn't the same as easy. Find out how ready you are for the B1 Preliminary with our PET English test and continue your preparation process with us.
Get ready to pass any test with ABA English