Find out if you're ready for the KET with this free test
Congratulations on completing the English level test!
English level test results:
The A2 Key, formerly called the KET and still recognized as such by most, is the most basic Cambridge exam for adults. According to that same institution, it's the gateway to begin learning English. It corresponds to the A2 level of the Common European Framework of Reference for Languages and implies that you can communicate in English in simple, everyday situations.
At ABA English, we're permanently thinking about your needs. That's why we've designed our KET practice test, a practice exam to check how prepared you are for the official test. We want you to prepare yourself with a unique and efficient method and to check your level of English before heading to take the official test.
What does the KET certificate test involve?
When you're about to face an important test, you always want to know how you'll do. This is mainly as a way to better prepare yourself, in case you need to. That's why many institutions generate their own exams that simulate some of the most recognized tests in the world.
Practice tests are very useful tools to assess how prepared you are and to identify any areas that may need reinforcement. Best of all, they're usually free, you can take them online, and they're much shorter than the real tests.
Our KET Cambridge test includes questions focusing on the vocabulary and grammar that you need to master at the A2 level.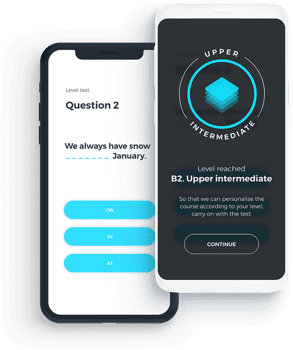 How do I know if I'm ready for the KET test?
We're talking about the A2, the entry level. Nevertheless, these tests must be very specific in terms of the topics that are critical for the students. Check the list below to make sure you've prepared these areas before taking the KET certificate test:
A practice test doesn't usually have a section for every skill, i.e. reading, writing, listening, and speaking. It will test your understanding of what you read and your ability to identify the correct ways that you should express ideas, though. This will all depend on your speaking and writing skills.
This level implies that you have a broad knowledge of grammar, but not that deep. You should know some simple connectors, the most important prepositions, adjectives formed with -ed or -ing, comparatives, and some adverbs, mainly those of frequency. On the other hand, it's important for you to master the present and past verb tenses in their simple and continuous forms and even a little present perfect for asking questions, among others.
The official Cambridge English website has a list of vocabulary for the A2 Key. Take a look at it. It's a long list, but you've probably already mastered most of the words.
Take the ABA English test and check your level
Tips for passing the KET test online
This is a practice test. We know that nothing will happen if you fail, but it should, ideally, give you a clear idea of your level. To do this, it's a good idea to go over the topics that we mentioned earlier. Perhaps you'll be able to remember them just by looking at them and be able to answer more questions on the KET test.
As we've already mentioned, simplifying an extensive test like KET into a practice test has some implications. We need to know that you've mastered the concepts well enough to distinguish between answers that seem to be correct. Pay close attention because these tests often have trick questions.
You'll find many tests online, but you can't trust all of them to be reliable. At ABA English, we have many years of experience as an academy and have a clear understanding of the requirements of the evaluating bodies. You can trust the accuracy level of our test, mainly because we're interested in your learning and your success.
Pass the KET practice test with ABA English
We know that taking the KET test online isn't your final goal, but we want to guide you through the whole process until you achieve your objectives. Here are some of the advantages of preparing with us:
Our Smart Learning® method encourages the combination of learning with entertainment. We know that if you enjoy the way you're studying, it'll be easier for you to learn the concepts and develop your skills. That's why we make our lessons and activities fun. Plus, if you're enjoying yourself, you won't get bored. On the contrary, you'll stay motivated to keep learning.
To keep in line with our method, we need to provide you with enough options so that you can choose what you like. That's why we constantly add and update our content. For example, ABA Films are our own high-quality short films for you to practice your listening and vocabulary with. You can also participate in our Speaking Sessions where you'll discuss educational and current issues with teachers and other students. Take a look at our website. You'll be surprised by what we have waiting for you.
From anywhere and at any time
We've developed an excellent educational app for you. With it, you won't only be able to access our certified, six-level course, but you'll also be able to access your own Daily Plan with microlessons and activities that allow you to practice frequently.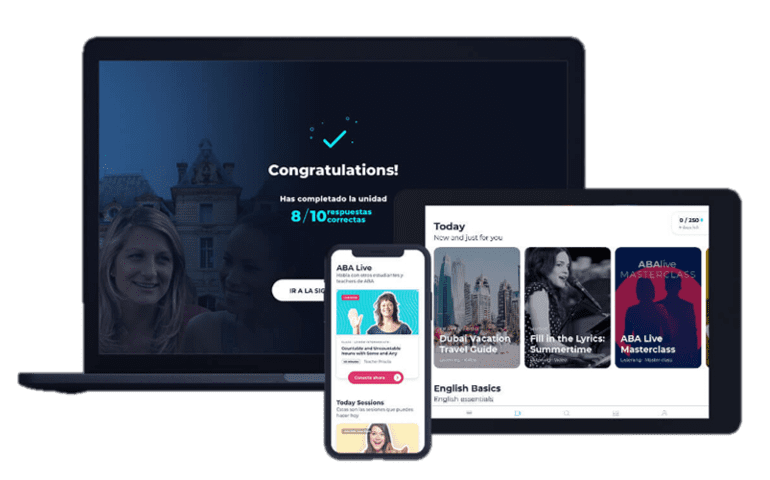 Are you ready to take the KET test from ABA English?
We want you to know that all our study plans are designed to match the topics and certification requirements from the major testing and certification institutions. We don't improvise. Our levels are aligned with those of the CEFR and we know your learning needs for each level. You can be sure that by taking our KET Cambridge test, you'll have a very good idea of your possible results on the official exam.
Get ready to pass any test with ABA English