Prove that you're bilingual with this free English test
Congratulations on completing the English level test!
English level test results:
You've mastered English and have shown everyone that you always achieve your goals. However, before posting on all of the social networks that you're officially bilingual, it's important for you to take a placement test specifically designed for the C2 level of English.
Taking a C2 level English test will allow you to verify that your knowledge actually corresponds to the advanced level. It will also make it easier to determine which language skills you need to strengthen before deciding to get certified. So, don't miss out on this opportunity to try the free test from ABA English.
To obtain excellent results on the C2 online English test, prepare yourself using a study method like the Smart Learning® study experience developed by ABA English. Besides covering all the topics that are evaluated in the official C2 level exams, it's modern, it's flexible, and, best of all, it allows you to experience English in a unique and very entertaining way.
What does the C2 English test consist of?
This C2 test is a very useful tool that allows you to determine your level in just a few minutes. It will also help you find out if you need to strengthen any particular subject so that you can truly be well prepared before taking an international exam.
The great news is that you don't have to pay if you want to take one of these tests. There's one waiting just a click away because ABA English, the digital English academy, offers you a free C2 English test, which is available on our website so that you can take it whenever you want.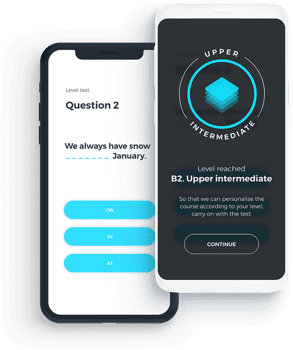 Ready to take the C2 English test online?
You've reached the highest level of English and are about to achieve your goal of declaring yourself officially bilingual. We know that this is very exciting and that you're desperate to officially certify your language skills. But before the main course, there's nothing better than a good starter. What would be better than a C2 online English test?
If you want to successfully pass the test and be ready to take an official English exam when you need it, keep these tips in mind:
Do grammar exercises that correspond to the C2 level so that you can speak and write correctly. Deepen your knowledge by learning new vocabulary and idioms.
Meeting and interacting with native speakers allows you to experience English in real-life situations. It's a very effective resource for perfecting all of your language skills.
Integrate English into your daily activities
Reading, writing, listening, and speaking are skills that we use daily. Do so in English whenever possible. This is the best way to reach and/or maintain your C2 level!
Take the C2 English test and check your level
3 tips to keep in mind when it comes to choosing a C2 test
Taking it once isn't enough
If there's a free C2 English test available, take advantage of this opportunity to take it more than once. This will allow you to identify the mistakes you make, correct them, and not repeat them.

Identify the most suitable test
If you already know that the English exam you want to take matches your proficiency level, look for a C2 English test, like the one offered by ABA English, and give it a try.
Take advantage of your knowledge
Try an online C2 test like the one offered by ABA English and get your score. It will give you the security you need to make this language part of your personal, academic, and/or professional life. You'll see that including the English language in all areas of your life really is worth it.
Prepare with ABA English and check your level with a C2 English test
C2, English, test. This isn't a tongue twister, but instead is a list of three words that have begun to rise to the top of your priority list. Don't wait any longer! Take the C2 English test and prepare yourself with the Smart Learning® method so that you can reach and/or maintain your proficiency level.
Remember that ABA English offers the following advantages:
ABA English offers you a C2 English course you can use to perfect your linguistic skills. You'll also have the opportunity to watch entertaining ABA Films starring native speakers from different English-speaking countries so that you can familiarize yourself with different types of accents.
Enjoy Speaking Sessions, moderated by teachers who are experts in the language, where you'll be able to practice your listening and speaking skills with students from all over the world and whose level of English as advanced as yours.
Access a Daily Plan designed for the C2 level and receive personalized content that is updated daily. Enjoy microlessons and exercises that allow you to perfect your grammar and vocabulary as well as a wide variety of podcasts.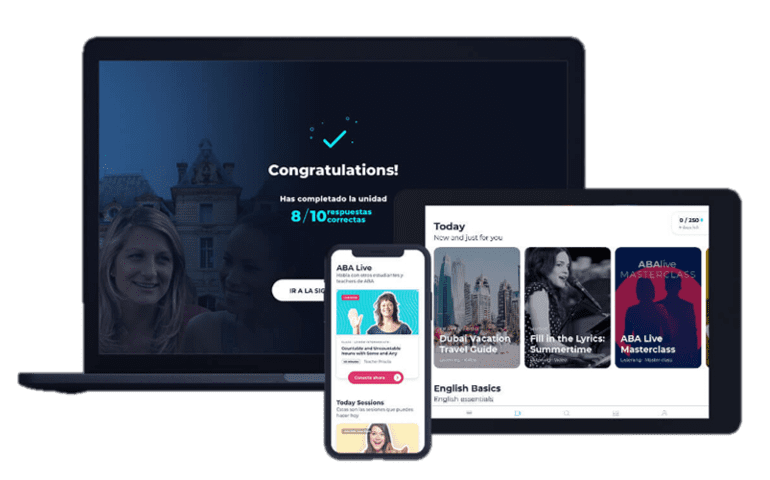 Do you want to pass a C2 English test?
In addition to being flexible and developed in line with the learning topics from Cambridge University and the levels of the CEFR, the Smart Learning® study method from ABA English is a very effective way to get excellent results on the C2 level English test and, of course, on any exam you decide to get certified with.
Let us help you in your learning process so that we can celebrate the moment that you can finally announce to everyone, "I'm bilingual!"
Get ready to pass any test with ABA English