Learn English With Podcasts
Learn English through podcasts
Discover all the advantages of learning English with podcasts. ABA English provides you a wide range of podcasts to help you practice your language skills.
Today, no matter where you are in the world, technology lets you access a variety of tools to learn and improve your English. One of the options that have taken off in recent years is English lesson podcasts, which basically consist of audio files that you can play online or even download to your mobile devices.
If you're just beginning the process of learning the English language, you may find it hard to understand 100% of what you hear. There's no need to worry. Everything has its process and this doesn't mean that you should avoid listening to them.
Below, we'll talk about how to use a podcast to learn English. Keep in mind that our digital English academy, ABA English, also offers you podcasts in English about different topics so that you can perfect your English level every day.
Why learn English with podcasts?
First, let us say that you can learn English with podcasts. There are many reasons why you should listen to English podcasts. The first reason, which many people like, is that they're free. You can find a lot of free English podcasts online and on the topics that appeal to you the most.
Another reason is that, with podcasts, you can stay in constant contact with the language. If you go out on the street, you only need to connect your headphones to your mobile and hit play. The sounds in English are different, so using English podcasts is an excellent way to get your ear used to the English language.
Finally, podcasts are an inexhaustible source of varied, interesting, and enriching content, which will help you supplement your English training in an ideal way.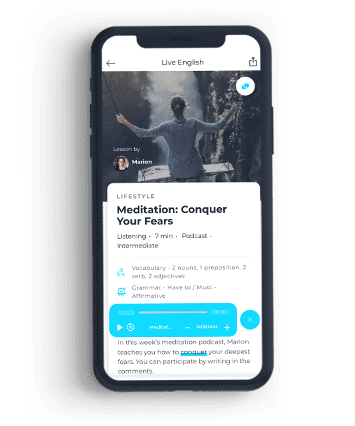 Take your English to the next level with podcasts
Tips for learning English with podcasts
Look for interesting topics
The best podcasts for learning English are those with topics that really interest you. Do you like sports? Do you love fashion? Or do you prefer to keep up with the latest news? If you want to know how to learn English with podcasts, the key is to always look for something that's meaningful to you. This will lead you to not only listen to the podcast, but to delve deeper into the topic.
If your level of English is above beginner, you can try to write a summary or a short essay, in your own words, about what you heard. Identify the main ideas and highlight the keywords, that is, the words that give you the most information about the main focus of the text.
Look for a transcript or subtitles
If you're lucky, you'll find some podcasts with a written transcript or with subtitles. Look up the unknown words in the dictionary while trying to understand expressions from the context.
You don't have to understand everything
You don't have to understand every word or stop the audio every second. Try to decipher what the main theme of the text is. You'll be able to pick up on the details when you listen to it again.
FAQs about learning English with podcasts
What level do I need to understand a podcast without difficulty?
Listening to a podcast in English is easy. The hard part is understanding what they say. Right? However, this should not be a barrier to stop you from listening. The sooner you're exposed to the English language, the more familiar you'll become with it so that you'll eventually understand what's being said.
Where can I find podcasts in English?
There are multiple options for listening to your favorite podcasts. You can do this through sites like YouTube or specialized podcast apps like Soundcloud, where anyone can create and share audio content. Remember to look for the ABA English podcast so that you can listen to the content with short lessons that will be very useful for your learning.
What topics do English podcasts include?
You can usually find podcasts on any topic. However, the most common categories are news, entertainment, and education. The ABA English podcasts are ideal for listening to in the morning since they'll give you the motivation you need to start your day.
ABA English will help you improve your English
Thanks to our innovative Smart Learning® method, we offer you the opportunity to learn English in a fun, dynamic, and personalized way.
Learn about some of the advantages of studying with us:
Practice your English by talking about various topics with students from other countries and international guests in live classes (ABA Live), which are always moderated by our teachers.
Watch the ABA English short films with native speakers so that you can learn real English, with accents from different English-speaking countries. Then practice the dialogues through exercises related to the film.
You'll receive a notification on your tablet or mobile to remind you that it's time to study your lesson, but it's up to you to decide when to do so.
Learn English with different formats such as podcasts, blogs, articles, games, short films, quizzes, and exams.
When you log into the platform, you can choose the themes you like best, thus automatically configuring your Daily Plan. The microlessons include varied and entertaining lessons, with themes and articles that interest you, so that you won't get bored while you learn.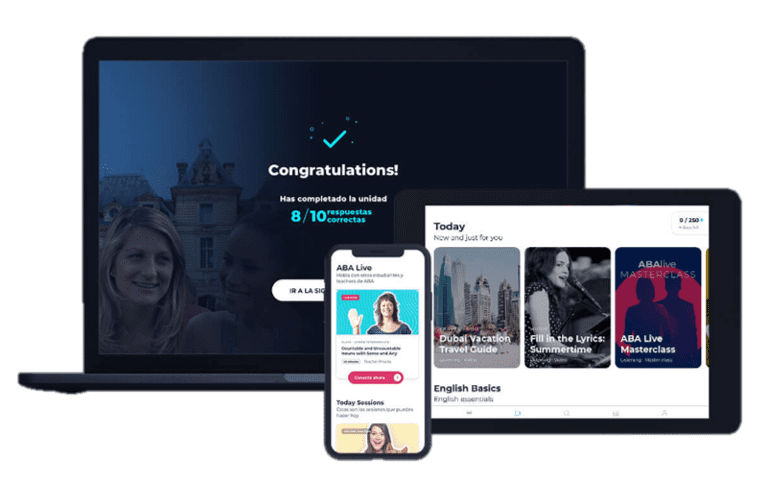 Why are you still waiting to learn English with ABA English?
We follow the guidelines set by the CEFR, Cambridge University, and other universities to configure our curriculum, including interesting and entertaining lessons, based on your personal tastes.
30 million students in 170 countries confirm that they love to learn English using our dynamic and unique method.
If you want, you can also take the complete six-level English course, from A1 to Business, which includes grammar video classes.
Prepare yourself with the ABA English podcasts and the wide variety of content available on our digital platform to reach your learning objectives in the English language.
Learn English the way you like best