Podcasts for Intermediate English
Have fun listening to podcasts of intermediate level
Now that you've reached the intermediate level, you know that learning English requires perseverance, dedication, and, above all, motivation. So, if you want to maintain your enthusiasm, it's essential for you to choose a study method that offers tools in modern, dynamic, and very entertaining formats like podcasts.
The Smart Learning® method from ABA English, the digital English academy, is ideal. Besides offering you content based on your interests, it has a great variety of podcasts for intermediate English as well as English podcasts for pre-intermediate students so that you can learn with what you like.
Another advantage of this learning experience is that it was developed according to the pedagogies set by the CEFR and various universities, such as Cambridge. This means that it covers all the subjects that are evaluated in the official exams to ensure that you can certify your level of English when you need to.
Would you like to learn English by listening to podcasts?
The term 'podcast' emerged in 2004 as a result of the union of the words iPod and broadcast. Podcasts are short digital files that deal with different topics (educational, current affairs, news, or even specialized subjects) in a very attractive and original way.
Thanks to this innovative format, you can improve your language skills in a dynamic and very entertaining way by accessing personalized content that corresponds to your English level. Another advantage of podcasts is that they can be played on all devices, which means that you can listen to them at any time and in any place.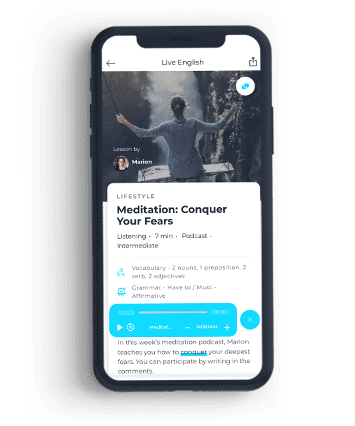 Take your English to the next level with podcasts
Tips for learning English by listening to podcasts
Choose content that suits your level
If you really want to progress, you need to choose podcasts that correspond to your level of English. If you're at an intermediate level, look for a podcast in English for B1 so you can understand most of the audio. If you're at the upper-intermediate level, just focus on podcasts in English for B2, as this can provide you with new knowledge.
Organize them by category
There are a variety of podcasts for intermediate English learners out there. So, it's important to find the topics that interest you and organize them into categories (grammar, lifestyle, technology, entertainment, etc.). You can also create a list to find them more easily and listen to them in an orderly fashion.
You no longer have to give up your daily practice due to lack of time. Since these are digital files, you can listen to them when you drive, while you're on public transport, or while you're working out at the gym.
Improve your linguistic skills
In addition to learning with the content offered by the podcasts, you can take advantage of them to practice your listening skills, to expand your vocabulary, and even to improve your pronunciation by doing repetition exercises.
Everything you need to know about intermediate level podcasts
Why should I listen to podcasts at the intermediate level?
Podcasts are a very useful tool for you to expand your vocabulary, improve your pronunciation, and learn how to pronounce words correctly. They are also a key factor in practicing your listening because they allow you to get used to the different accents that native speakers have and the speed with which they speak.
What themes do intermediate level podcasts talk about?
The subjects are very diverse and entertaining: daily life situations, current events, curiosities, business, interviews, conversations, and opinions on a particular topic, among many others. There's something for everyone!
What type of podcasts should I choose?
It's important for you to be aware of your level of knowledge. If you recently passed the basic level, look for podcasts in English for B1, as they have a lower degree of complexity than those of the upper intermediate level. If you are at the upper intermediate level, select podcasts in English for B2 to perfect your language skills and prepare for the advanced level.
Why choose a podcast for learning English at an intermediate level and not another format?
One of the main reasons is that podcasts don't interfere with other activities. So, you can listen to them while you are doing something else. On the other hand, you can listen to them online or download them to play them when you want and as many times as you need.
Where can I find intermediate level podcasts?
There are apps, like the one from ABA English, that allow you to access a great variety of podcasts in B1 English and podcasts in B2 English to have fun while you learn.
Listen to the ABA English podcasts and improve your English level
Podcasts haven't only revolutionized new technologies, but also the way we learn English. They've become one of the most widely used study tools for students.
Find out how you can listen to a podcast in B1 English or a podcast in B2 English to successfully pass the intermediate level with the help of ABA English.
To access the best intermediate English podcasts, just follow these simple steps. First, download our app on any device. Second, choose the topics that interest you the most: travel, personal growth, news & trends, nature & science, and business, among others. Then you just have to set up a Daily Plan and start receiving a wide variety of podcasts based on the categories of interest you selected.
In the ABA English app, you can find intermediate English level podcasts to reinforce your grammar, expand your vocabulary, and review or study specific topics such as verb tenses and phrasal verbs, just to name a few.
Check out our selection of motivational podcasts to get your day started with all the enthusiasm you need.
There's nothing better than relaxing a bit and enjoying short grammar classes before going to sleep. This is very useful because it helps you assimilate the content during your sleep.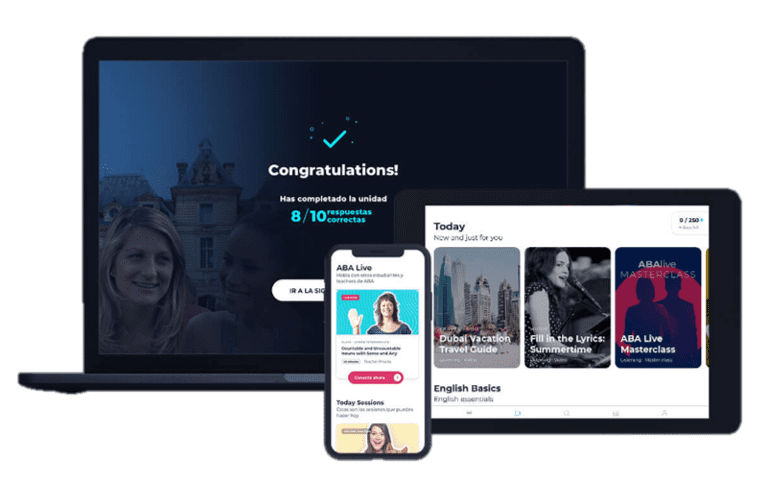 Do you want to practice listening to podcasts?
For ABA English, helping you to successfully pass the intermediate level is very important. That's why we've developed our innovative Smart Learning® method through which we offer you a great variety of entertaining and personalized podcasts so that you can learn with what you like.
Join the more than 30 million students who are part of the leading digital English academy in Europe and Latin America. Don't miss out on this opportunity to learn with podcasts. You'll love them!
Learn English the way you like best