Learn With Songs in English
Have fun while learning with songs in English
Discover how to learn English with songs with the Smart Learning® learning experience developed by ABA English, the digital English academy. Receive personalized content and access to a great variety of modern and innovative resources so that you can discover how to learn English with songs while having fun.
Few things are more enjoyable than bringing back memories and experiencing a wide range of feelings while listening to your favorite artists. How about integrating that world of sensations into learning English to make it more enjoyable? Do you want to know how to learn English with a song?
All you need to do is listen to your favorite songs in English and have a good time. You'll see how this simple but effective exercise will help you improve your language skills and strengthen your knowledge of the English language.
Why learn English with songs?
When you start to study English, the first things you learn to identify are the sound patterns. This is why including songs in the process of learning the English language has such a positive impact on your cognitive and emotional development.
In fact, scientific studies show that both music and language learning stimulate the same areas of the brain. Therefore, by learning English with songs, you aren't only enhancing your intellectual capabilities but also the performance of reasoning, analysis, and synthesis processes.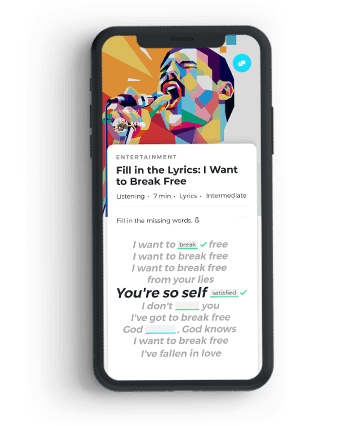 Take your English to the next level with songs
Tips on how to learn English with songs
Make the most of your free time
Even though it may sound impossible to believe, leisure time is ideal if you want to English with songs. Just turn up the volume on your stereo and sing along with your favorite songs in English as often as you like.
Songs stimulate your senses and produce emotions that will be triggered by your brain every time you listen to them. Relating these songs to specific topics in your learning process will allow you to remember them more easily.
Listen to music before bed
Learning English with songs before going to sleep is very beneficial. On the one hand, it will help you relax and fall asleep since your brain secretes dopamine when stimulated by the music you like. On the other hand, it will allow you to familiarize yourself with the language in a more natural way.
Learning English with subtitled songs is a very useful and fun resource. While you can set the subtitles in your native language, it would be best to set them in English so that you can start thinking about the language you're learning.
Practice your listening skills
Listening to artists from various countries and choosing songs from different musical genres is a great way to get used to different accents and to sharpen your ear.
Everything you want to know about learning English with songs
What are the best songs to learn English?
Listening to your favorite songs in English is very useful because you'll feel like listening to them more often, which means you'll spend more time practicing the language. However, it's important for you to choose songs with specific themes and that aren't repetitive since the main objective is to practice in order to improve all your language skills.
Do I need to sing or is listening enough?
It all depends on your level of knowledge and the complexity of the song you choose. If you can understand the overall meaning of the lyrics and can pronounce the words correctly, don't settle for just listening. Sing along and add a touch of joy to your day!
Should I choose songs that match my level?
Yes. It's important to keep in mind that, depending on their musical genre, some songs will be easier to understand than others. For beginners, for example, it's better to listen to ballads or pop while advanced students will be able to practice with styles like hip hop or rap.
Improve your English singing with ABA English
ABA English provides you with all the resources you need to feel encouraged in those moments when you need to change your study rhythm and add some rhythm to it:
The Smart Learning® method
Unlike traditional study methods, this learning experience offers content created especially for you, like songs in English with subtitles. It also adapts to your schedule, your tastes, your interests, and, of course, your English language skills.
A comprehensive English course
The course offered by ABA English covers the six levels defined by the CEFR, from Beginner to Business. You'll be able to study all the topics that are evaluated in the official exams and be prepared to certify your level of English when you need to.
Connect to the Speaking Sessions moderated by teachers who have a deep knowledge of the language and can answer all the questions you have about the pronunciation and meaning of some words. Get in touch with students from all over the world and find out if they share your musical tastes through lively conversations.
You can download it on any type of device and access a Daily Plan that will give you personalized content. You'll have the opportunity to learn English with songs through the fun Fill in the lyrics exercises.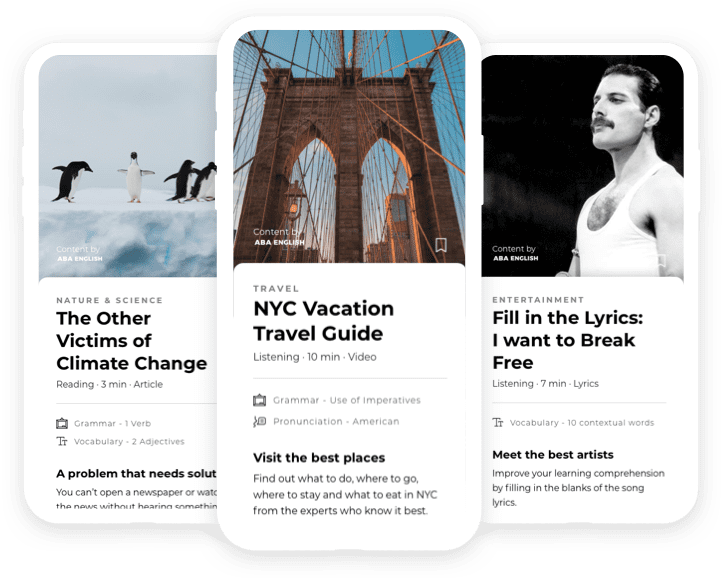 Ready to learn with songs in English?
In addition to helping you strengthen your language skills, listening to music will help you get in shape physically and mentally. You'll be able to recharge your batteries and always feel ready to take another step in the English learning process.
ABA English wants to help you to add music to your days through the innovative Smart Learning® study method, a personalized learning experience through which you'll be able to improve your language skills by learning with songs in English and other equally fun elements.
Learn English the way you like best