Podcasts in English for the Advanced Level
Learn English through podcasts
If you feel that you need to challenge yourself to achieve a high level of English, the time has come to look for tools like advanced English podcasts. Discover all the English podcasts that ABA English has prepared to take you to the advanced level.
English podcasts at the advanced level allow you to test your listening with more complex topics. You can find specialized podcasts, produced by institutions, universities, companies, news networks, and professionals about diverse areas of knowledge.
In the same way, ABA English offers you its advanced level podcasts with grammar lessons and other contemporary topics, so that you can take your oral expression to the next level.
Do you find it challenging to listen to these kinds of material? Don't worry about it. The ABA English digital academy will prepare you through a fun and personalized method, so you can experience English learning in a different way.
Why listen to advanced English podcasts?
To make the most out of what you've learned, listening to advanced English podcasts is an effective tool that will allow you to remain in constant contact with the language.
You'll be able to find a large number of podcasts in English at the C1 or C2 level, with a variety of topics such as current news, science, ecology, and much more. This content is published by people all over the world, with different accents, expressions, and even different points of view, which will help you enrich your knowledge and perfect your English.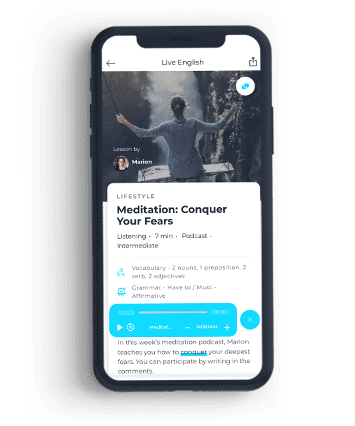 Take your English to the next level with podcasts
Tips for improving your English with advanced podcasts
Download apps on your mobile
Download apps that will let you listen to podcasts in English at an advanced level. These apps allow you to search for the content that interests you by title, topic, or author. One example is the ABA English app, which includes audio and video content with diverse themes that you can choose according to your interests and tastes.
Take advantage of every moment
Listening to a podcast isn't complicated since you can listen to it anytime and anywhere. Whether you're walking down the street, playing a sport, or just relaxing at home, the opportunity to improve your English is just a click away.
Once you've listened to the podcast, you can present your own views in an essay. Try to discuss the main ideas presented in the audio and try to suggest your own ideas (if there's room for them).
Listen to the ABA English podcasts
ABA English offers you exclusive podcasts with grammar lessons and varied content, elaborated by native speakers, which will help you improve your advanced English level.
Get ready for the official certification exams
If you want to prepare for an official certification, like the IELTS or the CAE, look for podcasts in C1 and C2 English so that you can effectively work on your listening comprehension. Look for content like debates, monologues, and conversations, where different points of view are presented, with a variety of expressions and adjectives, and phrases with nuances of emotion and subtext.
FAQs on how to learn English with advanced English podcasts
Where can I find advanced English podcasts?
If you're looking for advanced English podcasts for free, there are platforms like Spotify, SoundCloud, Apple, and Google as well as podcasts from radio stations and news channels, but there are also apps like the ABA English app with content in advanced English, which can help you improve your English.
Which podcasts are best suited for practicing my C1 and C2 listening skills?
It's important to look for the content that will help you practice the listening level that is expected at these CEFR levels. These are extensive audios that are highly demanding, which you can find in formats like interviews, radio broadcasts, speeches, and conferences.
Does ABA English offer advanced level podcasts for learning English?
Yes. In the ABA English app, you'll be able to access several podcasts to practice your listening. The Wake Up collection is designed to give you motivation when listening in the morning while the Chill Out collection allows you to listen to mini-audio classes before going to sleep to encourage assimilation while sleeping. You'll also find other podcasts from us on various contemporary topics.
Improve your English with ABA English
Thanks to the Smart Learning® method, we offer you the opportunity to practice and improve your English with interesting, fun, and personalized content, which will allow you to reach your language goals.
Get to know some of our most important tools:
When you log into the platform, you can select the themes you like best, which will configure your Daily Plan. There you'll find lessons to practice the different language skills with diverse content adapted to your interests and needs.
Talk with students from other countries and special guests about different topics. You'll always have the support of a teacher from the academy to moderate the sessions and discussions.
Learn English in a variety of formats such as podcasts, videos, articles, games, quizzes, and much more.
Receive notifications on your cell phone or tablet so that you don't forget to study your microlessons, which you can study whenever you want.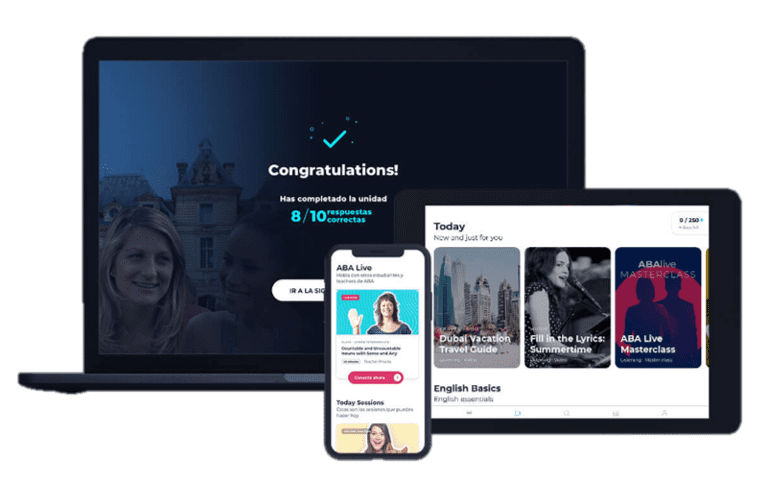 What are you still waiting for to learn English with ABA English?
30 million students in 170 countries confirm that ABA English is the best option for studying English.
In addition to having dynamic and entertaining content, we follow the guidelines established by the CEFR, Cambridge University, and other evaluating institutions to provide you with everything you need to improve your English skills.
Learn with innovative tools such as our advanced level podcasts and enjoy the learning experience.
The time has come to perfect your English and ABA English will accompany you through this exciting adventure.
Learn English the way you like best