Learn English With Videos
Learn while having fun watching videos in English
Many students dream of learning English. They imagine how much fun it would be to meet other students and teachers who are experts in the language and who would motivate them to master it as well as they do. However, many decide not to continue because the study methods are extremely boring for them. They don't offer any fun or practical resources like videos.
The reality is that the problem isn't what you learn, but rather how you study it. That's why it's essential to choose a dynamic and flexible method, like Smart Learning®, which is a learning experience developed by the ABA English digital academy that offers you content in various formats, including videos. 
In addition to being developed according to the teaching methods from different universities, Cambridge, and the CEFR, one of the biggest advantages of this methodology is that it considers your interests and facilitates your learning process so that you can learn English with videos, a dynamic and very modern tool that you'll love.
Would you like to learn English with videos?
Videos are an excellent resource to strengthen your language skills and make swift progress in your learning of English. They give you the opportunity to learn and enjoy yourself at the same time. So, make some popcorn and experience the best of both worlds.
The videos usually tell stories that recreate real-life situations in a very entertaining way. Take full advantage of them because they'll allow you to discover new words and idioms as well as improve your listening and pronunciation, of course.
You can also find some English videos to learn and/or perfect your grammar. As you can see, studying can be more fun than you expected and the best thing is that there are videos on every topic!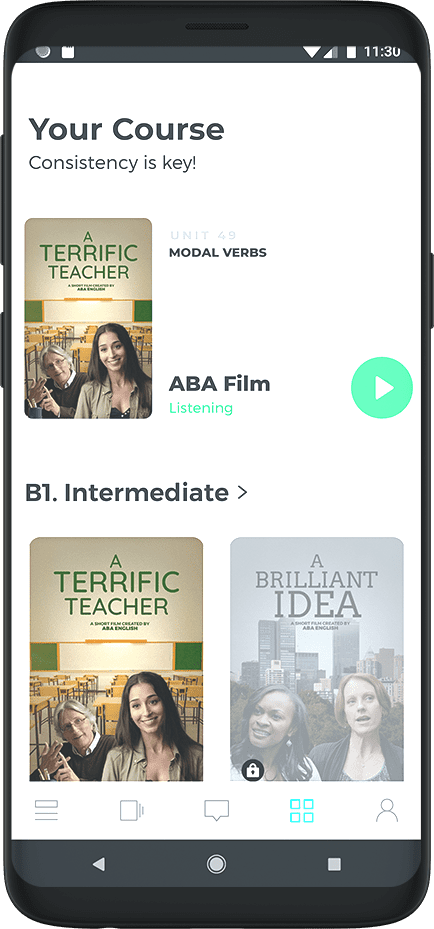 Take your English to the next level with videos
5 tips for learning English with videos
Discover new ways to learn
If you find some topics to be too complex for you, you don't have to limit yourself to learning from books. Now you can access entertaining video classes to learn English with video and daily activities.
Some videos recreate real-life situations that will serve as a guide and will be very useful in environments where you have to interact with native speakers or if you have to visit an English-speaking country
Waiting rooms can be very boring. But now you can take advantage of those moments to watch some videos in English and have fun while you practice the language.
This is an excellent technique to perfect your pronunciation and intonation, two fundamental elements in expressing yourself correctly.
Write down some sentences
Take note of the terms or expressions that catch your attention and build your vocabulary.
Everything you want to know about learning English by watching videos
What types of videos should I watch?
The Common European Framework of Reference for Languages (CEFR) has established different levels. So, it's essential for the videos you watch to correspond to your level of English.
Should I stick to short videos?
If you're at a basic level, long videos aren't recommended. But if you've already reached the intermediate or advanced level, you'll certainly be able to watch longer and more complex videos.
Does ABA English offer content in video format?
Yes. ABA English, the digital English academy, offers you different types of videos such as ABA Films (short films starring native speakers), grammar video classes (short, clear, and very well organized grammar lessons), and microlessons (short grammar lessons that are updated daily).
Can I access the ABA English videos without an internet connection?
You can download the course units and access some videos in English, such as the ABA Films and the grammar video classes even when you're offline.
Improve your English with ABA English just by hitting the play button
For ABA English, it's very important for your learning experience to be unforgettable. That's why we offer you resources like.
A comprehensive English course
Enjoy ABA Films in every unit. Keep in mind that you'll be able to complete various exercises based on the short films so that you can learn English with video and daily activities. Thanks to our Listen-Record-Compare technology, you'll also be able to practice your listening and speaking skills.
The course will also allow you to access grammar video classes that the ABA English teachers have prepared to help you improve your knowledge level.
Once you've downloaded it on your mobile, tablet, or computer, you can access your Daily Plan and receive microlessons, which are updated daily and specially selected according to the topics that interest you.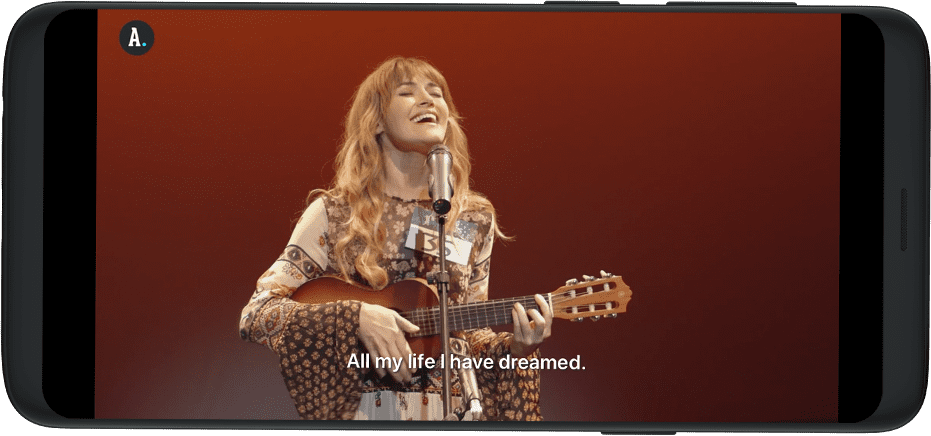 Want to improve your language skills by watching videos?
Boring methods that limit you to following a textbook are finally a thing of the past. A picture is worth a thousand words; something that's very clear to us at ABA English. That's why we offer you a great variety of dynamic and entertaining videos that are adapted to your level of English, of course.
Now you have no excuses for not advancing in your studies of the English language. If books are definitely not your thing, the solution is within your reach. Start watching videos and you'll see that learning English is much easier than you thought.
Don't think about it any longer. Find out why more than 30 million students in 170 countries have chosen the academy that's been featured by Google and Android as a top educational app. Let the experts guide you, start watching videos to learn English, and achieve your goals.
Learn English the way you like best