Learn English With Series
Improve your English with ABA English
TV series are definitely here to stay. Nowadays, millions of people would have no problem mentioning that has kept them from turning off the TV for hours at a time, binging episode after episode, until the longed-for ending is revealed. However, not all people take advantage of TV shows like they should. This isn't an obligation, of course. But if you've started the process of learning the English language, it'd be worth it to take advantage of subtitles to learn English with TV series.
Below, we'll share the best tips for you to learn English by watching your favorite series. We know that having fun is an excellent way to learn the English language. That's why ABA English has developed the Smart Learning® method, with personalized and dynamic content so you can learn English with what you like best.
Is it possible to learn English with series?
TV series are an excellent tool for learning English for the following reasons:
Most of your favorite series are in English or at least have subtitles in this language, so you'll never run out of content to watch.
You'll be able to learn vocabulary, practice your listening, and learn new expressions in different contexts.
They're an excellent pedagogical strategy because while you're exposed to contents in the English language, you're also having fun and giving a boost to your learning process.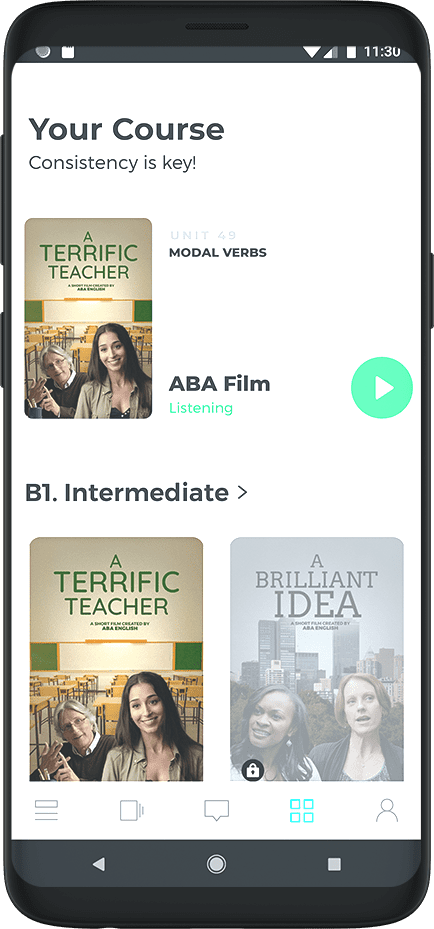 Take your English to the next level with series
Tips for learning English while watching series
If you want to know how to learn English with TV series, follow these tips:
Some choose documentaries to learn exotic vocabulary and fall asleep without even finishing their popcorn. The best series to learn English with subtitles will be the one that makes you come back for more, which will increase your exposure to the language, too.
Start with simple content
The easiest series to learn English with will be those that have content related to everyday life. A good way to start is to look for series with topics such as work, family, school, or travel since they're more relevant to you and what you experience on a daily basis.
Watch series to learn English at a basic level
 If you thought that watching series was just for advanced levels, you were wrong. If you're just starting out, watch the TV series in your native language with English subtitles. Pay attention to short phrases, place names, and vocabulary in categories like food, body parts, transportation, animals, etc.
FAQs about learning English with series
What level do I need to understand a series without difficulties?
No matter what your level, TV series are the best pretext to learn and practice your English. However, if you want to understand a series in English without difficulties, you must achieve a level close to the C1 or C2 of the CEFR.
What can I do if I don't have a subscription to a series platform?
There's a lot of free content available online, including some excellent series to practice your English with. Browse YouTube for official channels from English-speaking countries. You'll find some TV series that will surprise you.
Do historical (medieval) series teach outdated and/or obsolete English?
Actually, historical series (fiction or nonfiction) are meant for all audiences. While you may find some expressions from Old English, most of the dialogue will generally be in modern English.
ABA English will help you improve your English
Learning English is possible. If you're able to do so using content that's enjoyable and interesting to you, so much the better. That's why ABA English has developed its original Smart Learning® method, which was designed to allow you to learn with entertaining content that's been tailor made for you and can be done at your own pace.
Among the most prominent tools in our method, you'll find:
Learn English through the exclusive short films from ABA English. Our films are original, starring native speakers with different accents. You'll also have the opportunity to practice the dialogues with related exercises.
Practice your speaking with students from other countries and guests specialized in different fields. Our sessions will always be moderated by teachers who can guide and help you.
When you log into the platform for the first time, you can choose the topics that attract your attention and that you like the most, thus automatically configuring your Daily Plan.
We have multiple formats, like podcasts, articles, quizzes, audios, etc., so that your learning experience always has something new every day.
With our app, you'll receive daily notifications so you don't forget to study your microlessons. Study when you want from your mobile or tablet and track your progress.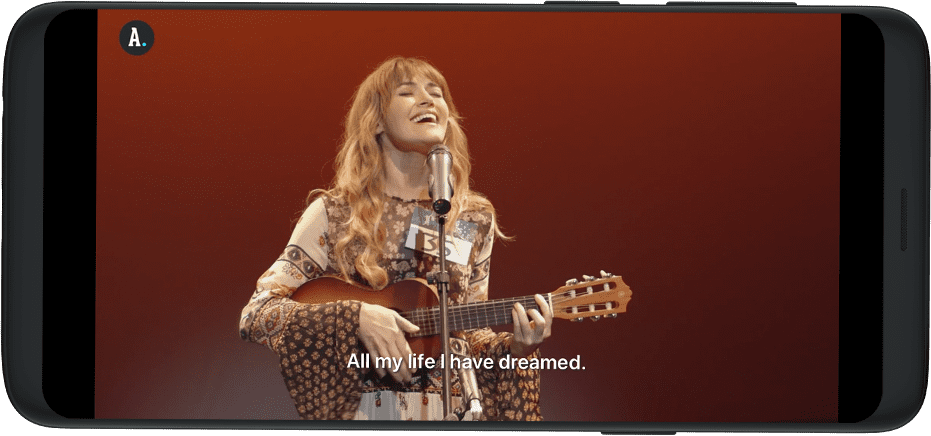 Why are you still waiting to learn English with ABA English?
At ABA English, we have hundreds of pieces of audio-visual content, designed exclusively for you. We want you to learn English with what really interests you and experience English from an emotional point of view.
Our study plans follow the guidelines set by Cambridge University and the CEFR so that you can learn the English language effectively and comprehensively, according to your personal goals.
If you'd like to, you can also take our complete six-level course, from A1 to Business, with grammar video classes taught by our native teachers.
30 million students from 170 countries confirm that studying with ABA English is the best decision they've ever made when it comes to learning English.
What are you waiting for? Now you're the star of your own series and we'll be accompanying you through this exciting adventure.
Learn English the way you like best