Learn English With Free Video
Find out how to learn English with free videos.
On the internet, you can find a lot of free content, even educational content, ranging from tutorials to specialized conferences by top-level academics. Free English learning videos are no exception. If you search Google or YouTube, you'll find plenty of options for both learning and practicing.
At ABA English, we update ourselves constantly. We're aware of changes in the media and design our educational resources according to these trends. Do you want to learn English by watching videos? We have what you're looking for. It's part of our revolutionary learning method that you'll definitely like a lot.
Is it possible to learn English from free videos?
We can hear you saying, "I want to learn English speaking online with free videos." There are many ways to learn English, depending on how disciplined you are and how you use the resources available to you, of course. As for learning English by watching free videos, we should clarify that they won't be enough on their own. You should consider them to be more of a supplement.
You can find two types of videos online: those that teach you something and those that help you practice. The first ones aim to be formative. Technically, these are video lessons where you'll learn some theory or develop your skills. The second ones are any type of video in English that you can use to practice your listening.
Self-study is possible and videos are a wonderful resource. However, this process is more efficient when there's a plan of study and a method behind it. If you think that courses are boring, we invite you to try ABA English. You'll definitely have fun with all the videos it includes.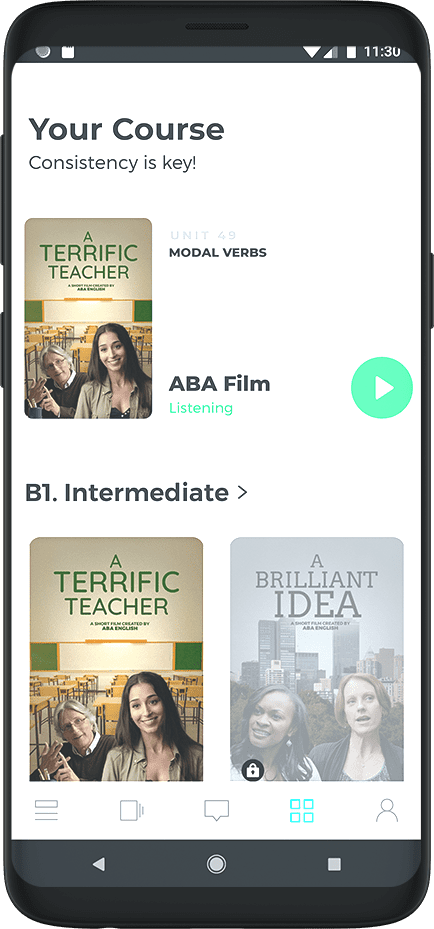 Take your English to the next level with free videos
Tips to learn English watching videos
What have you mastered and what do you still need to learn? Review the specific topics for your level and determine which lessons are best for you. To learn comprehensively, you'll need practice, so decide how you'll do it. It's difficult to practice reading, writing, and speaking through videos alone.
Since these videos are always available, you might decide to watch a lot of them and learn a lot. Take it easy, let your mind process the information, and get a little rest with another subject. Sometimes, if we learn too many things all at once, our brain will only keep the things it considers most important.
If you're looking for free and easy videos to learn English, you'll have thousands of options. You should choose videos that fit your level. There are lessons that you won't understand if you're at a basic level and others that will bore you if you're already advanced. It's also a good idea to check that the source is reliable–an academy or something like that–since not everyone who posts lessons is sufficiently qualified.
When you learn on your own, you begin to gather doubts that sometimes can't be addressed with online material. At the ABA English digital academy, you'll have teachers guiding your course. They'll be there to clear up your doubts and advise you so that you can continue to progress correctly.
FAQs about free videos to learn English
How do I know which videos are good for me?
If you don't know your English level, we recommend taking an online test. ABA English offers one for free. By knowing your level in terms of the CEFR, you'll be able to search for the critical topics for each level and look for videos about them.
Can I find videos to learn basic English for free?
Yes. In fact, you may find more content for basic levels than for advanced levels. This is what beginners look for most, so you'll find many options out there.
Do you recommend using subtitles?
This depends on the video's level and purpose. For example, if you're a beginner and you want to practice your listening but there are many words you don't recognize, subtitles in English are useful. Having the subtitles in your mother tongue will make you focus on reading and pay less attention to the audio, meaning that you'll listen passively, which isn't very efficient at all.
Improve your English by watching free videos with ABA English
We want you to learn English. If you like free English videos to learn, we're on the same page because we also use videos to teach. Check out some of the benefits we offer and try us out for free for seven days:.
With the ABA English app, you won't only be able to access your course content, but you'll also find additional material to practice whenever and wherever you want. We'll assign you a personalized Daily Plan that includes several microlessons, which are short and entertaining lessons in video format that are also accompanied by practice exercises.
This is our flagship method and we're proud of it. What is it about? It's about learning in an entertaining way and with what you like so that you can assimilate English from an emotional standpoint. We encourage you to enjoy yourself while you learn, so we constantly update and add content so that you'll always find something that interests you.
A comprehensive certified course
We have a complete six-level course with 144 units where you'll find videos made by us, our ABA Films. These are high-quality short films in which native speakers act out everyday situations. These videos are subtitled and accompanied by exercises to practice listening and speaking. We also have grammar video classes with native teachers who will explain the various grammatical themes represented in the ABA Films.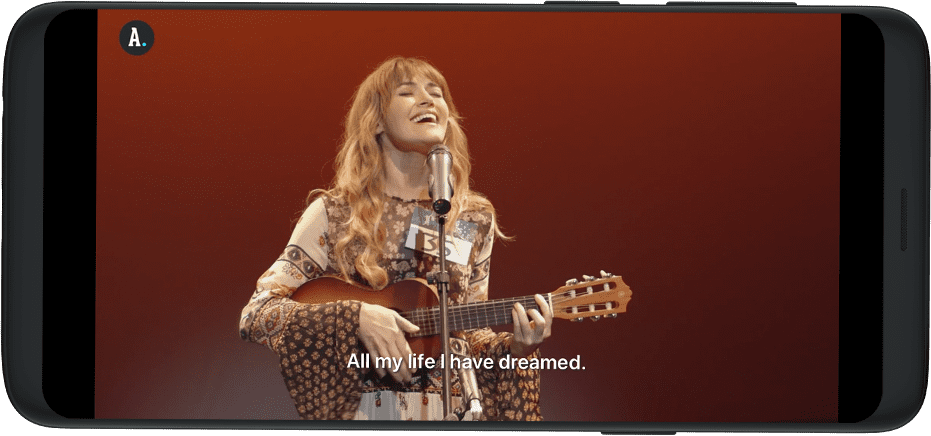 Do you want to check out our videos for learning English?
We hope that you now know how to learn English from online videos for free. Explore our app and our website to discover everything we have to offer. Don't forget to try our free 7-day trial to access all our content and videos for free. We know that you need the best in a comprehensive learning scheme. Get to know us and you'll understand how we can help you achieve all your goals when it comes to learning English.
Learn English the way you like best