Videos to Learn English With Subtitles
Find out how to learn English with our subtitled videos
If you're tired of the resources that conventional methods offer and are looking for a much more dynamic and entertaining way to learn English, finding videos to learn English with subtitles is a very convenient way for you to progress safely and effectively.
One of the great advantages of learning the English language through videos is that you only need a device to play them and practice. So, you can carry a world of knowledge in your pocket, accessing it anywhere in the world you happen to find be.
Thanks to the innovative Smart Learning® study method, developed by ABA English, the digital academy, you can receive personalized content to improve your language skills, reinforce your knowledge of grammar, and enrich your vocabulary with what you like.
Do you want to learn English with subtitled videos?
One thing you should consider when watching videos in English is that unless you're at an intermediate or advanced level, you probably won't understand much of what you hear the first few times. But this isn't a reason to abandon ship. Remember that the solution is at your fingertips because you can start by watching videos in English with subtitles.
Learning English with subtitled videos is definitely a very useful resource. Besides capturing your attention by telling short and entertaining stories, they also allow you to get used to the speed with which the natives speak and their different accents.
Try them out! You'll love them!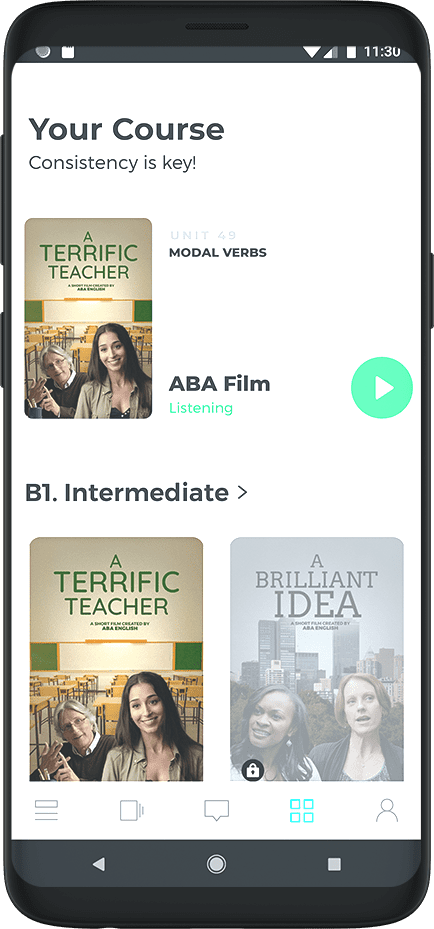 Take your English to the next level with subtitled videos
4 tips to learn English with subtitled videos
Scientific studies show that being calm and comfortable allows you to acquire knowledge more easily. So get cozy before watching your favorite videos in English with subtitles and turn learning into a spa experience.
Don't let the noise bother you
Forgetting your headphones at home is no longer a problem. Now you can access your favorite videos and enjoy the wonderful experience of learning English by reading the subtitles.
Try to learn English with subtitled videos that match your level of knowledge. Avoid very advanced videos because, even if you use subtitles, you can get oversaturated and lose your motivation. It's also not a good idea to choose extremely easy videos because they won't benefit you and could bore you.
Unlike many other languages, English words don't sound like they're written. Take advantage of the subtitles, identify the terms that you find most difficult, make a list, and practice their pronunciation whenever you can.
FAQs about learning English with subtitles
How can subtitles help me?
If active listening with no external help is still difficult for you, subtitles will help you to better understand and keep track of the video content since they form part of the sequence. They'll also help you stay focused in noisy environments.
Can I use subtitles in my mother tongue?
Yes, you can. In fact, it's common for beginners to feel more confident reading subtitles in their own language. They should choose to set their subtitles in English as they begin to acquire a greater knowledge of the English language.
What are the advantages of watching videos in English with English subtitles?
Learning English with English subtitles is a good tactic to avoid having your native language remain the center of attention. You'll also avoid translating every word you hear and will get used to thinking in the language you're learning. Short videos with subtitles to learn English are perfect for filling in time when you're on public transport or in the waiting room. Funny videos to learn English with subtitles will make you laugh while you learn.
Will subtitled videos help me develop my language skills?
Absolutely. They're a great way to practice your listening and reading. If you make a list of words and expressions, you'll also be able to improve your writing and expand your vocabulary. As we said before, you can even do mimicry and repetition exercises to perfect your pronunciation and intonation.
Improve your English with the fun videos from ABA English
For ABA English, it's very important for you to be able to learn English in a unique and entertaining way. That's why we have created video content that you'll love:
These are pre-recorded lessons, prepared by expert language teachers, so that you can learn everything about English grammar in a fun and clear way. You can access the video classes through the complete English course.
Once you've downloaded the app, you'll have the opportunity to choose the topics that interest you in order to have access to a Daily Plan that includes short video classes called microlessons. In addition to being personalized and updated daily, they also have English subtitles.
These are short videos starring native speakers from different countries around the world. If you want, you can watch them with subtitles in the language of your choice. You'll find them in all the units of the course along with a series of exercises based on the ABA Films so that you can improve your level of English without the risk of boredom.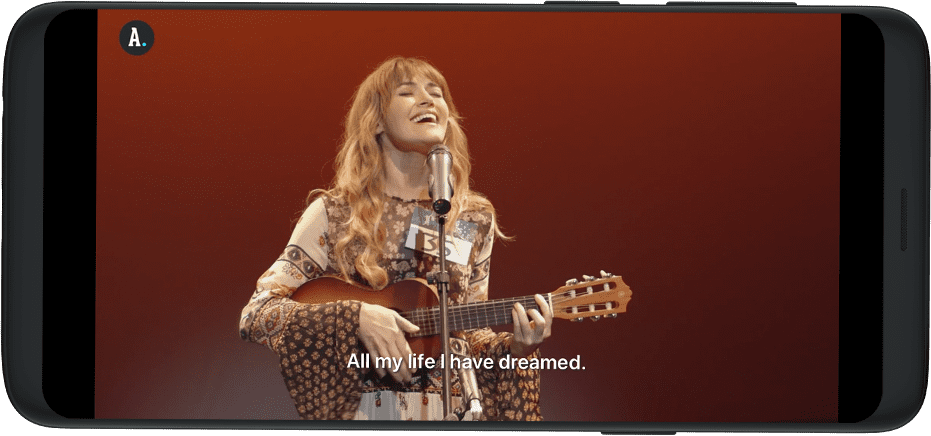 Ready to learn with subtitled videos?
Experience has shown that learning English with videos is an excellent tool for familiarizing yourself with the language and for acquiring greater skills. It's also been proven that choosing subtitles in the original language has a greater impact on language learning.
For ABA English, it's very important that you experience the language in a unique and fun way, so that you can take firm steps down the road of English language learning and reach your goal of being bilingual. That's why we developed Smart Learning®, a learning experience based on an innovative method that includes entertaining and dynamic content like subtitled videos in English.
Learn English the way you like best