We'll tell you how to learn English through texts
At ABA English, we want you to use all the resources to learn, in all the possible formats. We know that reading is important. That's why we provide you with enough material on the topics you like for you to practice, all within the framework of our method of learning while you have fun.
English texts are a fundamental tool in learning. Reading frequently in English will help you understand grammatical structures, expand your vocabulary, and improve your reading comprehension.
Do you like to read? This is a habit that is easy to build if you find a topic that you're passionate about. However, when we talk about texts in English to learn with, we aren't just referring to books. You can include many options such as current articles, sports reviews, or biographies of your favorite personalities, among other topics. Keep on reading to learn how to learn English through texts.
Do you want to read texts to learn English?
Learning English by reading is more fun than you might think. You no longer have to limit yourself to following along with the textbook in monotonous classes where the numbers on the clock are the only thing you want to read, just waiting for the time when you can go home.
The internet has changed our ways of accessing knowledge as well as information and art. Before, you would have had to go to a library, bookstore, magazine stand, or something similar. You wouldn't find as many titles as you find online and you'd normally have to pay for them or borrow them for a few days. Nowadays, you're lucky. You just need Google to find thousands of ways to read about your favorite subjects. You can choose as many as you want and even keep a library of 2,000 books on your smartphone.
With so many alternatives, choosing can be difficult. Don't know where to start? ABA English can guide you. Our texts are organized by level so that you can learn with the right materials.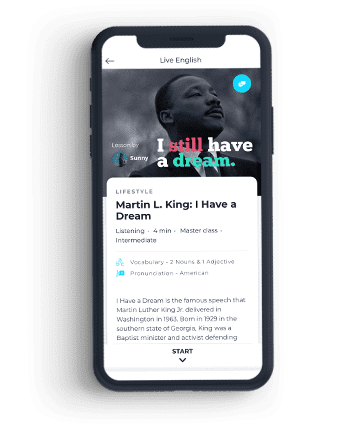 Take your English to the next level with texts
Tips to learn English by reading
Choose based on your interests
If you like graphic novels, comics, or manga, don't be afraid. Perhaps as you increase your level you'll have to shift to more complex texts in English to learn, but the important thing is that you read something that motivates you to do so frequently. Even searching for English versions of your favorite books can be very helpful since you can infer the meanings of some words by context.
One of the main advantages of reading is discovering new words. Don't neglect this. It would be best to discover their meanings from context, but if you can't, write them down and when you finish your reading, you can look them up in the dictionary. For best results use an English dictionary, not a bilingual dictionary.
Reading a more advanced book can be challenging and exciting. You may think you'll be able to progress faster, but this can be counterproductive. Reading and understanding even a small part of this might be overwhelming and could destroy your willingness to read and learn.
Share your learning experience
Hobbies are more enjoyable if you have someone to comment and discuss them with. Book clubs might not be very common, but you'll find it much more motivating if you can convince a friend to read texts to learn English with you and then share your perspectives.
FAQs about texts to learn English
Can I find texts to learn English pronunciation?
You certainly can, but you'd have to study phonetics to understand them. An ordinary text won't teach you the correct pronunciation of a word, it will show you the correct way to write it. If you know the phonemes that correspond to each grapheme, you'll know how to pronounce them properly.
Is there a recommended text length for each level?
The length isn't the problem. Instead, you need to make sure that the vocabulary and grammar are appropriate for your level. However, if you're at the A1 or A2 level, you should look for short texts to learn English so that you won't get overwhelmed.
Can I improve my writing by reading?
The basis of good writing is reading. By reading, you won't only learn vocabulary, but also grammar structures and styles. Ideally, the more you read, the more resources you'll have for your writing.
Can you learn English just by reading?
No, you'll have a hard time learning to pronounce words properly if you don't work on your listening skills. On the other hand, both the terms used in books and the structures of sentences are very different from colloquial English, and even from formal speech.
Improve your level by reading English texts with ABA English
At ABA English, we believe that improving your language skills, including your reading, is important. That's why we offer you the following benefits:
We have a certified course with 144 units, but that's not all. Do you want to read? Visit our blog. You'll find many texts to learn English by reading and many of them will give you tips on specific subjects in English. We also recommend our Speaking Sessions, where you can discuss your readings with other students and teachers.
Featured by Google and Android as a top educational app, it will allow you to practice from anywhere and at any time using your smartphone. In it, you'll find a Daily Plan adjusted to your needs and interests with microlessons and entertaining activities so that you never neglect your practice.
We developed Smart Learning® to help you learn with what you like. We know that if you're enjoying the learning process, the results will be much better. With us, you won't get bored. On the contrary, you'll always be motivated to continue learning.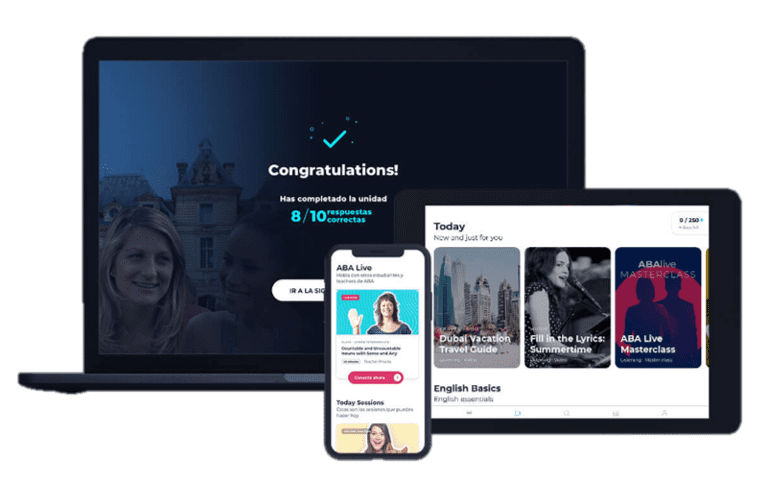 Are you ready to improve your English by reading?
Develop a reading habit, let your imagination run wild, and discover the benefits of learning English by reading what you like. Join the more than 30 million students who use ABA English and discover why they prefer us.
Learn English the way you like best