Podcasts for English at a Basic Level
How to learn English with podcasts for beginners
Podcasts can be a useful tool to practice your English and bring variety to your studying process. At ABA English, we created different podcasts series with a pedagogical approach to support your English learning goals in a fun and dynamic way.
Podcasts are convenient digital audio recordings that are usually conversations or monologues on a specific topic. They can be very useful to practice your listening. If they're lessons, you can also learn new things about English such as grammar rules.
If you're a beginner and sometimes don't have enough time to study, podcasts in basic English will be very useful since you can listen to them while you do mechanical tasks like walking, driving, or cooking, just to name a few.
ABA English has created a number of podcasts to facilitate your learning and make it more fun and accessible. This is the aim of our innovative method that revolutionizes learning.
Do you want to listen to podcasts to learn English at a basic level?
English teaching has been using audio effectively for decades. A few years ago, before the widespread use of the internet and digital media, we used recordings on cassettes or records to learn English. The resource is still the same, just in a different format. Thankfully, it's more comfortable and versatile now.
A podcast for beginners learning English will teach you specific aspects of the language such as how to greet correctly or how to use a verb tense in certain situations. On the other hand, you can also find podcasts that don't aim to teach you a specific topic but are useful for practice, like a poem being read slowly.
When it comes to learning, we're not all the same. Some of us assimilate concepts better through reading and others through audio. However, the combination of the different types of media is very beneficial since it makes learning less monotonous and promotes the development of different language skills.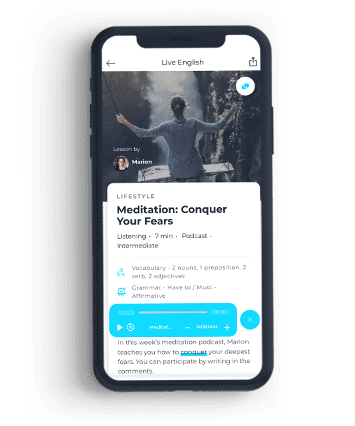 Take your English to the next level with podcasts
Tips for learning English through podcasts
If you want to learn English with a podcast for beginners or if you're just starting out, look for a podcast in A1 English so that both the vocabulary and the topics covered don't exceed your level. Listening to more advanced podcasts will probably confuse or discourage you, especially if you can't understand everything that's being said. Once your ear is trained, you can try a podcast in A2 English then B1 English and so on.
You can listen to different podcasts that talk about the same thing to reinforce a topic. But it's important for you to have a learning plan and for your podcasts to include as much of the content as you decide to include in it. If you want to save yourself all this work, at ABA English, we do it for you.
This will take you from passive listening to active listening. Take notes on the important things you want to remember and, if you want, bookmark the podcast so you can easily find it in the future. You can also transcribe the podcast to practice your writing and repeat it out loud to practice your speaking.
It's good to get your ear used to different accents and learn vocabulary about different topics. If you like sports, video games, music, or any other subject, you'll definitely be able to find podcasts about what you like. This will also make your learning more fun.
FAQs about podcasts for learning English
Is a podcast a class?
When we talk about a podcast, we're talking about the format. Just like there are video classes, there are also audio classes. The difference is that podcasts are usually shorter and focused on a particular topic.
Can I find an A1 English podcast?
You can find podcasts suited for any English level in the CEFR. You can search online for topics that correspond to the A1 level and make a list.
How long is a podcast?
There's no standard for this. However, if you're a beginner, we recommend not choosing lengthy podcasts. When you receive information about many new things at once, you probably won't assimilate all of them so easily. Split up the content to make your learning more efficient.
Should I download the podcasts?
You don't have to. It might be convenient to have your own podcast collection organized by topic to review at your leisure. But there is a large selection of podcasts that you can only listen to online.
Can I find free podcasts for English at a basic level?
Yes, but it's a good idea to be aware of the source. Try to be selective with your content. The most recognized English teaching institutions, like ABA English, usually have the best material.
Improve your English with the podcasts from ABA English
At ABA English, we have the latest technology and the most convenient formats for your learning. That's why more than 30 million students trust us. Podcasts are just one of our resources, but we have many more. Come find out about some of our benefits.
The Smart Learning® method
This is our original method that allows you to learn while you enjoy yourself. We know that if you like our content, it will be easier for your brain to assimilate the concepts contained in it. Our podcasts are no exception. They'll always be entertaining. There are also Speaking Sessions, so you can discuss everything you learn with teachers and other students.
We've developed a didactic app to facilitate your learning and practice. You can access it from your smartphone or tablet and make progress from anywhere and at any time. You'll have access to a Daily Plan with various podcasts on current topics in addition to the Wake Up collection, with motivational podcasts to listen to when you wake up, and the Chill Out collection, with short audio classes to listen to before going to sleep.
We offer you our comprehensive six-level course, from A1 to Business, distributed over 144 units, and aligned with those of the CEFR. ABA Films, for example, are our own short films, starring native actors, so that you can learn forms of expression and strengthen your listening.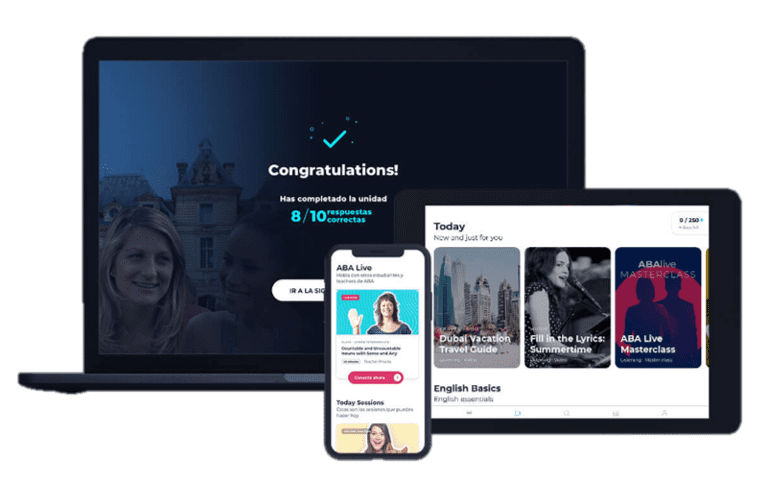 Do you want to start learning with podcasts?
We invite you to explore our app and website where you'll find podcasts on various topics such as grammar, vocabulary, verb tenses, and more. Once you experiment with the content from ABA English, you'll decide to learn with us.
Learn English the way you like best