Texts in English for the Intermediate Level
Improve your writing and reading skills
You've already taken the first steps in learning English. You've passed the basic level of the language and are ready for the second stage. It's time to reach the next level! ABA English offers a wide range of texts in English to improve your writing and reading skills.
One of the new challenges you'll face will be to learn how to skillfully handle simple texts in English for intermediate students. They aren't difficult but do differ from the basic ones because they usually have more detail and, therefore, a larger vocabulary.
To successfully overcome this new challenge, you'll have to perfect your reading and writing at an intermediate level, taking into account what's expected of you according to levels B1 and B2 of the CEFR. Does that sound complicated? Don't worry about it. ABA English will prepare you with our Smart Learning® method so that you learn English in a dynamic and fun way, with personalized content that will allow you to achieve your objectives for the intermediate level.
Why improve my English with intermediate English texts?
There are many benefits that you can enjoy by developing your English using short texts in English for intermediate students:
You'll perfect your reading and writing skills for levels B1 and B2 of the CEFR.
You can prepare for an official certificate, like the IELTS, the Aptis, or one of the Cambridge certificates (B1 Preliminary or B2 First).
You'll be able to get by in professional and academic environments more easily since you'll be able to prepare (and understand) correspondence in English, like letters and emails.
You'll be able to contact English-speaking friends and acquaintances through text messages, emails, and letters.
You'll be able to access the greater amount of cultural and academic information that is available online.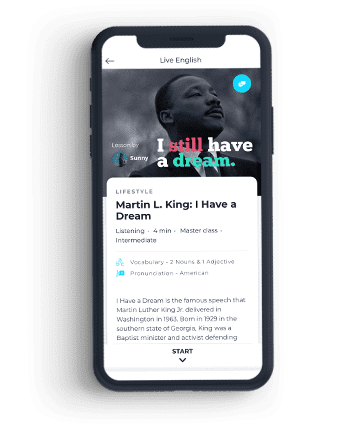 Take your English to the next level with texts
Tips to improve your English with intermediate-level texts
Look for intermediate-level practice tests
An excellent option, if you're looking for texts in English B1 and texts in English B2, are the official English tests that correspond to these levels. These tests will allow you to familiarize yourself with the format and type of questions normally found on these exams.
It may not be the right time to read Hamlet or Romeo and Juliet, but you can read intermediate-level texts such as The Little Prince or The Old Man and the Sea. This will be a great opportunity to improve your vocabulary and have fun reading these classics.
Get a notebook and write simple texts where you talk about aspects of your daily life, what you see on the news, or pretend you're writing a letter to someone living in another country.
Watch movies with subtitles
If you want to find texts to read at an intermediate level, read the English subtitles of your favorite movies. This is a very fun tool that will help you learn a lot of new vocabulary and expressions.
If you want to write a well-structured text, first be clear about the central theme then define the main ideas you want to present. Arrange them in a hierarchical order and write a short conclusion. Write your first draft, without stopping to correct mistakes and letting your imagination run wild instead. Finally, make any necessary corrections and look for vocabulary you may need to polish your writing.
FAQs about intermediate English texts
What kind of B1 level texts can I find in the official tests?
The type of texts you'll have to write and/or read during an official exam include letters, emails, stories, short narratives, instruction manuals, and travel descriptions.
What kinds of B2 level texts can I find on the official tests?
You'll have to write and/or read texts with a broad vocabulary and where the author expresses their true point of view. You can find texts like articles, reviews, messages, reports, and short stories.
What skills should I be developing to write texts in intermediate English?
At this level, you should be able to give detailed descriptions of facts and experiences (real or imaginary), with well-structured texts and a sustained argument. You should also practice writing documentation such as a report, a letter, or a brief.
Perfect your skills with ABA English
30 million students in 170 countries know that our Smart Learning® method is the way to learn English with interesting content, made for you, and the technology that allows you to empower your learning and optimize your time.
Some of the advantages of studying with ABA English include:
Articles based on your personal tastes
When you log into the platform, you can select those topics that you like the most, automatically configuring your Daily Plan.
Make some popcorn and have a great time learning with the ABA English short films, with native speaking actors and many exercises to implement what you saw in the films.
Every day, you'll receive notifications to remind you that it's time to study a short lesson. The microlessons are classes in video format, but you'll also have access to varied content in multiple formats (articles, quizzes, short films, audios, etc.) with which you'll learn English comprehensively.
You can do your lessons whenever you want from the comfort of your computer, tablet, or mobile.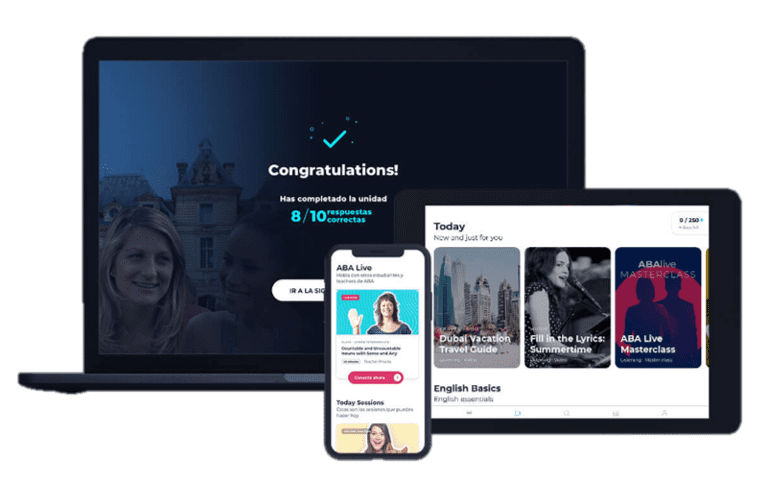 Why are you still waiting to move beyond intermediate English with ABA English?
All of our content, including the intermediate-level texts we offer, comply with the international standards of the CEFR, Cambridge University, and other universities and institutions. At the same time, they're adapted to your personal tastes and interests so that you learn English in an enjoyable and comprehensive way.
If you want, you can take the complete six-level course, from Beginner (A1) to Business, with grammar video classes and hundreds of lessons that will help you perfect your English.
The moment to pass beyond the intermediate level has arrived and ABA English will accompany you through this exciting adventure.
Learn English the way you like best