Learn to speak English fluently
Nowadays, thousands of people dream of speaking English because mastering this language opens the door to a world of opportunities. However, some elements of the language, such as phonetics, vocabulary, grammatical structures, and idioms, can intimidate those who are starting out on this exciting journey.
You don't have to worry. In fact, all you need to succeed in this linguistic adventure is time and perseverance, along with a fun and innovative method. ABA English offers you the best online tools so that you can learn English with the topics that you really like and at the time of the day that suits you best.
Why do you want to speak English?
Think about the multiple benefits that learning English can offer in your life. We'll share some of them with you:
You'll be able to visit and get to know new cultures in countries as diverse as the United Kingdom, Australia, Canada, and the United States.

You'll be able to improve your résumé and aspire to improved job opportunities.

You can apply to universities abroad and study the career of your dreams.

You'll have more opportunities to work and live in English-speaking countries.

If you wish, you can also certify your knowledge through international certifications, such as those from IELTS, Cambridge, or Aptis.

You'll have access to a new universe of knowledge, culture, and entertainment.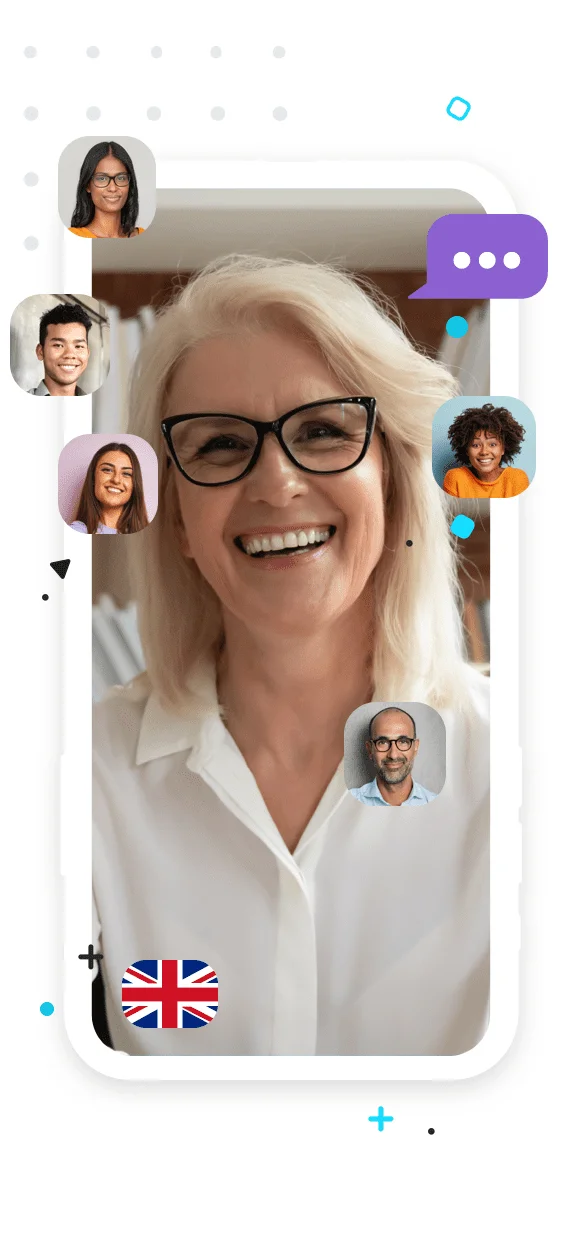 Tips to speak English successfully
Keep the following tips in mind to be able to speak English fluently:
Speaking English is an experience that involves two skills: speaking and listening. In other words, it's not enough to just speak. You also need to understand what the other person is saying. This is why movies are a great tool to improve your listening in English since you'll be able to listen to and learn new words, discover new expressions and idioms, and accustom your ear to different accents.
Songs in English are a very fun and practical resource for learning English. To make the most of your learning experience, search for unknown vocabulary and confirm that your pronunciation is correct by using an online translator. One major advantage of using songs is that you can listen to them anytime while doing other activities, like studying, working, or practicing a sport.
Remember that you must learn English comprehensively, which includes your reading comprehension skills. Look for interesting readings on topics that grab your attention. If you have texts with audio, this will be much better because you'll be able to hear proper intonation and pronunciation of the phrases.
Whether you sing, read a good book, or watch your favorite TV series in English, try to make the learning experience meaningful, enjoyable, and experiential. If you have fun, you'll always want to come back for more.
Practice with other people
Join English conversation clubs (either private or on social networks). Dive in and don't be afraid of making mistakes.
Reach the next level with ABA English, and learn English successfully
ABA English makes all the difference
The Smart Learning® method from ABA English will allow you to learn to speak English with practical, entertaining, and personalized tools. You'll experience a learning experience that is 100% innovative.
Here are the main differences between ABA English and the traditional English schools:
The Smart Learning® Method
Practice online whenever you want
Study from your mobile phone, computer, or tablet
Choose the study topics that interest you most
Enjoy many opportunities to practice with other students and teachers
Have face-to-face classes at specific times
Classes are restricted to a physical space
Study pre-established subjects that aren't always of interest to you
Have occasional interactions with the teacher and other students
Speaking English is possible with ABA English
Participate in live sessions
During the Speaking Sessions, you'll be able to speak English with students from other countries as well as special guests, accompanied by a teacher from our academy. No matter what level you are, you'll always have the opportunity to practice what you've learned.
The ABA Films are exclusive short films from ABA English with native-speaking actors. They are designed with content that will help you to improve your language skills, according to the objectives set by the CEFR, Cambridge, and other assessment bodies.
When you enter the platform, you can select the topics you want to study, which will automatically configure your Daily Plan. These are short lessons with current and interesting topics that will lead you to learn English in a dynamic and enjoyable way.
Through our app, you'll receive notifications on your cell phone or tablet so that you won't forget to check your microlesson or do the exercises in your Daily Plan when it's most convenient for you.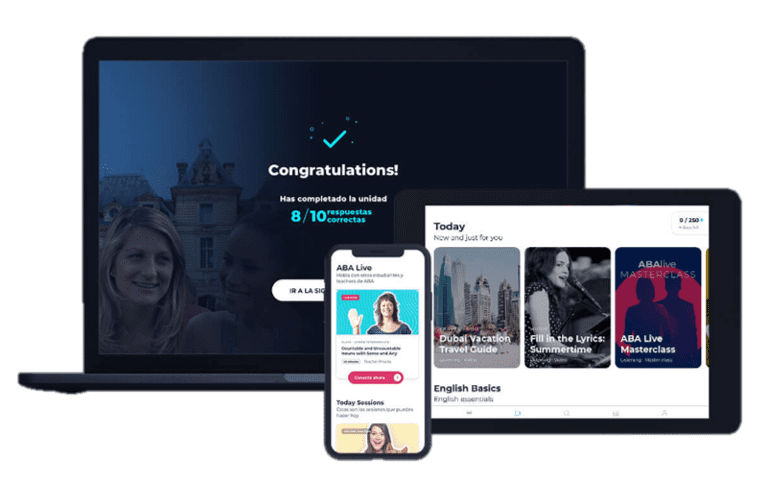 Why are you waiting to start speaking English?
30 million students in 170 countries have started to speak English thanks to the Smart Learning® method from ABA English.
We invite you to come learn and practice your English in a fun way with our app. Or if you want, you can join our complete six-level course from Beginner (A1) to Business, with grammar video lessons.
Our learning plan follows the guidelines from Cambridge University and other institutions, with content designed according to the standards of the CEFR so that you get comprehensive and high-quality training.
Now is the time to speak English. You've come to the right place to fully experience learning English the way you really like.